15 Magical Winter Wonderlands Around the World That Are Totally Worth Exploring
By Meghen Jones
Back to the blog
---
Wintertime—temperatures drop, snow falls, and landscapes change. There's no denying that it's one of the most beautiful and exciting times of the year, whether you choose to participate in seasonal activities or explore the natural winter scenery. All around the world, people travel near and far to witness the most aesthetically stunning winter wonderlands, before the snow and ice melt when the spring heat returns. We imagine that you refuse to sit this one out, being the globe-trotting college student that you are.
Our list below covers 15 beautiful winter destinations from America's heartlands to the vast continent of Asia. While your student budget might hinder access to some of these locations, it's always good to envision what awaits once you have your degree under your belt and endless possibilities at your fingertips. For this reason, uCribs is delighted to introduce 15 breathtaking winter wonderlands that you should aspire to visit— you'll want to bundle up for this!
Apostle Islands, Wisconsin
Wisconsin's Apostle Islands will amaze any college student that dreams of exploring wild terrain in the snow and ice. As the temperatures drop and Lake Superior freezes over, the sandstone caves of the Apostle Islands experience a magical transformation. What was once streams and waterfalls is now dazzling ice formations, and the caves are now filled with needle-like icicles. For many, these ice caves are worth bearing the harsh temps for the beautiful sights. So, if you're up to the challenge, break out your warmest attire and head straight to Apostle Islands!
Banff National Park, Canada
Banff National Park is not only a thrilling destination for outdoor sports, like ice skating and snowboarding, but it was also Canada's first national park and serves as the flagship of the country's park system. Visitors flock to this world-class location each year—over three million, in fact—to catch stunning views of Lake Louise, which transforms into a sparkling site to see once it freezes over. You will feel overwhelmed by gorgeous views of the Canadian Rockies, turquoise glacial lakes, abundant wildlife, and more. Undeniably, Banff National Park is the place where your bucket list can come to fruition.
Bergen, Norway
There's no winter like the winter in Bergen, Norway! Even on the snowiest days, an endless list of captivating experiences awaits, like skiing, mountain tours, and vendor markets. Hop on the Floibanen, which is a funicular railway connecting the city's center to Mount Floyen, for magnificent views of snow-covered mountains, as well as the winter wonderland that is Norway's second-largest city. You might even be able to catch the Northern Lights that occur there in October through March. With glistening waters, lush evergreens, and unique attractions, Bergen will live up to all of your expectations of Europe during the wintertime!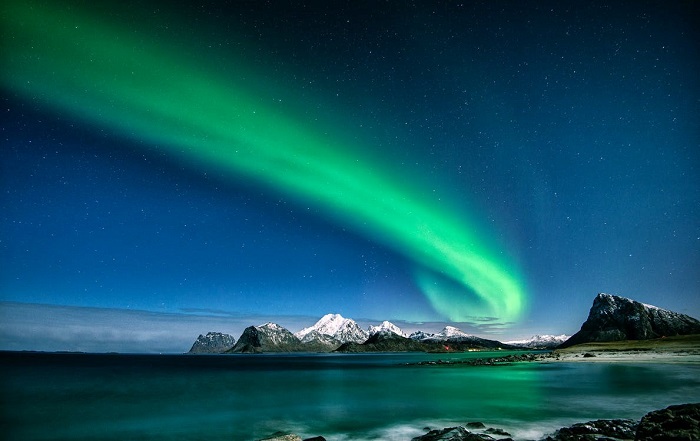 Hokkaido, Japan
Believe it or not, the Japanese island of Hokkaido exemplifies the world's natural beauty during the wintertime. That's right—if you're looking to experience a real Japanese winter, Hokkaido is the place to be. Visitors can explore its surrounding mountains and national parks, world-famous ski resorts, and even the Sapporo Snow Festival. (If you weren't aware, Sapporo is the largest city in Hokkaido, with nearly 2 million residents.) At the festival, patrons enjoy snow and ice sculpture contests, live performances, hot chocolate stands, and more. Follow-up your visit to the fest with some hot ramen, topped with butter and sweet corn. Winter wonderlands can be delicious, too—right?
Bryce Canyon National Park, Utah
When you think of Bryce Canyon National Park, you probably think about all of its springtime visitors, who take part in outdoor recreational activities, like hiking. Once the snow touches down in southern Utah, however, this national park becomes more than meets the eye initially. The cold, crisp air and snow-covered mountains will set the tone for the winter adventure of your dreams. Visitors can participate in ranger-led snowshoe hikes, skiing, sledding, and even winter astronomy programs. Once you finally have the opportunity to visit, you'll find yourself in a literal Hallmark Christmas movie.
University of Cambridge, Cambridge, England
Many college students around the world are familiar with England's University of Cambridge. What you may not know is that the ivy league's campus transforms into a beautiful, snow-covered wonderland during the wintertime. From its Gothic courtyards to student-packed pubs, a trip to Cambridge during the winter is definitely worth your time and effort, especially since you're a college student. With iconic structures, such as the Cloister Court, Friars Building, and Mathematical Bridge, you'll be amazed by the University's ability to transform into a setting that's deserving of its own snow globe.
New York City, New York
When thinking of places to visit during the holidays, there are many reasons why New York City comes to mind. It's full of festive lights, holiday markets, and pedestrians that are bundled from head to toe. There's just a certain type of feeling in the air! If you have the opportunity to fly or drive to NYC during the wintertime, Central Park is a must-visit location and boasts ice skating in Wollman or Lasker Rink, horse-drawn carriages, and even a festival called the Winter Jam. Trust us—the Big Apple will know how to turn your dislike for the cold into the most cheerful of winter feelings. Luckily enough for New York University students, you can indulge in these wonderous experiences all season long!
Dolomites, South Tyrol, Italy
Whenever Italy is brought up in conversation, cities like Rome, Venice, and Milan, often come to mind. Granted, these cities attract many tourists throughout the year and are deserving of such recognition. When it comes to a luxury winter destination, however, the Dolomites in South Tyrol has these popular Italian cities beat. With a combination of outdoor activities, picturesque scenery, irresistible dining, and holiday shopping, the Dolomites offers something to satisfy the personality of every college student. The pretty, natural scenery alone is enough to fall in love with the Dolomites during the wintertime—we promise!
Jökulsárlón, Iceland
Over the past decade, Iceland has become a top-notch tourist destination, whether it'd be for a simple vacation or an informative study abroad trip. This comes as no surprise to most, as Iceland is home to natural wonders, like the sparkling glacial lake of Jökulsárlón and its Diamond Beach composed of black volcanic sands—yes, black! Visitors will be in awe of the sparkling backdrop that appears as chunks of ice wash ashore. Because of its natural crown jewels, Jökulsárlón is like a winter wonderland year-long! Just don't let the cold prevent you from taking a trip and absorbing all of its natural beauty.
Glacier Bay National Park, Alaska
Spanning one million acres, Glacier Bay National Park is one of the most serene winter destinations of them all. If you've ever had the pleasure of experiencing an Alaskan cruise or a trip to the U.S. state, you'll know exactly what we mean! Here, visitors will see whales, moose, wolverines, mountain goats, and grizzly bears, in addition to more than 100 pristine lakes and 1,045 admirable glaciers, if they so choose. Glacier Bay is also one of the few places in the world where you can actually witness icebergs calving. So, don't forget to have your camera ready because this material is totally Instagramable.
Bavaria, Germany
There are winters in America, and then there are winters in Bavaria, Germany. There's just something about Bavaria that makes it the place to be once the temperatures drop. Maybe, it's the fact that Bavaria is home to the famous Neuschwanstein Castle, which inspired Sleeping Beauty's Castle in Disney Land and Cinderella's Castle in Disney World—can you believe it fueled the dream of both? Each winter, the landmark transforms into a miraculous sight, and visitors can enjoy seasonal activities, including sledding, cross-country skiing, and tobogganing. All in all, Bavaria is one magnificent cold-weather playground.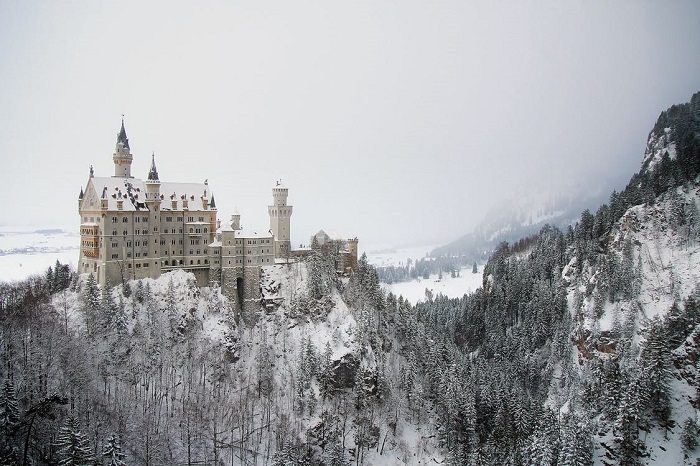 Paris, France
Ask any of your peers about Paris, and they'll most likely divulge upon the stunning landmarks, such as the Eiffel Tower and the Louvre Museum. During winter, these famous, must-see hotspots become even more stunning, as the Eiffel Tower is lit with thousands of lights and the Louvre is covered in delicate snow. The weather is cold, the atmosphere is relaxed, and beautiful Christmas decor fills the streets. You are sure to run across plenty of holiday markets, ice skating rinks, and groups of carolers while you're there—and don't even get us started on the desserts, including the Bûche de Noël. No matter what you're seeking in a winter destination, the City of Light is— without a doubt— a very joyful place to visit this time of year.
Grand Teton National Park, Wyoming
If you are familiar with the U.S. national park system, you probably know a thing or two about Grand Teton National Park—and even made a trip there prior to reading this. While the springtime is absolutely breathtaking, wintertime at Grand Teton National Park is not to be missed, either. The elks come out of the mountains, snowfall takes place, and serenity sweeps throughout the park. Just feast your eyes upon the soft, snow-dusted mountains of the Teton range and take it all in or pump up the action by embarking on a grand ski adventure, if your heart desires. Seriously, there are so many possibilities in this winter wonderland.
Harbin, China
Have you ever heard Ice City? If not, welcome to Harbin, China—a winter wonderland that's known for its cold weather. Every January, millions of tourists visit Harbin for the city's annual winter festival. Since 1963, the Harbin International Ice and Snow Sculpture Festival has taken place each winter to the delight of locals and tourists alike. The Harbin International Ice and Snow Sculpture Festival covers eight million square feet of space and touts ice buildings lit up by thousands of LED lights, snow and ice sculpture competitions, and outdoor activities for all ages. For the perfect combination of beautiful landscape and fun activities, add Harbin to your bucket list of winter wonderlands.
Lapland, Finland
Head to the northernmost region of Finland, and you'll find a picturesque winter scene straight out of a children's book—Lapland, Finland. While many destinations (on this list included) offer a surplus of events and scenery during the wintertime, none compare to Finland, or the "official hometown" of Santa Claus. Not only will you find him there, but you'll also find a bunch of long-standing Christmas traditions, like baking gingerbread, enjoying mulled wine, and lighting up ice lanterns to break-up the wintry darkness. Visitors can also choose to participate in the Husky Safari, where huskies will guide a tour through snow-filled roads and forests. Whichever way you choose to spend your time, Lapland represents the winter season in all aspects.
---
Share this article: