Feeling Too Cold to Head to Class? Stay Warm on Campus This Winter with Our 5 Toasty Tips
By Meghen Jones
Back to the blog
---
Goodbye summer, hello winter! Winter has arrived and that means a surge of chilly —or downright cold—weather will take over for the next few months. For many, this time of year can be very exciting with the holidays and other special occasions on your radar. If you live up north, you can experience the joy of watching your green campus transform into a picturesque winter wonderland, but all that glitters isn't gold when temperatures are constantly dropping. Who really wants to be shivering cold for the remainder of the semester—especially if you're attending college in snowy states like New York, Vermont, and Wyoming?
No matter how accustomed you are to the cold, surviving the winter as a college student can be a difficult task when you're traveling from place to place on campus. Cold weather may tempt you to ditch class altogether if that means staying warm. No matter your feelings towards the cold, you can't risk missing a single moment of your new classes as you adjust. Here at uCribs, we understand how frustrating it can be to attend class when it's frigid outside. So, we wanted to do you the favor of sharing 5 of our favorite toasty tips for staying warm on campus this winter season.
Layer your clothing diligently and expertly.  
With winter underway, temperatures are only going to become much colder, meaning it is time to ditch the shorts and sundresses for something a bit more substantial. But, there's nothing worse than donning your best turtleneck for class, only to feel a bit too stuffy indoors. That's why it's smart to layer your clothing from head to toe, even if this means sacrificing fashion for comfort. The three layers rule is a simple, convenient way to stay warm as you walk from building to building on-campus and ensure you're not too warm once you arrive. Your first layer of clothing should be a thin long sleeve shirt made of cotton, followed by a warmer material, like a fleece sweatshirt. Your third and final layer should include a windproof jacket to protect you from the harsher elements of the wintertime. Once you're all layered, traveling to class by foot will be a breeze—no pun intended.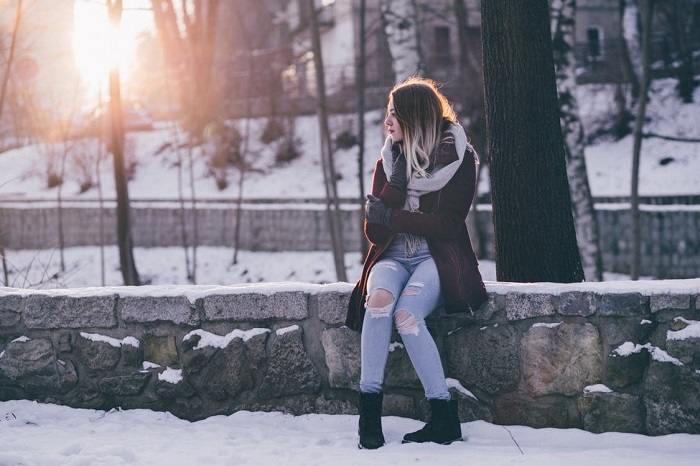 Cover your extremities whenever you leave your apartment.
While you may think a hefty buffer of clothing is enough to keep you warm, it should only be the beginning of your preparations. It's also important to cover all of the exposed parts of your body. Too often, college students find themselves shivering from the cold because they forget all about their hands, feet, ears, and face. Even if you layer your clothing, your extremities can still be unprotected from an unexpected surge of wind. To save yourself from the wind whiplash, we suggest wearing a scarf, hat, mittens, and an extra fuzzy pair of socks whenever you have to trudge your way to campus for your next lecture. It's also wise to invest in some hand warmers to stuff in your pockets. Hey, who wouldn't appreciate the extra heat?
Eat a full meal and/or sip on a warm drink.
College students are always on-the-go. Admit it, between juggling an internship, attending on-campus lectures, and completing a long list of assignments, eating a meal almost always falls last on your list. However, a hearty warm meal will do you justice when it comes to staying toasty on campus—yeah, really! Before heading out for class in the morning (or afternoon), make it a priority to eat a full of protein, healthy fats, and high carbs. Believe it or not, nutritious foods, like bananas, oats, red meat, sweet potatoes, and squash, take longer to digest and can help raise your body temperature—it's called thermogenesis. Warm drinks, like ginger tea, can also stimulate thermogenesis and keep you warm throughout the harsh walk to your next lecture.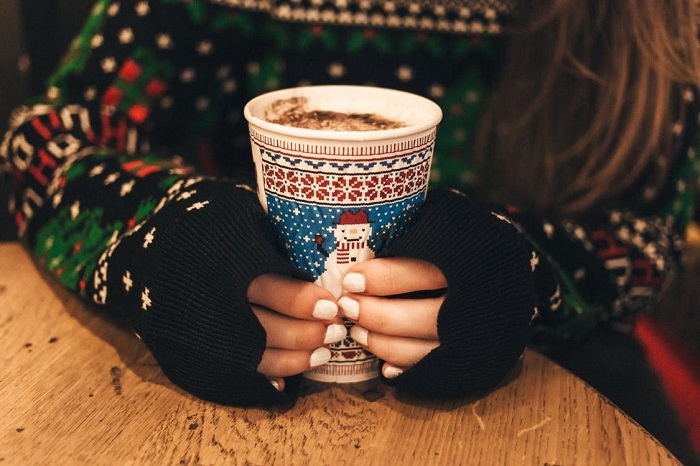 Warm up in your car with the heater.
This one is an old trick that you might remember well from your high school days. If you're lucky enough to lease or own a car as a college student, it will sure do come handy in the wintertime when you need to warm-up. So, in between classes, we recommend high-tailing it to the student parking lot and sitting in your car for a few minutes, or as long as it takes for the sensation to return to your hands— whichever is first. This method will keep you motivated to keep chugging through your day, no matter how much the temperature drops. It's also good to factor how long it takes your car to warm up in your drives to campus, so you can skip sitting at the wheel white-knuckled. It will be worth it for the extra comfort, but just don't get too comfortable! We wouldn't want you to feel tempted to miss class and forgo freezing temperatures for the convenience of your car heater.
Just keep moving—even if you don't feel like it.
Our list wouldn't be complete without our last—and perhaps, most obvious point. Stay active this winter! Keep your body warm by doing simple exercises whenever you're stuck outdoors for a period of time, whether it'd be a quick round of jumping jacks or running in place. Movement will help raise your body temperature to keep you warm and avoid an unpleasant cold feeling. While you might feel a little bit self-conscious about partaking in small, random exercises in public, it's worth the slight embarrassment if it means that you can generate and/or retain body heat. Your mom always told you that you march to the beat of your own drummer, anyway—right?
We get it: the winter can make you feel miserable, sometimes. Most of us would rather deal with another round of summer before stepping out into the cold. Classes will begin, however, whether you choose to stay at home beneath your warmest blanket or not, and you will still be held accountable for any missed days despite your best excuse. Like anything in life—especially student life—it's okay to put up a bit of a fuss. But, at the end of the day, you're still an adult, and it's your responsibility to make it to class and make the grades. With uCribs' 5 toasty tips, you can stay warm on campus and keep the fire lit under your academic progress.
---
Share this article: