7 Easy Recipes That Will Fill Your Belly and Save You Time
By Meghen Jones
Back to the blog
---
It's that time of year again! The spring semester is finally beginning, which means that you'll be hitting the books once again. With your heavy assignment load, there will be many days where you'll sacrifice a home-cooked meal for study sessions, student organization activities, internship duties, and more. You don't want your nutrition to take a back seat despite all of your commitments, though. College students must stay well-nourished—not only is your brain still developing, but we also need food for energy, and we need the energy to survive their daily responsibilities.
For this reason, it's important to meal prep ahead of time! We get it. Not everyone is a pro in the kitchen. However, it doesn't take a five-star chef to follow a simple recipe. From guilt-free Avocado and Egg Toast to creamy and delicious Lemon Garlic Pasta, uCribs is proud to share 7 easy recipes that will fill your belly and save you time during the beginning of the semester. The only question left is: which one will you make?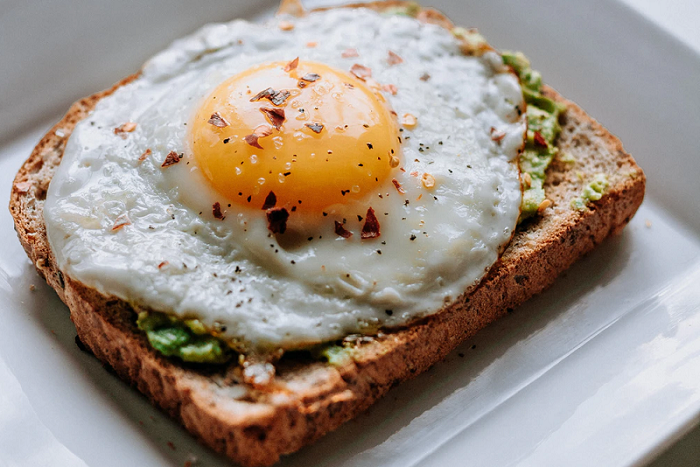 Avocado and Egg Toast
Having breakfast in the morning can be very difficult for a college student, who is always racing against the clock to get to an 8 a.m. class on time—and for one reason or another, you always choose to skip breakfast in order to do so. Instead of sacrificing the most important meal of the day, you can prepare a quick, nutritional meal, like Avocado and Egg Toast. For this recipe, you will need two eggs, two slices of whole-grain toast, a small avocado, and lime juice. Not only will you receive your daily dose of whole carbs, healthy fat, and protein, but this meal will also be all you've avo-wanted in an on-the-go breakfast!
Ingredients:
2 eggs, cooked to your preference
2 slices of toasted whole-grain bread
1 small avocado
1 teaspoon lime juice
Sea salt and black pepper to taste
Directions:
Prepare toast and eggs to your preference.
Peel and mash the avocado, then add the lime juice, salt, and pepper. Combine until well-mashed.
Spread avocado mixture evenly on each slice of toast, then top each slice with an egg.
Serve immediately.
BBQ Cups
Summer may be long gone, but it doesn't mean that barbecue has gone out of style. Granted, barbecuing doesn't necessarily seem ideal in the cold weather. That's why this simple recipe for BBQ Cups is your best bet for a ridiculously easy dinner that fulfills your most intense BBQ cravings. To prepare the BBQ Cups, you will need ground turkey, a barbecue sauce of your choice, garlic powder, cheddar cheese, and a can of buttermilk biscuits. Within a mere 20 minutes, you will have a saucy and savory batch of these finger-lickin' good BBQ Cups! See, cooking at home doesn't have to be another chore added to your already lengthy to-do list.
Ingredients:
1 pound lean ground turkey
1/2 – 1 cup BBQ sauce
1/4 teaspoon garlic powder
3/4 cup grated cheddar cheese
1 12-ounce can Buttermilk biscuits
Directions:
Preheat oven to 400 degrees Fahrenheit.
Brown the ground turkey in a skillet, then add BBQ sauce and garlic powder. Set aside.
Separate the biscuits and place in greased muffin tins, pressing dough up the sides to edge of cups.
Fill the dough with cooked turkey mixture, then sprinkle with cheese.
Bake the BBQ cups for 10 minutes, or until golden brown.
Lemon Garlic Pasta
Spaghetti and Meatballs, Fettuccini Alfredo, Pasta Bolognese… It's no question that pasta is undeniably delicious. Sometimes, it requires a lot of time to prepare, which can be inconvenient for a busy college student, like yourself. That's why we would like to formally introduce you to Lemon Garlic Pasta. Whether you choose to devote this recipe to meal prep for the week or even the next dinner party with your closest friends, Lemon Garlic Pasta fulfills your daydreams of enjoying hearty pasta dishes. Tossed with lemon, olive oil, red pepper flakes, parmesan, and roasted garlic, this creamy pasta is packed with flavor. Trust us—you won't be able to "pasta-bly" resist it!
Ingredients:
10-15 cloves of garlic, peeled
1/4 cup extra virgin olive oil
4-5 tablespoons of fresh lemon juice
Lemon Zest
Pinch of Salt
1/8 teaspoon red pepper flakes
1/2 pound angel hair pasta, cooked
Freshly grated Parmesan
Directions:
Place garlic cloves in an oven-safe dish, drizzle with olive oil, and cover with foil. Roast the garlic cloves in the oven at 400 degrees Fahrenheit for 30 minutes or until a light golden brown. Let cool for 2-3 minutes, then chop.
Cook pasta according to package directions.
In a large sauté pan over medium/low heat, heat the olive oil and chopped garlic for 4-5 minutes while stirring. Add the lemon juice and continue cooking for 2-3 minutes.
Reduce heat to low, then add the salt and red pepper flakes.
Add the cooked pasta and toss with the lemon garlic sauce until fully coated.
Transfer to the serving dishes and top with a drizzle of olive oil, lemon zest, parmesan, and red pepper flakes.
Chicken Salad Sliders
Your lunch break has finally rolled around, and once you realize that time isn't on your side, you may be tempted to resort to fast food! We're here to say, don't cave under the pressure—where there is a will, there is a way. Instead, indulge in this recipe for Chicken Salad Sliders, a classic lunchtime staple that doesn't require much time to prepare. Made with creamy mayonnaise and tangy pickle and lemon juice, these Chicken Salad Sliders will surely hit the spot. Not to mention, the crunchiness of the celery and onion amplify the texture. You'll never want to make another boring, ol' sandwich again!
Ingredients:
2 cups cooked chicken breast, cubed
2 celery stalks, minced
1/2 cup onion, minced
1/2 cup plain low-fat yogurt
1/4 cup mayonnaise
2 tablespoons dill pickle juice
2 tablespoons lemon juice
Salt and pepper to taste
4 whole-grain rolls
Optional: lettuce
Directions:
In a small bowl, whisk together yogurt, mayo, pickle juice, and lemon juice.
Next, stir in the cooked chicken, celery, and onion, then season with salt and pepper to taste.
Slice rolls in half and top with equal parts chicken salad and lettuce.
Homemade Sloppy Joes
Now that wintertime is in full swing, warm and comforting meals have been on your mind a lot lately. There's just something extremely satisfying about having a fulfilling meal, like homemade Sloppy Joes, to fill your belly on a chilly day. With school in session, however, you don't really have the time for the homemade aspect of this delicious meal—or do you? With ingredients like ground beef, tomato paste, and brown sugar that's simply mixed and cooked together in a pan, you will be able to prepare this slamming sandwich quicker than you can say "Sloppy Joe!"
Ingredients:
1 pound extra-lean ground beef
1/2 cup frozen, diced onions
2 garlic cloves, minced
1 teaspoon kosher salt
1/8 teaspoon black pepper
1 6-ounce can tomato paste with Italian herbs
2 tablespoons packed brown sugar
2 tablespoons yellow mustard
1 tablespoon hot sauce, such as Frank's Red Hot
1/2 cup frozen, diced green peppers
2-3 tablespoons water
Whole wheat buns
Directions:
Preheat a large, nonstick skillet over medium heat and add beef, onion, garlic, salt, and black pepper. Cook until beef is brown and cooked through. Keep stirring until it crumbles, about 8-10 minutes.
Add tomato paste, brown sugar, mustard, and hot sauce. Cook for 5-10 minutes.
Stir in green peppers, cooking just until peppers are hot and crisp.
Add water until desired consistency is reached.
Serve immediately on whole wheat buns.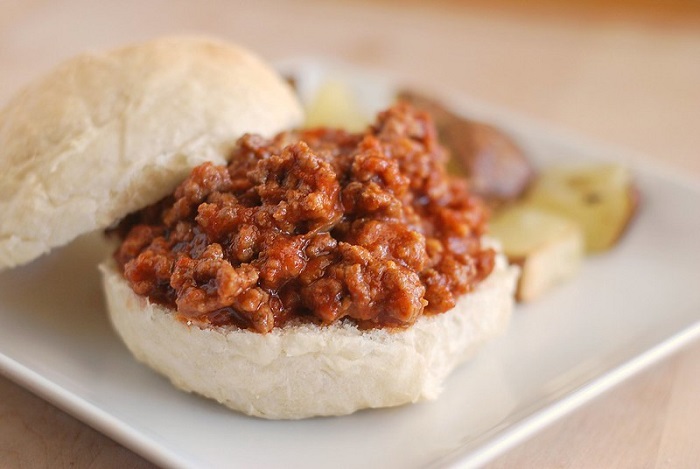 Taco Salad
Admit it: Taco Tuesday is your favorite day of the week! We don't blame you—we dig it, too. So, it's no wonder why you're always looking for the best deal on tacos, even if you must resort to Taco Bell. It can be hard to satisfy your every hankering for Mexican food on a student budget. So, why not take a twist on the traditional taco with this recipe for Taco Salad? Made with ground beef, zesty taco seasoning, lettuce, and crispy tortilla chips, taco salads are seriously underrated, if you ask us. We know that even your friends will "taco" bout how delicious your masterful concoction really is!
Ingredients:
Beef
1 pound lean ground beef
1 package taco seasoning
1 cup black beans drained and rinsed
Salad
6 cups lettuce, chopped
1 cup tomatoes, chopped
1 cup shredded cheddar cheese
1 cup tortilla chips
1/2 cup salsa
1/2 cup sour cream
Optional: olives, bell peppers, jalapenos, or onions
Instructions:
Brown beef over medium heat until no pink remains. Drain any fat.
Add taco seasoning and 1/2 cup water. Simmer for 5 minutes or until thickened, then stir in the beans.
Place lettuce in a large bowl. Top with meat, tomatoes, cheese, and other desired toppings.
Top each serving with tortilla chips, salsa, and sour cream.
Ramen Noodle Stir Fry
If there's one thing that uCribs knows, it's that ramen is every college student's go-to meal. However, eating ramen daily can be very exhausting on the taste buds, especially if it's been your only meal. Like any recipe, there's always a way to twist the standard ingredients and directions into a brand-new concoction, like Ramen Noodle Stir Fry. Packed with fresh vegetables, ramen noodles, and soy sauce, Ramen Noodle Stir Fry may be last on our list for an easy meal, but it certainly isn't the last on our mind. With this recipe at your disposal, you will fall in love with this comfort food staple all over again.
Ingredients:
Sauce
1 tablespoon rice vinegar
1 tablespoon toasted sesame oil
2 tablespoons soy sauce
2 teaspoons hoisin sauce
1 teaspoon brown sugar
1 teaspoon minced garlic
1 teaspoon minced ginger
Ramen Noodle Stir Fry
3 packs of ramen noodles (discard the flavor packet)
1 tablespoon peanut oil
1 teaspoon minced garlic
1 teaspoon minced ginger
4 ounces shiitake mushrooms, stems removed, sliced
1 small head of broccoli, cut into florets and sliced thin
1/2 red bell pepper, sliced thin
1 egg, lightly scrambled
2 scallions, sliced
1 tablespoon minced cilantro
Directions:
Whisk all of the ingredients together for the sauce and set aside in the bowl.
Boil a medium pot of water over high heat and cook the ramen noodles according to package directions.
Meanwhile, heat peanut oil in a large skillet until shimmering. Add the garlic, ginger, mushrooms, broccoli, and peppers, and sauté for about one minute.
Add the scrambled egg and stir until it's almost set.
Mix in the scrambled eggs with the vegetables, then add the noodles.
Drizzle the sauce and a pinch of cilantro over the stir fry, then mix well.
---
Share this article: