Save Big Bucks with 6 Delicious Coffee Drinks You Can Make Yourself
Back to the blog
---
Love coffee? Silly question, we know, given that you've been running solely on the stuff since freshman year. Yep, at this point you'd say that you're a full-blown coffee fiend, known to frequent the on-campus café and coffeeshops around town with equal fervor. And, while you can definitely count off your favorite coffee beverages when asked, you've even taken to the standard hot coffee, a notion that once gave you an overwhelming feeling of disgust, but now, seems like a reasonable way to begin your mornings – whatever they may hold.
Alright, so we've established that you're a coffee fan – but, have you ever considered taking your obsession one step further and making your own coffee drinks at home? Coffee is pretty expensive, after all, especially for financially strapped college students, who can easily spend an upwards of 20-dollars a week on the fancy coffeeshop creations. Not only will taking your caffeine consumption into your own hands save you plenty of time that would otherwise be spent in ridiculously long lines, but it will also save your cold hard cash, which is pretty hard to come by as a college student!
Ready to start making your own café-worthy coffee beverages from the comfort of your off-campus apartment? Then, you've come to the right place! These 6 coffee drink recipes sure to help satiate your need for caffeine while also sparing your wallet – what can we say except "you're welcome?"
Espresso-Less Latte
Little compares to the rich, creamy goodness of a perfectly created latte. But, here's the unfortunate truth: your standard latte – which consists of steamed milk and espresso – can easily take five bucks out of your daily budget, when it's fairly easy to make at home. Now, you might not have a fancy espresso machine (yet!), but you can still get in on the latte-making game with a few basic kitchen supplies and a pot of strongly brewed black coffee. Try this recipe, and you'll discover just how easy it is!
Ingredients:
1/3 cup strongly brewed coffee
2% or nonfat milk
Cocoa powder, to garnish
You will also need:
A jar with a lid, for frothing the milk
Instructions:
Prepare strongly brewed coffee. Pour into a mug and set aside.
Pour milk into the jar. Fill no more than halfway. Screw the lid on tightly and shake the jar as hard as you can until the milk is frothy and has roughly doubled in volume. This will take about 30 to 60 seconds.
Take the lid off the jar and microwave the milk, uncovered, for 30 seconds. The foam will rise to the top.
Using a large spoon to hold back the milk foam, pour as much warm milk as you would like into the mug of hot coffee.
Spoon as much milk foam as you would like onto your espresso-less latte. Sip immediately!
Brûlée Caramel Coffee
Some days call for a coffee beverage that goes down more like a dessert. When those undeniable cravings hit, turn to this Brûlée Caramel Coffee. It's as decadent as a slice of freshly baked caramel cake and also packs the caffeine punch you need to get through your early morning of classes. Better yet, it's the perfect beverage to serve in place of after-dinner dessert and is sure to be a hit amongst your friend group. Seriously – there's no possible way to go wrong with this recipe!
Ingredients:
1/2 cup milk
2 tablespoons caramel sauce, plus additional for drizzling
1/2 teaspoon brown sugar
1 cup (8 ounces) hot coffee
Whipped cream, for topping
Instructions:
Brew a mug of simple, black coffee. Set aside once ready.
In a saucepan, stir together the milk, caramel sauce, and brown sugar. Heat over medium heat for four to five minutes, or until the mixture is foamy and steaming. Don't forget to whisk frequently!
Pour the prepared black coffee in one large mug. Add the milk, caramel, and sugar mixture and stir. If desired, top your drink with whipped cream and additional caramel sauce.
Mocha Green Smoothie
Ever tried a green smoothie…with coffee? No, we're not pulling your leg – this is the answer to enjoying both a wellness smoothie that offers the vitamins you'd find in any leafy green vegetable (think vitamins A, C, and K, as well as iron, folate, and calcium) in addition to the rich, delicious flavor of coffee. It sounds a bit strange, we know, but it's definitely a drink choice that you will not regret. Needless to say, this recipe is so tasty and nutritious that you might find yourself making it several times a week!
Ingredients:
2 large handfuls of greens, like spinach and/or kale
1/2 cup of almond milk, any flavor
1 cup of coffee, room temperature or colder
1 frozen banana
2 tablespoons of cocoa
Optional: Stevia, agave, or honey for extra sweetness
Instructions:
Prepare your coffee. Set it aside or pop it in the fridge until it reaches room temperature or colder.
Once your coffee has cooled, blend together the greens, almond milk, and coffee in a blender until the greens are completely liquified and no chunks are remaining.
Add in the remaining ingredients – banana, cocoa, and optional sweetener— and blend until creamy.
Pumpkin Spice Latte
You might associate Pumpkin Spice Lattes with autumn – and, rightfully so, since this tasty beverage doesn't often hit coffee shops until October. But, we'd be lying if we said that this isn't one of our top guilty pleasures when it comes to coffee drinks – and they're just as good during a night of studying in the spring as they are in the crisp, cool days of autumn. No doubt about it – once you test it out, you'll find this is one recipe that you'll be thinking about a latte!
Ingredients:
1 cup hot milk
1 1/4 teaspoons white sugar
1/8 teaspoon vanilla extract
1/8 teaspoon pumpkin pie spice
2 ounces double-strength brewed coffee
1 tablespoon sweetened whipped cream
1 pinch pumpkin pie spice
Instructions:
Brew 2 ounces – or approximately ¼ cup – of fresh, strongly flavored coffee.
Combine the hot milk, sugar, vanilla extract, and pumpkin pie spice in a blender; blend until frothy.
Pour the mixture into a coffee mug until approximately 2/3 full.
Add the coffee into your mug. Garnish with whipped topping and pumpkin pie spice.
Simple Iced Coffee
Aside from your favorite latte, what would you say your #1 coffee shop order is? Well, if you're like us, it's none other than simple, straightforward iced coffee. Though your local café likely prices its iced coffee reasonably, you have to admit that, like lattes, you really have everything you need to knock it out of the ballpark with your very own, homemade iced coffee. Just think of how that little dollar amount adds up over months, if not years!  As if we couldn't be financially minded enough, this recipe also shows you how to create your own café-worthy sweetener – for just pennies on the dollar.
Ingredients:
1/2 cup sugar
1/2 teaspoon vanilla extract
1 cup prepared coffee, at room temperature
1 cup water
2 tablespoons half and half, or more, to taste
Instructions:
Brew your coffee. Once ready, set the coffee aside until it reaches room temperature.
To make the simple syrup, combine sugar and 1 cup water in a medium saucepan over medium heat, stirring until the sugar has dissolved.
Let cool completely and stir in vanilla extract; set aside.
Serve coffee over ice, then add half and half and simple syrup, to taste.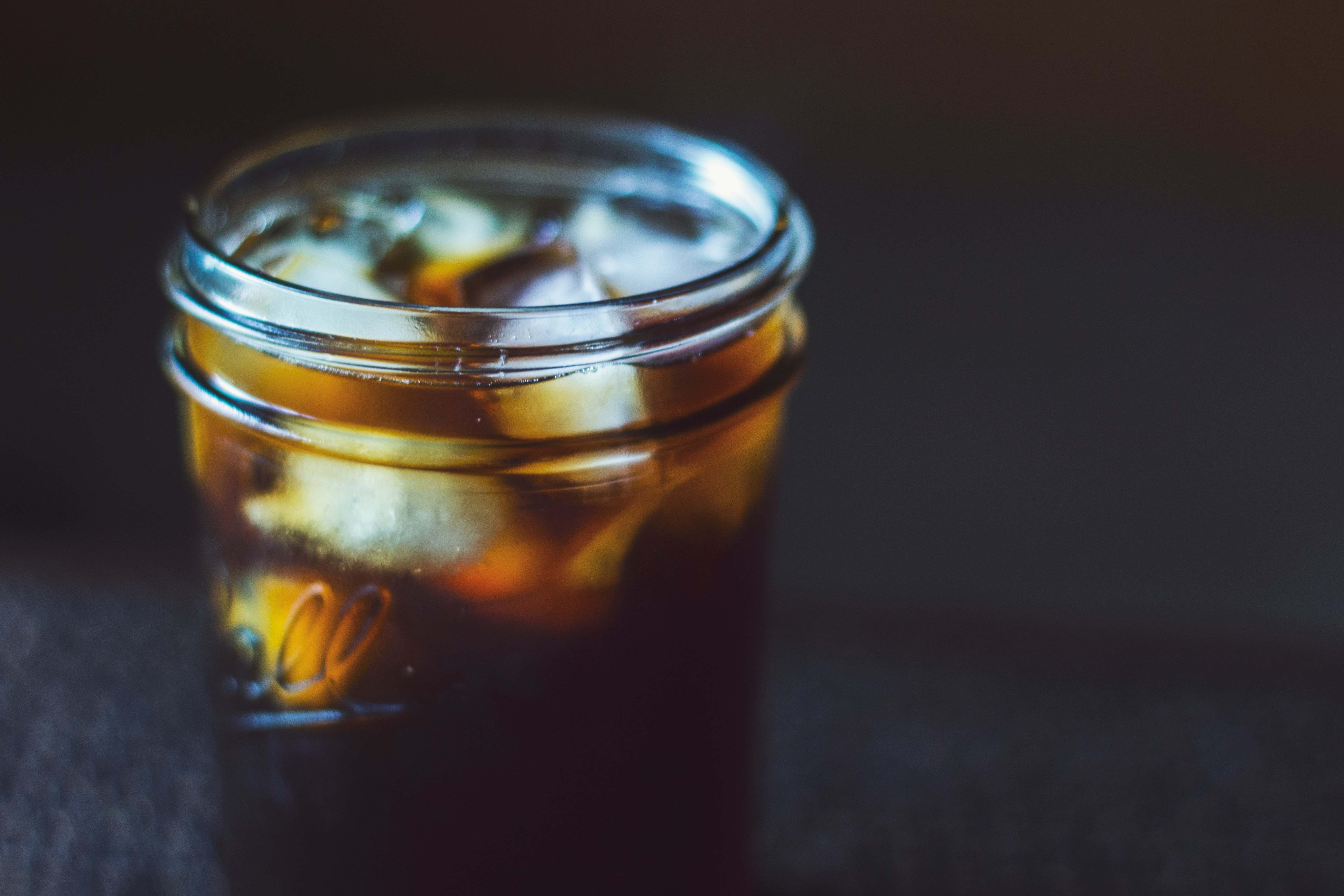 Iced Frappuccino
We couldn't round up a list of our favorite coffee beverages without mentioning everyone's favorite java confection-in-a-cup: Frappuccinos! Whether you're looking for a tasty beverage to take out on a hot day, or an ice cream substitute that also gives you the energy you need to conquer your to-do list, this Iced Frappuccino recipe has you covered.  Once you've got the original recipe down, you can play with different flavor combinations to create your one-of-a-kind, go-to drink— because, who knows your coffee order better than you?
Ingredients:
2 cups crushed ice
1 cup very strong coffee
3/4 cup half and half or milk
2 tablespoons granulated sugar
Whipped cream (optional)
Chocolate syrup (optional)
Instructions:
Prepare your coffee. Be sure to add extra coffee grounds for a super-strong flavor!
Blend together crushed ice, prepared coffee, half and half (or milk), and sugar until well blended.
Pour the blended mixture into glass and top with whipped cream and a drizzle of chocolate syrup, if desired.
Serve immediately.
---
Share this article: