Missing College Graduation? Here Are 3 COVID-Friendly Ways to Celebrate
Back to the blog
---
College graduation is a momentous occasion in the life of a young person. If you're like most college grads, you can look back on the past few years and remember a college career filled with highs and lows, during which time you made plenty of friends, slayed it in the classroom, and took one giant step toward the fulfilling career of your dreams.  
Suffice to say, your college experience was memorable enough to warrant the best-ever graduation celebration. Yet, with coronavirus still interrupting people's day-to-day lives, you're facing a very different reality: one that contains no blowout graduation parties, no immediate vacation plans, and probably not even a celebratory trip to your favorite local restaurant. Even with states slowly reopening, we still have no idea if a second wave of cases await us—and yes, that is scary to many!  
With all of this in mind, you could certainly say that this year's graduation celebrations are shaping up to be more low-key than expected – however, that doesn't mean that you have to let COVID-19 stand in the way of your graduation fun. After all, you've earned this significant honor, and your friends at uCribs know that you will go on to do great things. 
For now, enjoy with these 3 genius, COVID-friendly ways to celebrate your college graduation.  
Take graduation photos, DIY-style.  
Have you been dreaming of your grad photo session since the beginning of senior year? Already have a new, photo-ready outfit hanging in your closet for that very occasion? Well, we've got great news for you. Even if you can no longer book a session with a professional photographer at their studio, you can still take awesome cap and gown pics in your backyard, apartment community, or nearby park – as long as you're safely distanced, of course! 
Even if you're unable to book a pro, consider someone who could make an excellent amateur photographer, like your roommate, your parents, or your siblings. Flying solo until self-isolation is over? Purchase an inexpensive tripod to hold your camera or smartphone while you pose. There are plenty of self-timer settings and apps out there for this exact purpose, which brings us to our next point: camera preference! While an actual digital camera seems to be the gold standard, these days, many smartphones boast awesome photography capabilities. Like, the new iPhone 11 Pro has three cameras—c'mon, one of those has to capture your "good" side! Once you've settled on your photographer and camera, all you have to do is show up and smile.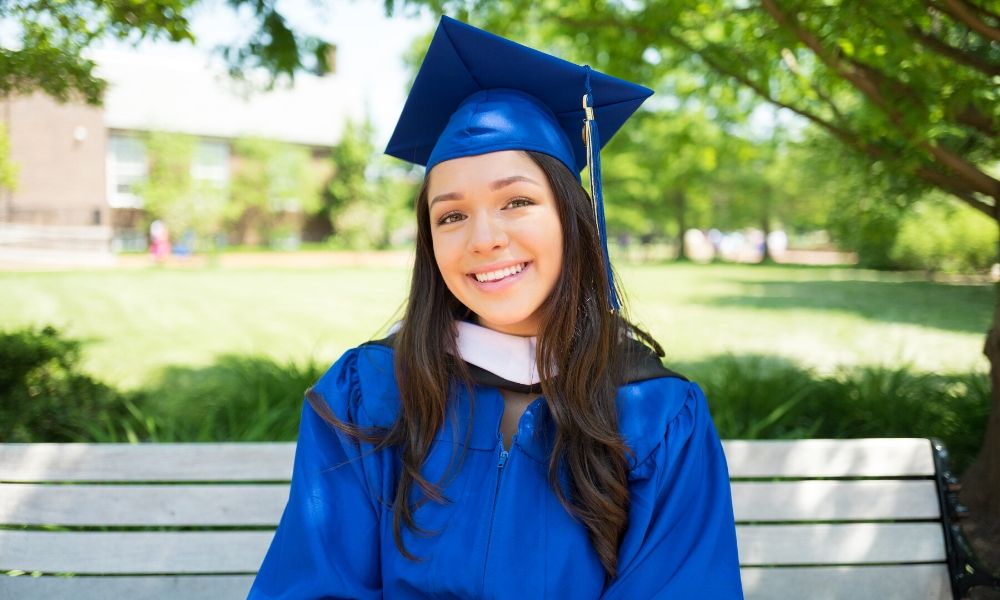 Host a virtual graduation party.  
Missing out on the opportunity to host a great graduation party is one of the more unfortunate side effects of the coronavirus pandemic—there's no one you'd like to be with more than your loved ones during this time. Yet, all hope is not lost. You've heard of virtual parties and get-togethers on video chat apps like Zoom – so, why not plan a virtual graduation party for yourself? While it might not be the same as hanging out with friends and family in-person, an online party can still make you feel loved and appreciated during a time when you certainly deserve it. Plus, throwing a small shindig online is a great remedy for the quarantine loneliness we're all experiencing these days. 
However, just because your party will be small, doesn't mean that it can't be mighty. Channel your inner party planner and decide how you'll make your virtual bash feel as authentic as the real thing. For example, you could plan a few virtual party games similar to beloved, real-life games on apps like Houseparty or Zoom, prepare snacks to enjoy in front of your screen, or purchase a themed banner to hang in your family home or apartment. If you live with roommates or your parents, ask them to dress up to make the occasion more special. You can even pop open a bottle of champagne or sparkling cider! See, this whole "virtual party" thing is sounding fun already, isn't it? 
Treat yourself to a decadent takeout or delivery meal.  
As a college student low on time and money, you've consumed more than your fair share of fast food, ramen noodles, and cheese pizzas. So, is it any wonder why you'd want to reward yourself for a job well done with a delicious meal? We don't think so! As of now, some states have reopened restaurants at 25 percent capacity. However, there's no guarantee that you'll be able to snag an in-person reservation for a group larger than 2 or 3 people – or, more importantly, that you'll enjoy the experience while inside an eerily quiet restaurant. That's why your pals at uCribs think you should take matters into your own hands with a graduation meal at home.  
No, we're not suggesting you cook your own graduation meal – though, all of you budding amateur chefs out there might be up to the challenge! Instead, we think you should splurge on a delicious meal from a local restaurant, which can be picked up or delivered to your front door. But, once you receive your food, don't hunker down in front of the TV and eat it out of paper cartons. Elevate the experience by serving your meal on a proper plate and sitting at the table with your family or roommates while you eat and enjoy one another's company. If you're living alone right now, consider sharing your meal with a good book, or playing music to entertain you while you savor every bite. Light a candle or two, and you might not miss the restaurant atmosphere after all!  
If you're graduating this spring, you've likely got a lot on your mind – one of the more pressing things being how to appropriately celebrate your graduation, while the majority of us are still self-isolating at home. Hey, you earned your degree fair and square, and such an achievement calls for a party! Although your graduation celebration plans have no doubt changed due to COVID-19, you can still enjoy yourself at home. These ideas will be just enough to get you started!  
---
Share this article: