4 Easy Ways to Declutter and Organize Your Off-Campus Apartment – in 10 Minutes or Less
Back to the blog
---
Decluttering may not be your favorite thing to do, but it should have its designated place in your weekly – okay, monthly – routine. Aside from making your off-campus apartment a cleaner and more appealing environment to study and spend your time in, decluttering can relieve stress by reducing the number of times you have to search for your chemistry textbook or missing Air Pods. Believe it or not, it can also help save money, since decluttering, and in turn, embracing a more minimalist lifestyle can reduce the amount of material items you're bringing into your apartment home. 
Now that you know the reasons why you should declutter, you might have just one more question: "How can I possibly fit this into my already jam-packed schedule?" We're glad you asked! Contrary to popular opinion, you don't have to devote hours to cleaning and decluttering – though, we're always in favor of a spring cleaning bonanza! In fact, you can make your space an organized, off-campus oasis in 10 minutes or less. Don't believe us? Read on to discover 4 quick and effective decluttering tricks that you'll return to time and time again.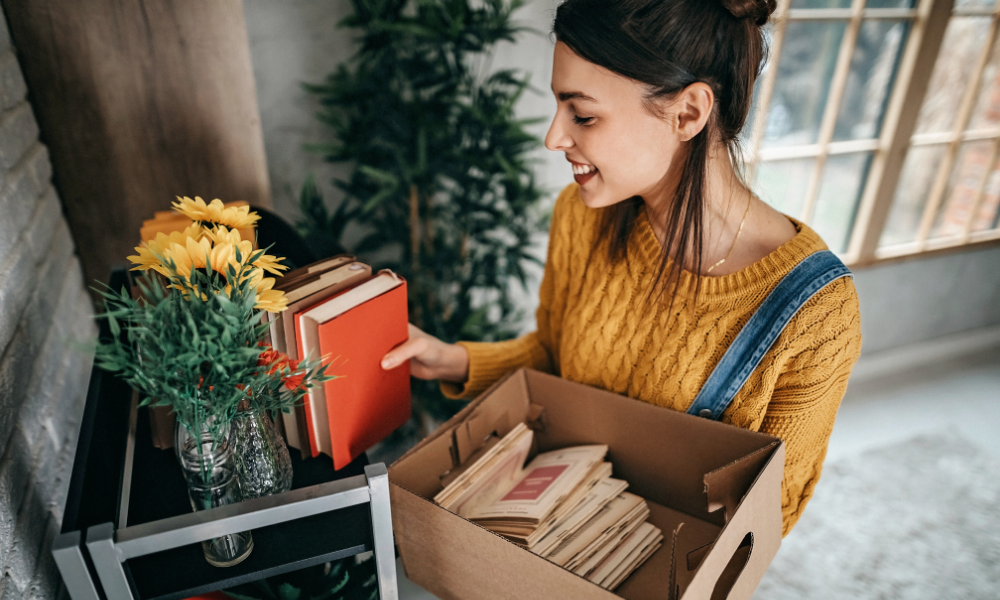 Grab a garbage bag and fill it with unwanted items. 
Whether you have a lot of trash to dispose of, or an assortment of random items you simply don't feel the need to keep around anymore, this trick is one of the best ones to try, when you begin decluttering your apartment. Simply grab a trash bag and walk around your apartment, filling the bag with unwanted items as you go. Stop when you fill the bag – or, if you have longer than 10 minutes to spare, grab another bag and keep going! Just be sure not to mix up the items you sort, whether they're headed to the recycling center or your local Goodwill. Remember: you won't be able to donate any items that are stained or in bad condition.  
Clear out a pantry, shelf, or drawer. 
Cleaning up certain parts of your apartment, like your overflowing bathroom drawers, can be daunting to even the most rock solidly organized Virgo. After all, many people – your friends at uCribs included – tend to overstuff our pantries, shelves, and drawers without any regard as to which items are going in them and how best to organize their flow. Luckily, it only takes about 10 minutes to do a quick inventory of these storage spaces. Take a few minutes to arrange your items into two piles: "toss" or "keep." Throw away, recycle, or prepare your "toss" items for donating, and then return the items you want to keep to their proper homes.   
Organize the files on your computer.  
Digital decluttering is arguably just as important as cleaning up your physical pad, since you probably spend anywhere from 20-40 hours per week using your laptop for academic, professional, and/or personal needs! Dedicating just 10 minutes to cleaning up your desktop and organizing your files into different folders can go a long way in making your computer easier – and even more enjoyable – to use. Depending on how many files have been cluttering your hard drive, you might even notice that your desktop or laptop can handle tasks and browse the web with more speed and ease. Not bad for 10 minutes of your precious, extra time, huh? 
Locate one item to donate every day.  
For a lot of us, "decluttering" is really a more concise way to say, "getting rid of all the random stuff I've accumulated over the past 20-ish years." One good – and super-fast! – way to get started is by finding one thing that you're willing to donate per day. Maybe, it's an old textbook that you aren't able to sell through online marketplaces, or a pair of jeans that you haven't worn since high school. No matter what you choose to donate, select one item each day, and you'll end the year with 365 fewer items! Not ready to part with so many belongings? Shake up your approach and do this every few days or even once every weekend. Hey, even at this frequency, you'll still end up with 52 less items in your apartment!  
As the old saying goes, "A journey of a thousand miles begins with a single step." Though this Chinese proverb may refer to the journey known as life, we, at uCribs, argue that the same philosophy can be applied to decluttering your off-campus apartment. To the relief of time-strapped college students everywhere, you don't have to spend a ton of time tidying up your space in order to live a more organized – and sane – existence. You can try these decluttering hacks, which take no more than 10 minutes a piece, and get on with the more important aspects of your day.  
---
Share this article: