3 Recipes Your Dad Is Sure to Love This Father's Day
By Meghen Jones
Back to the blog
---
The first day of summer is about to hit us like a heat wave, and vacation season has reached its peak, but there's just one notable day that we just cannot forget amid sandy, white beaches, poolside hangout sessions, and festivals adventures, and it's Father's Day! It is the one day that we can show our dads how much we appreciate them by making them feel extra special—or at least, more special than usual.
If you think about it, your pop has been there with you through a lot of firsts, good and bad times, and…well, just about everything in your life thus far. Let's rewind for a second. Who taught you how to ride a bike as a child? When it came to your first car, who showed you how to change a tire, so you'll never be stuck with a flat? Who was right by your side when you missed school due to a one-week-long stomach bug? Big or small, your dad was there with you through it all, and he continues to be until this day.
Now, it's time to honor the man himself, and there's no better way to do it than through a heartfelt Father's Day meal. Sure, you may not be America's next Iron Chef, but we're pretty sure you can put something seemingly edible together with the right information. Since uCribs is all about showering our dads with affection on this exceptional day, we're divulging 3 mouthwatering dishes that will leave a long-lasting impression on dad and everyone else at the dinner table.
BBQ Chicken Wings with Blue Cheese Butter
Do you remember eating chicken wings and catching the football game on TV with dad? If truth be told, it was one of the things you looked forward to every Sunday—even if your team didn't always win. But, at some point, those days of bonding over football with dad were slowly replaced by university game nights and tailgate parties with your friends. Whether you want to admit it or not, you miss these fleeting moments spent with your old man.
So, why not spend Father's Day at a sports outing or watching party, accompanied by savory BBQ Chicken Wings with Blue Cheese Butter? Infused with BBQ sauce, cumin, and smoked paprika, these wings are finger-lickin' good. Plus, the blue cheese adds another dimension to the BBQ itself, with some creamy, tangy goodness. Although it's offseason for many sports, Netflix offers a wide selection of sports-related movies, such as 42: The True of An American Legend. Between a good game or movie and BBQ Wings drizzled with Blue Cheese Butter, it will feel like that nostalgic Sunday night all over again.
Ingredients:
1 stick unsalted butter, room temperature
6 ounces blue cheese, crumbled and room temperature
1/2 cup BBQ sauce
1/2 cup canned piquillo peppers in brine, drained well
2 teaspoons ground cumin
2 teaspoons smoked paprika
1 cup all-purpose flour
Kosher salt
Freshly ground black pepper
2 1/2 pounds chicken wings, separated at the joint with tips reserved for another use
Canola oil
Directions:
In a medium bowl, whisk together the butter and 4 ounces of blue cheese until very smooth. Transfer the mixture to a serving bowl and set aside at room temperature.
In a blender, puree the BBQ sauce, peppers, 1 teaspoon of the cumin, and 1 teaspoon of the paprika until smooth. Pour into a large mixing bowl large enough to hold all of the wings.
In a shallow dish, whisk together the flour, remaining cumin and paprika, then season it with salt and pepper. Next, sprinkle the wings with salt and pepper.
Fill a deep, heavy pot with 6 inches of oil and heat to 365 degrees Fahrenheit.
Toss the chicken wings in the seasoned flour until well coated, shaking off the excess flour. Fry in batches until golden brown, crisp and cooked through, or for about 13 minutes. Drain the wings briefly on paper towels before adding them to the sauce and tossing them to coat while hot.
Transfer the wings to a serving platter. Dollop a little of the blue cheese butter on top of the wings to melt and serve the rest on the side for dipping.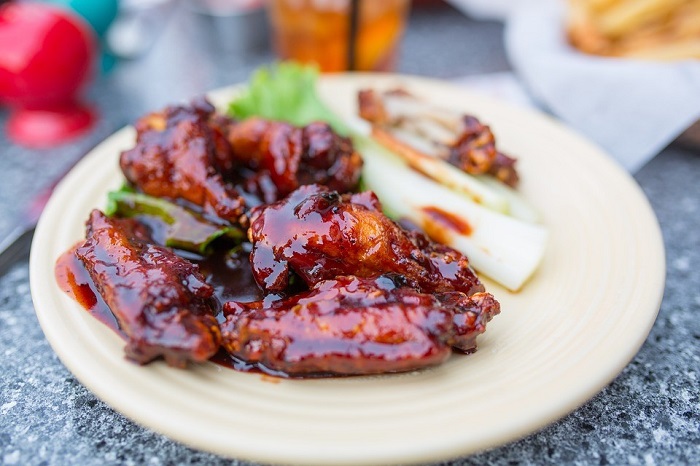 Breakfast Burger
While you may consider your mom the go-to person for any Culinary 101 questions, there was never a summer that dad didn't grill. Burgers, hot dogs, spare ribs…you name it, and you would have found it at some point sizzling away. But, sometimes, it's a good idea to turn traditions on their ear with a new, exciting concept, like the Breakfast Burger. This Breakfast Burger recipe is a great way to get your dad fueled for the jam-packed Father's Day you have in store.
Have you ever had an All-Star Special from Waffle House? Well, this Breakfast Burger is pretty much the sandwich version of that famously popular order. It calls for simple ingredients, such as eggs, ground beef, Italian sausage, and shredded cheddar. The homemade mustard dressing is concocted with mayonnaise, Dijon mustard, and horseradish, which brings all of the flavors of the burger together beautifully. After one bite, dad might just hand over the title of "Grill Master" title to you! You're next of kin, so it only seems to make sense, anyway…
Ingredients:
Dressing:
1/4 cup mayonnaise
1 tablespoon Dijon mustard
1 tablespoon drained prepared horseradish
Burger:
12 ounces ground beef
8 ounces bulk Italian sausage
Kosher salt
Freshly ground black pepper
1 tablespoon unsalted butter
1/2 cup shredded Cheddar
4 English muffins (or burger buns), split and toasted
1 vine-ripe tomato, thickly sliced into 4 pieces
1 cup baby arugula
4 large eggs
Directions:
For the dressing, stir the mayonnaise, mustard, and horseradish together in a small bowl and set aside.
For the burgers, gently mix together the ground beef, sausage, and 1/4 teaspoon each of salt and pepper. Divide the meat into 4 pieces and form each piece into a 4-inch patty.
Melt the butter in a 12-inch nonstick skillet over medium-high heat and add the patties. Cook patties until well browned—or about 3 minutes—then flip. Top the patties with cheese and continue to cook until the cheese is melted.
Spread the toasted muffins, or burger buns, with the mustard dressing, then top with a meat patty and tomato.
Crack the eggs into the skillet with the sausage drippings and cook to your preference.
Place an egg on each burger and finish with baby arugula on the English muffin or burger bun.
Banana Split Pie
Not only is the living easy in the summertime, but it's also the perfect time of year to enjoy the cool treats you crave year-long. Amidst all the summer activities keeping everyone on their toes, your favorite restaurants and sweet spots are busy, prepping the best summer desserts around town, and your dad keeps mentioning how he's craving a banana split. With that being said, there's just one dessert that will completely change the game for Father's Day: Banana Split Pie. Yep, this dessert sets the bar high for any banana split lover.
Filled with cream cheese, banana pudding mix, crushed pineapples, vanilla extract, and sugar, this pie puts a twist on a classic summer treat. Just thinking about the fruitiness of the pineapple and cherries with the cool creaminess of the Cool Whip makes this recipe Father's Day worthy of your big bad dinner line-up. And honestly, it wouldn't surprise us if your dad requests a Banana Split Pie every Father's Day moving forward. It's just that good!
Ingredients:
Crust:
2 cups graham cracker crumbs
1 stick unsalted butter, melted
Filling:
16 ounces cream cheese, softened
3 1/2 ounces banana pudding mix
1/3 cups sugar
1 teaspoon vanilla extract
1/2 cups milk
20 ounces crushed pineapple
2 cups fresh strawberries, diced
2 bananas, peeled and diced
8 ounces Cool Whip
Optional Garnishes: Chopped Nuts, Chocolate Sauce, and/or Maraschino Cherries
Directions:
Preheat oven to 350 degrees Fahrenheit.
In a medium bowl, add the graham cracker crumbs, and melted butter, then stir. Using a 9×9-inch pan, press the graham cracker crust mixture into the bottom of the pan making sure that you have a solid bottom. Bake for 5 minutes, then remove the pan from the oven and allow to completely cool.
In a separate bowl, blend the cream cheese until creamy. Add the pudding mix, sugar, vanilla extract, and milk. Beat the ingredients until creamy.
Pour the cream cheese mixture on top of the graham cracker crust and spread evenly with a spoon. Open the can of the pineapples and drain off the excess liquid using a strainer. Press the pineapple to squeeze out more of the liquid.
Sprinkle the crushed pineapple on top of the cream cheese, then sprinkle the strawberries and bananas on top of the pineapple.
Spread the whipped topping on top of the fruit. Top with a drizzle of chocolate sauce, cherries, and nuts for garnish.
Place in the refrigerator for 30 minutes before serving to allow the cream cheese mixture to firm.
---
Share this article: