4 Festive Peppermint Recipes to Get You into the Spirit of Things
By Meghen Jones
Back to the blog
---
It's the most wonderful time of the year! Christmas is around the corner, meaning you're about to partake in your favorite holiday traditions. From visiting the breathtaking Christmas light displays to attending festive parades, college students, like anyone else, usually have every reason to get into the spirit, and a great way to further immerse yourself in the seasonal fun is through your stomach. What better way to do so than through one of the most traditional holiday flavors you'll find out there? Yep, we're talking about peppermint!
There's just something about peppermint that speaks to the holiday season—blame it on the Peppermint Hot Chocolate, Peppermint Bark, and, of course, the candy canes themselves. Whichever way you choose to enjoy it, this traditional treat somehow always seems to put you in the holiday spirit. And now, you seem to be stuck with a peppermint craving that won't go away. Luckily for you, it's the perfect time of year to indulge your love for peppermint—and all things seasonal—with uCribs' top 4 peppermint treats.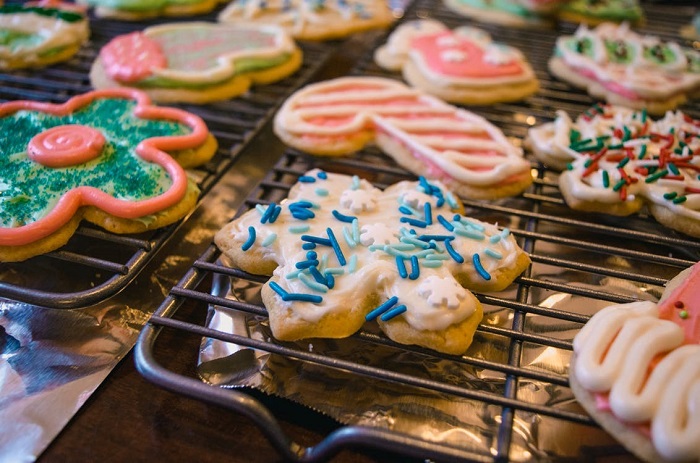 Peppermint Twist Kisses
Enjoy a treat rosier than Santa's cheeks when you whip up a batch of Peppermint Twist Kisses. Since this recipe is essentially a seasonal take on the ever-so-popular Peanut Butter Kiss Cookie, it tends to be a holiday go-to for many. Using Hershey's Candy Cane Kisses, this mouthwatering combination of crunchy cookie and peppermint chocolate is sure to hit the spot for more than just Santa Claus. Plus, the foolproof recipe is simple to pull together in a pinch—hey, you're experienced enough as a college student to know those finals come before holiday bake-a-thons. In fact, we can guarantee that "yule" probably make at least one more batch of these bad boys before the season ends.
Ingredients:
36 Hershey's Candy Cane Kisses, unwrapped
1/2 cup butter, softened
1/3 cup sugar
1/4 teaspoon salt
1 large egg yolk
1/2 teaspoon peppermint extract
1/2 teaspoon vanilla extract
1-1/4 cups all-purpose flour
4 to 8 drops red food coloring
Directions:
Freeze Hershey's kisses in a covered container for at least one hour.
In a large bowl, cream butter, sugar, and salt until light and fluffy. Beat in the egg yolk, vanilla, and peppermint extracts. Gradually, beat flour into creamed mixture.
Divide the dough in half and tint one portion red. Divide each half into four portions and shape into 9-inch long rolls.
Place one red log next to one white log and twist gently to create one swirled roll. Roll gently until it becomes one log. Repeat with remaining dough.
Wrap logs in plastic wrap, then refrigerate for one hour.
Preheat oven to 350 degrees Fahrenheit.
Unwrap the dough and cut each log crosswise into nine slices; shape each slice into a ball. Place each ball 1-inch apart on ungreased baking sheets. Flatten slightly with a glass.
Bake 10-12 minutes or until edges are lightly browned. Immediately, press a kiss into the center of each cookie. Remove from pans and place on wire racks to cool.
Frozen Peppermint Delight
Picking out the perfect dessert for the holiday season can be difficult—especially when everyone is already sold on family recipes and other traditional flavor profiles associated with this time of year, like eggnog and gingerbread. But, who says you have to stick to tradition? You're a college student, after all—shouldn't you be challenging these types of systems for the greater good? For a dessert as festive as your favorite Christmas playlist, turn to none other than Frozen Peppermint Delight. Drizzled with Hershey's Chocolate Syrup and coated with crushed peppermint candy, a Frozen Peppermint Delight tastes like Christmas—and no, we aren't overexaggerating! This recipe will have your friends and peers lined up outside your student apartment's kitchen for just a taste.
Ingredients:
1 package Oreo cookies, crushed
1/4 cup butter, melted
2 containers (1-1/2 quarts each) peppermint ice cream, slightly softened
12 ounces whipped topping
Hershey's Chocolate Syrup
Crushed peppermint candy
Directions:
In a large bowl, combine the cookie crumbs and butter. Press into an ungreased 13×9-inch dish.
Spread ice cream over crust and top with whipped topping. Cover and freeze until solid.
Just before serving, drizzle with hot fudge topping and sprinkle with crushed peppermint candy.
Peppermint Popcorn
Planning a Christmas movie marathon? Even if you aren't, our next peppermint treat is one that should be on everyone's wish list. What we're saying is that your seasonal movie night, event, or night-in, will just not be the same without a heapin' helping of Peppermint Popcorn. Made with sweet, white chocolate, freshly popped popcorn, and finely crushed peppermints, this simple snack will hit the spot with its highly-coveted combination of sweet and salty flavors. Not to mention, it will be a winner at your part-time job's Christmas mixer, your seasonal family reunion, or wherever you decide to serve it! We might even go as far as to say that even Ebenezer Scrooge would appreciate this tasty treat, although we're not positive if it will guarantee approval on your Christmas Eve PTO request.
Ingredients:
2 bars of white chocolate, chopped
8 cups popped popcorn
1/4 cup finely crushed peppermints
Red nonpareil sprinkles
Directions:
In a microwave, melt the white chocolate in a bowl, then stir until smooth.
In a large bowl, combine the popcorn and crushed peppermints. Pour the white chocolate coating on top and toss to coat.
Transfer the popcorn onto a waxed paper-lined baking sheet, and sprinkle with red nonpareil sprinkles.
When hardened, break apart the popcorn and store in an airtight container.
Peppermint Brownies
Fudgy, ooey-gooey, and just plain ol' delicious… how could anyone not love a warm, chocolatey batch of brownies fresh out of the oven? From Valentine's Day surprises to student potlucks, brownies never fail to make the dessert list no matter the occasion. While most of us have had the opportunity to sample the standard fudge brownie, there are many variations of brownies out there, and it's always good to broaden your culinary horizons. That's why we recommend this recipe for Peppermint Brownies, a recipe so delicious that you'll be overwhelmed with seasonal joy. Made with ingredients, such as baking cocoa, sugar, crushed peppermint, and vanilla extract, this recipe is still nothing short of extraordinary despite its simplicity, and the chocolate-peppermint glaze will take your taste buds to new heights!
Ingredients:
1-1/3 cups all-purpose flour
1 cup baking cocoa
1 teaspoon salt
1 teaspoon baking powder
3/4 cup canola oil
2 cups sugar
2 teaspoons vanilla extract
4 large eggs, room temperature
2/3 cup crushed peppermint candies
Glaze:
1 cup semisweet chocolate chips
1 tablespoon shortening
2 tablespoons crushed peppermint candies
Directions:
Preheat oven to 350 degrees Fahrenheit.
Line a 13×9-inch baking pan with foil, then grease the foil.
In a bowl, whisk together the all-purpose flour, cocoa, salt, and baking powder.
In a separate bowl, beat oil and sugar until blended. In the same bowl as oil and sugar, beat in vanilla and 1 egg at a time.
Gradually, add the flour mixture to the wet ingredients, then stir in the peppermint candies. Spread into prepared pan.
Bake until a toothpick inserted in the center comes out clean, which will take approximately 35-40 minutes. Cool in pan on a wire rack.
In a microwave, melt chocolate chips and shortening, then stir until smooth. Spread mixture over brownies once the pan is completely cooled and sprinkle with remaining peppermint candies.
---
Share this article: