8 Food Bloggers Every College Student Should Follow
Back to the blog
---
Pizza, Chinese takeout, French fries, and frozen yogurt. These are the hallmarks of a typical college student's diet, due mostly to cost, availability, and of course, cravings. It's true that college changes the way you eat, but hardly for the better. And while some may say that binging on junk food is merely a part of the American college experience, you're probably ready for a serious change of pace – no matter how much you love a good, juicy burger.
Hey, there's nothing wrong with intuitive eating to get through these four years. But, we probably don't need to remind you that a diet primarily consisting of fried foods is disastrous for your overall health and can even negatively impact your schoolwork, since your mind and body depend on a steady stream of nutrients to function properly. Eat non-nutritious foods too often, and you'll suffer from decreased concentration and impaired memory. Over time, a diet rich in fatty and processed foods can even contribute to Alzheimer's disease and other forms of dementia.
Fortunately, there is a way to regain control of your diet, but in order to do that, you'll need to warm up to the idea of cooking your own meals in your off-campus apartment. With the right resources, though, this is much easier than you can probably imagine! In fact, handling your own cooking can be downright fun once you learn the basics. So, if you're ready to take control of your diet and start learning your way around a kitchen, check out uCribs' round-up of 8 food bloggers that every college student should follow.
Budget Bytes
Ever notice how grocery bills creep up in cost faster than you can say, "put back the guac?" It's one of the hardest pills to swallow as a young adult: food and drink – and yes, guacamole – is way more expensive than you might remember as a carefree high school student living under someone else's roof. Luckily, though, you've got a serious secret weapon on your side, and it's a low-cost recipe blog aptly titled Budget Bytes.
Budget Bytes leads our list of must-follow food bloggers because it's dedicated to all things budget-friendly and big on taste. Inspired by blogger Beth's own experiences with balancing a satisfying diet with a restrictive grocery budget, the blog features a wide variety of international, vegetarian, and vegan recipes for breakfast, lunch, dinner, and dessert. Beth also outlines recipes perfect for snacking and meal prepping, so you'll never again fall victim to a spontaneous fast food craving…well, most of the time at least. (Everything in moderation, folks!) Best of all, every recipe listed on the Budget Bytes website is accompanied by estimated cost, so you can avoid all-too-common grocery sticker shock and get better at your meal planning game over time.
Spend with Pennies
To a lot of us, cooking regularly is synonymous with becoming a full-fledged adult. There's something gratifying about cooking a delicious meal for loved ones to enjoy – even if by "loved ones," you mean your college roommates. But, as someone who's not yet old enough to rent a car, it's pretty safe to say that you may be seriously lacking the culinary know-how when it comes to whipping up gourmet meals on your own. And, as mama always said, those bruschetta chicken thighs certainly won't roast themselves!
That's why Spend with Pennies saves the day and your appetite. Created by a busy mom of four, who used to spend her days in a research lab, Spend with Pennies creates simple, well-constructed meals everyone will enjoy. Holly's blog pushes cost-friendly recipes and incorporates easy-to-find ingredients, so you never have to wander around your local supermarket looking for some obscure spice or vegetable. What really sets Spend with Pennies apart, though, is its in-depth "how-to" section on each recipe, which details every tool you'll need to successfully execute the dish, how to serve it, and what to eat with it. It may not sound like a game-changer quite yet, but soon, you'll be wondering how you ever cooked anything without first consulting Spend with Pennies.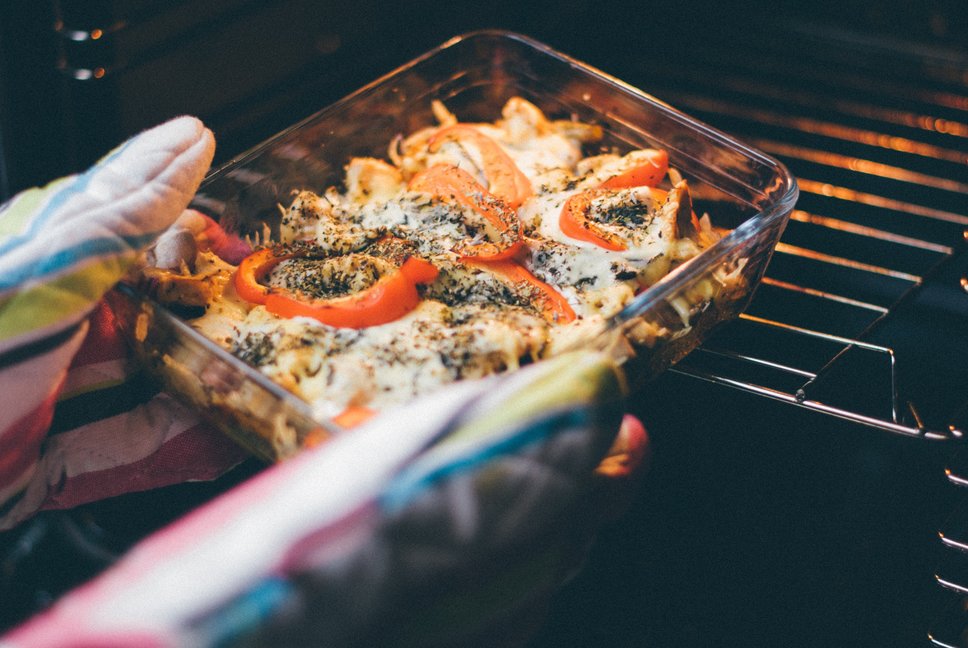 Clean and Delicious
It's no secret that eating healthy and staying fit as a college student can be harder than passing Advanced Calculus. Who can blame you? Your apartment is just minutes from your favorite fast food joint, and every time you meet your friends for a bite, you're always heading straight to the campus pizza parlor. Clearly, if you want to commit to your health, you'll need to find a reliable source for good-for-you eats that doesn't skimp on taste. That's why the Clean and Delicious blog is a serious win.
For starters, Clean and Delicious offers exactly what its name suggests: delicious recipes crafted with nutrition in mind. Given creator Dani's background as a health, wellness, and weight loss coach, you can rest assured that this blog offers recipes even the pros swear by. Actually, every one of Dani's entries include nutrition information, which can be hard to come by in your average cooking blog. Clean and Delicious also includes tutorials for trickier kitchen creations, like baked tofu. The cherry on top is the blog's "Food for Thought" section, where you'll find dozens of articles about mindful eating, self-care, and the best way to diet for weight loss and improved health.  With nutrition-focused recipes and blog topics that extend across various aspects of wellness, Clean and Delicious is your one-stop shop for all things healthy living!
Spoon Fork Bacon
You mastered your first bowl of Ramen at the age of eight, executed the perfect poached egg at fourteen, and have been whipping up Starbucks-worthy coffee drinks every morning since freshman year of college. It's safe to say that you're a whiz in the kitchen for your age, especially given your status as a busy college student. For that reason, you might be looking for more challenging recipes that err on the side of – dare we say it – fine dining. As crazy as it sounds, it is possible to cook gourmet meals while in college – you just have to find the right blog to guide you through it.
If you've already aced the basics, Spoon Fork Bacon is the blog you've been waiting for. Spoon Fork Bacon's co-creators, Jenny and Teri, fill their web pages with upscale bites and beautiful imagery worthy of its own Food Network special – which makes sense, given the women's backgrounds in graphic design and culinary arts. Always wanted to try baking your own bread or preparing a surf and turf special? Spoon Fork Bacon's got your back. The blog also includes a fun DIY section, which houses tutorials for seasonal and kitchen-inspired projects, like ornaments and homemade extracts. With Spoon Fork Bacon, you can plan a full weekend of cooking and DIY-ing that will be even more satisfying than your culinary creations themselves!
The Frugal Chef
Sometimes, life calls for a celebration, whether it be a dear friend's graduation or a big win over your university's rival team. But, how are you to throw together a party-worthy spread with little culinary know-how and a slim wallet? The Frugal Chef has a few ideas for you, luckily enough. This budget-friendly recipe blog shines— thanks to its dedicated "Celebration" section, which includes crowd-favorite recipes and practical tips for more extensive undertakings, like cooking your own ham for the holidays.
No big parties on your social calendar? No worries – The Frugal Chef's expertise doesn't stop at party food. Blog curator, Cath, also includes everyday recipes and suggested weekly menus. That's right – with The Frugal Chef, you don't even have to plan your own meals! Finally, no discussion of The Frugal Chef is complete without mentioning its Spanish section. A testament to Cath's Bolivian heritage, the blogger has included 29 pages of recipes in Spanish, making The Frugal Chef an excellent resource for anyone who primarily speaks the language or want to brush up on their acquired skills, while preparing a delicious meal.
Full Thyme Student
When it comes to anything college-related, you can't find a better source of advice than a fellow student. From finding the history section in your on-campus library to asking for help with a challenging math problem, your classmates hold a wealth of information just waiting to be tapped into. That's why we can't help but love a food blog run by someone who's already experienced the college life and lived to document every recipe along the way, and that person is Full Thyme Student.
Full Thyme Student is an excellent directory for any student seeking satisfying meals that don't require much expense or effort. And, the blog's creator, Daisy, does a great job of merging the culinary world with your real-life pantry – like an entire recipe section devoted to Ramen noodles. She also provides two printable shopping lists for stocking your pantry with budget-friendly basics. It may sound like a no-brainer, but how many times have you failed to pick up flour and sugar? Needless to say, Daisy's blog is endlessly helpful for both the kitchen amateurs and those forgetful shoppers.
Healthy Happy Life
Struggling to find delicious recipes catered toward your vegan lifestyle? Hoping to make more conscious dietary decisions? Admittedly, it can be hard to commit to a diet that consists of something other than potato chips when you're a college student. Not to mention, nearby restaurants' vegan offerings are likely the epitome of the "sad salad" – that devastatingly bare bowl of greens topped with two cherry tomatoes. Well, it's time to change all of that, beginning with the blog, Healthy Happy Life.
As a vegan, you're probably used to skipping out on chain restaurant offerings because they don't align with your diet. Healthy Happy Life's Kathy is a longtime vegan, who creates plant-based copycats of everyday food items. The recognized vegan blogger also offers recipes for breakfast, lunch, and dinner that even non-vegans will enjoy. And no, it's not all lentil soup and bran muffins – Healthy Happy Life will show you how to make breakfast burritos, fettucine alfredo, and smoothies that taste just as good as the store-bought, non-vegan versions.
Joy the Baker
If baking cookies is your favorite stress-busting method because it feels as good as it tastes, you'll definitely want to bookmark our final food blogger. You might have even spotted this prolific baker on Instagram, thanks to her hugely popular @DrakeOnCake social media presence. But, Joy the Baker is much more than a witty cake decorator. She's also an author of three cookbooks, a devoted workshop host, and a self-proclaimed "donut enthusiast," who can teach you a thing or two about the incredible world of home baking. Allow us to explain.
Joy the Baker is a testament to much more than those sugar-coated, doughy delights, which is excellent news for those of us who like to destress with baking but also enjoy other food groups, as well. Her website includes several categories of must-try recipes, so her creations will satiate your sweet tooth and your rumbling belly. What's more, Joy the Baker's success story might even inspire your entrepreneurial side to pick up a delicious new skill. After all, "muffin" compares to the satisfaction you'll get when your college friends devour your triple-tested Red Velvet cake recipe!
We love endless Taco Tuesdays as much as anyone else – but you can't deny that your college diet could use some shaking up. These 8 incredible, college-friendly bloggers offer tasty alternatives to Ramen noodles and peanut butter & jelly sandwiches that will fill you up, keep your wallet full, and ensure that you stay on track with your health and fitness goals. Who knows? Try one of these bloggers' recipes, and you might even find that cooking is a passion of yours that you never knew existed!
---
Share this article: