Check Out Our 5 Fourth of July Recipes That Are Exploding with Flavor and Fun
By Meghen Jones
Back to the blog
---
Since the birth of our nation on July 4, 1776, Americans have celebrated the Fourth of July, also commonly known as Independence Day. With epic celebrations stretching from the East Coast to the West Coast, you've probably stumbled upon a killer Fourth of July party at least once in your lifetime. There's Kaboom Town in Addison, Texas, Big Bay Boom in San Diego, California, and so many more that top the list. Each of these celebrations is bursting with fireworks, food, and fun.
This patriotic celebration dates back to when the thirteen original colonies claimed independence from England, forming the United States of America. Around this time, Thomas Jefferson began drafting the Declaration of Independence, alongside John Adams, Benjamin Franklin, and Robert R. Livingston. On July 4th, John Hancock, who was President of the Continental Congress, signed the Declaration of Independence and designated it a national holiday to commemorate the day the U.S. became a free and independent nation.
Today, millions of Americans, including college students— like yourself— celebrate Independence Day in their own backyard. Even though you've probably taken the back seat for most of your life, it's time to step it up this year. Show off that culinary know-how you've been gaining in college, whether you've learned through experience or a cooking class. If you don't know where to start when it comes to meal planning for a big bash, these 5 patriotic recipes will easily demonstrate your glow-up in the kitchen.
50 Stars BBQ Chicken
When the grill gets going and the prep begins, you know one of your friends or family members is already craving some tangy, saucy BBQ chicken. And yes, we mean the tender, fall-off-the-bone chicken that has your mouth watering just thinking about it. It's just synonymous with the holiday—along with all of the other delicious barbecue you cannot wait to get your hands on.
Speaking of chicken, would you consider your family's staple BBQ chicken dish to be 5-stars? If you answered no, allow us to introduce you to 50 Stars BBQ Chicken. 50 Stars BBQ Chicken raises the bar for any Fourth of July celebration's menu with its electrifying flavor. Made with sweet barbecue sauce, butter, Italian Seasoning, and basil, it's the best BBQ chicken that you'll ever feast your eye upon—or your mouth, for that matter.
Ingredients:
1 bottle of Sweet Baby Ray's barbecue sauce
1 stick of butter
2 packets of Italian seasoning
Dash of basil
14 chicken drumsticks
Directions:
Preheat the oven to 350 degrees Fahrenheit.
In a large saucepan, melt butter over medium heat, then whisk the Italian Seasoning, basil, and barbecue sauce into the mixture. Bring to a boil.
Dip the drumsticks generously into sauce mixture and place in a 9×13 pan. Bake in the oven for 30 minutes and preheat grill on medium-low heat halfway through baking process.
Remove drumsticks from the oven and give them one last dunk into the barbecue sauce, then place the drumsticks on the heated grill. Grill for an additional 15-20 minutes before serving.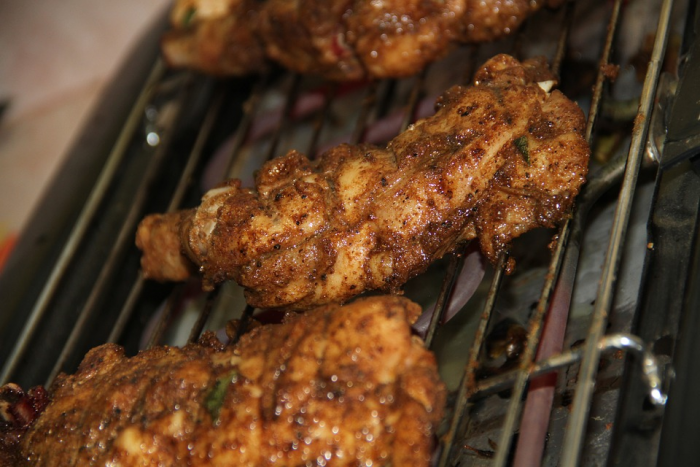 Hawaiian Hot Dogs with Mango Salsa
Hot dogs are one of the simplest dishes to put together, no matter the type of celebration you're trying to put together. And, when it comes to summer shindigs, it's the ultimate go-to addition to the BBQ menu, since they're low key and still satisfying. After the hot dog comes off the grill, it's even easier to top with all your favorite fixings. But, sometimes, it's fun to take a walk on the wild side and try a new spin on an old favorite.
For the Fourth of July, pay homage to the great Hawaiian archipelago that is the state of Hawaii by adding Hawaiian Hot Dogs with Mango Salsa to the menu. This recipe will send your Independence Day celebration on a first-class flight to the tropics with a refreshing fusion of sweet and spicy. Just imagine the sweetness of honey and mango with the acidity of the lime juice and spice of the jalapeño— our mouths are watering thinking about it! After one bite, we can promise that these Hawaiian Hot Dogs with Mango Salsa will make you ditch your usual go-to of chili and cheese.
Ingredients:
1 mango, peeled and diced
1 Roma tomato, diced
1 jalapeño, seeded and minced
1/4 cup diced red onion
2 tablespoons chopped fresh cilantro leaves
2 tablespoons freshly squeezed lime juice
1/2 teaspoon honey
Pinch of salt
6 hot dogs
6 hot dog buns
1 avocado, halved, seeded, peeled, and thinly sliced
Directions:
In a large bowl, combine mango, tomato, jalapeño, red onion, cilantro, lime juice, honey, and salt, then set aside.
Preheat the grill to medium-high heat. Add hot dogs to the grill and cook until golden brown for about 3-4 minutes.
To assemble the hot dogs, add a hot dog into each hot dog bun, then top with mango salsa and avocado. Serve immediately.
 Bacon-Sriracha Potato Salad
As we all know, potato salad is a staple of any backyard barbecue, whether it's the Fourth of July or not.  It's one of those comforting dishes that you'll find everyone scrapping the last bits from the bottom of the bowl. This year, we are encouraging you to level up with the ultimate game changer: Bacon-Sriracha Potato Salad.
Loaded with an abundance of flavor, Bacon-Sriracha Potato Salad is a genius combination of bacon, green onions, sour cream, Sriracha, and potatoes. This recipe is spot-on with a balance of spice that is amplified by the addition of Sriracha. After trying your hand at this concoction, your friends and family will be begging for more. Not only will it make the perfect Independence Day dish, but you can also serve it at all your summer picnics!
Ingredients:
3 pounds red potatoes
3-4 slices of bacon
2-1/2 tablespoon white vinegar
1/4 teaspoon salt
3/4 cup mayonnaise
1/4 cup sour cream
1/2 tablespoon Sriracha, plus extra to taste
1/4 cup chopped green onion
Paprika, to taste
Directions:
Peel potatoes and chop into 3/4-inch cubes, then place in a large pot and cover with cold water about 1-inch above the potatoes. Set the burner to high and bring the water to a boil.
While you wait, line a rimmed baking sheet with parchment paper and top with 3-4 slices of bacon. Set the oven to 400 degrees Fahrenheit and place the baking sheet inside on the center rack. Bake for 20 minutes until crispy and golden.
Once the potatoes reach a boil, reduce heat to low and simmer, stirring occasionally for approximately 8 minutes until potatoes are fork tender.
Drain potatoes and move to a large mixing bowl, then add salt and vinegar and combine gently with a rubber spatula. Allow to cool slightly, letting the potatoes sit for around 15 minutes.
Combine the mayonnaise, sour cream, and sriracha in a small bowl.
Once the potatoes have cooled a bit, fold the mixture in using the rubber spatula. Top with crispy bacon, chopped green onion, and paprika and serve at room temperature.
Apple, Cranberry, and Almond Coleslaw
There is much debate about coleslaw—you either love it or hate it. But, there's no denying that during BBQ season, you need it on your table's spread. It's a common side dish that's found in many restaurants, from local, sit-down barbecue joints to fast food favorites. However, if you usually aren't particularly excited about adding coleslaw to your already stacked plate of BBQ delights, this recipe for Apple, Cranberry, and Almond Coleslaw may alter your opinion on the very controversial food item.
If you want to go down in your family's barbecuing history as the coleslaw master, Cranberry, Almond, and Apple Coleslaw might just get you there. It is made with a tangy, yet creamy dressing, which consists of Greek Yogurt, mayo, honey, and apple cider vinegar. The crunchiness of the apples, cranberries, and almonds is really what makes this dish pop. Again, as a unique spin on an old recipe, Apple, Cranberry, and Almond Coleslaw is the answer to the great coleslaw debacle of 2019.
Ingredients:
Dressing
3/4 cup fat-free Greek Yogurt
1/4 cup mayonnaise
1/4 cup honey
2 tablespoons apple cider vinegar
Salt and freshly ground black pepper
Coleslaw
1 small cabbage, shredded (6 – 7 cups, packed)
1 1/2 cups matchstick carrots
2 large gala apples, sliced into matchsticks (approx. 3 cups)
1/2 cup sliced green onions
3/4 cup sliced almonds
3/4 cup dried cranberries
Directions:
In a mixing bowl, whisk together the Greek yogurt, mayonnaise, honey, and apple cider vinegar until smooth, while seasoning with salt and pepper to taste.
In a large bowl, toss together cabbage, carrots, apples, green onions, almonds, and cranberries.
Pour the dressing over the cabbage mixture and toss to evenly coat. Serve immediately.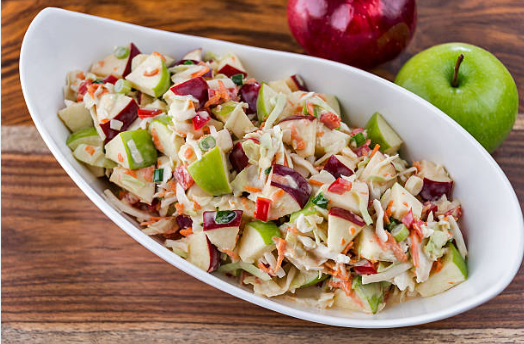 Parmesan Garlic Corn
Nothing—and we mean nothing—is better than some corn on the cob slathered with butter and a bit of salt. Whether you're dining at a restaurant or sitting at the dinner table, it's always been your go-to veggie. How can you not be addicted to the natural sweetness that ignites your taste buds after each bite?  Now, it's time to share your love of corn with your friends and family by preparing Parmesan Garlic Corn for your ultimate Independence Day celebration.
Parmesan Garlic Corn is an easy dish that consists of a few easy-to-find ingredients, such as fresh corn, butter, garlic, parmesan, and parsley. All you have to do is fire up the grill, get your corn cooking, then brush it with melted, garlic-infused butter. To top it off, sprinkle a bit of parmesan and parsley to tie together the scrumptious flavors. It'll be one for the book of recipes stored on mom's bookshelf!
Ingredients:
4 ears fresh corn
2 tablespoons butter
1 clove garlic grated
1/4 cup freshly grated Parmesan
1 tablespoon freshly chopped parsley
Instructions:
Preheat grill to 350 degrees Fahrenheit.
Remove most of the husks on the corn and leave the innermost layer intact. Pull them back just enough to remove the silks, then place back over the corn.
Place corn on preheated grill and cook. Turn the corn once or twice until the kernels are bright yellow, or for about 15-20 minutes.
In the meantime, place butter and garlic in a small heat-safe bowl. Microwave until butter is melted, or about 10-15 seconds.
Remove remaining husks and brush the corn kernels with melted garlic butter while still hot. Sprinkle with Parmesan cheese and parsley, then serve immediately.
---
Share this article: