Have a Happier and Healthier Thanksgiving with These Simple Tips for Success
By Meghen Jones
Back to the blog
---
It's that time of year when college students are headed back home for Thanksgiving—a favorite holiday among most for its impressive buffet of holiday favorites. While it is great to be surrounded by all your family's recipes, it can be difficult to make healthy decisions amongst a cornucopia of good eats. To better understand the scope of a typical Thanksgiving meal, you'll have to digest this food-for-thought: Americans consume 3,000 to 4,500 calories during their Thanksgiving festivities, according to estimates by the Calorie Control Council, and up to 229 grams of fat. Yikes!
Even though you're already salivating over the thought of traditional Turkey Day dishes, like, stuffing, mashed potatoes with brown gravy, sweet potatoes with roasted, ooey-gooey marshmallows on top… wait, what were we talking about again? The point is that we find ourselves binge eating each year on the day-of, the day-after, and beyond. We get it—it's difficult to resist the foods you dream about all year when you've been stuck eating ramen noodles for three-days straight, but there has to be a means to an end when it comes to the festivities. Eventually, you'll have to pump the breaks and just say "no."
How? Well, at uCribs we believe that Thanksgiving doesn't have to be the ultimate showdown between your health goals and seasonal temptations. You can find a balance between what you want and what you need with 7 tips that will happily satisfy all of your seasonal cravings and fulfill your desire for a guilt-free feast. Time to gobble it up!
Map out a calorie plan before the big day.  
Prior to Thanksgiving Day, you might have (literally) spent day and night daydreaming about the mouthwatering plethora of dishes that await you back home. We don't blame you— who doesn't aspire to devour a delicious Thanksgiving feast? Just because it's the holiday season, it doesn't mean that you should disregard your healthy habits, however. Make a plan ahead of time that breaks down your expected daily calorie intake over the holiday break. Be sure to account for any calories burned if you hit the gym! This way, you can indulge in your favorite foods without consequences, like a bloated stomach or even weight gain. Nip the extra holiday pounds in the bud and stick to a conscious, yet flexible, health and wellness routine—it's not like your whole world has to go out the window because it's Thanksgiving.
Don't be unrealistic about the whole thing.
For many of us, the holiday season is a time of year where we allow ourselves to splurge and dismiss any health goals we've set for ourselves. And, that's okay. There's a 90-percent rule when it comes to nutrition. Within reason, you can still slack-off from your regular nutrition plan up to 10-percent of the time and still meet your nutrition and fitness goals. It's all about moderation when it comes to leading a healthy lifestyle. Trainers all over the country will tell you this is how you stick to your health and wellness trajectory long-term. So, it's alright to splurge a little. We'd even go as far as to say that it's completely necessary! Make smart choices in your selections, watch your portion sizes, and just enjoy yourself—one or two heavier meals is not going to completely ruin any progress you've recently made.
Eat breakfast on the morning of Thanksgiving.
Thanksgiving morning has arrived, and of course, you want to save your appetite for the big meal. You reason that you should probably skip out on breakfast to save some stamina—right? Wrong! While you might want to save enough room for all of that juicy turkey and savory cornbread stuffing, breakfast is still the most important meal of the day, even on Turkey Day. Studies have shown that people who eat breakfast have more control over their appetite throughout the day. Keep it small, light, and full of protein, fiber, and healthy fats. A good example would be an egg with a slice of whole-grain toast and a fourth of an avocado. That way, you will get in a few of your daily macros, without offsetting your appetite for Thanksgiving lunch or dinner.
Prepare a healthier version of your go-to recipe. 
As you begin to prepare your contribution to Thanksgiving dinner—whether it'd be a dessert, appetizer, or main dish—we advise you to make your recipes with lower amounts of fats, sugar, and salt. Healthier substitutions for called-for ingredients would also be a great approach. If you're making mac and cheese, for example, consider using whole wheat pasta, fat-free milk, and fat-free cheddar cheese, as opposed to the normal go-to ingredients in your family recipe. You can also change the cooking and prep techniques, eliminate or cut back on some ingredients (condiments or toppings, anyone?), or consider adding more protein and fiber. Don't worry, your dishes will be just as tasty, and you'll feel way less guilty!
Skip out on the second-round—you'll thank us later.
Temptation can be the hardest obstacle you face on Thanksgiving Day. There are so many family dishes you look forward to each year, like your dad's honey-roasted ham, your grandma's made-from-scratch mashed potatoes, and your sister's interpretation of green bean casserole. Your mouth is watering just thinking of all the possibilities on your plate. But, hold it for a minute—while it might seem like a good idea now to go back to the buffet-style table your family has prepared, take our advice and just skip it! For one, dessert might be just around the corner, if you choose to have it, and you should focus on enjoying your slice of pumpkin or pecan pie. Second, there's always Thanksgiving leftovers tomorrow or the next day, so you don't have to go overboard with just one meal. The remnants of your great feast will be chillin' in the fridge tomorrow. We promise!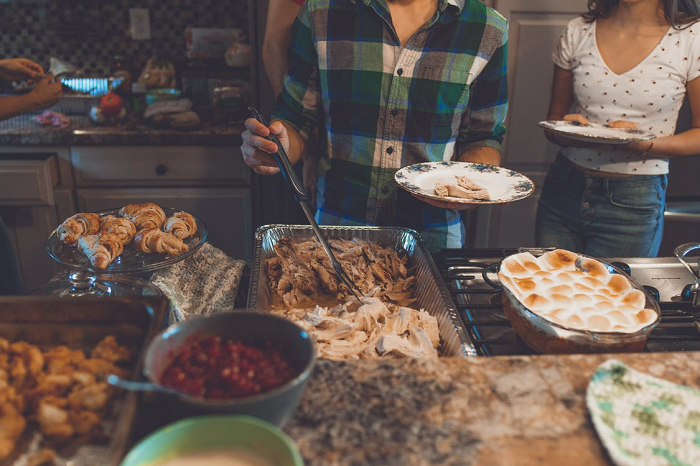 Savor the whole experience of the meal—not just the food. 
From the second you sit at the dinner table to the moment you snooze off in front of the TV watching football, there's a whole annual routine to your feasting extravaganza. That's what you must keep in mind that it's a marathon, not a sprint. It's totally okay to take your time, savor your meal, and really enjoy the experience—the atmosphere, the company, the decorations, all of it! Enjoy each bite from your plate at a steady pace. What's the point in demolishing it, only to miss out on all the textures, flavors, and consistencies? Sure, you have some of your favorite food in the world in front of you, but take your time, and most of all, don't take this moment for granted. Experts recommend chewing slowing, putting your fork down between bites, and really tasting each fork-full for complete satisfaction.
Like we said, focus on the company all around you.  
Although we briefly glazed over this point, we really want to drive it home. Even though the food is a large portion of what makes Thanksgiving a holiday favorite, the day wouldn't be complete without family and friends by your side enjoying the meal with you. Make the time and effort this holiday season to really celebrate these meaningful relationships that have made you who you are today—a successful, well-balanced college student. It will be well worth the drive or flight home to socialize and spend some uninterrupted quality time with your loved ones, and not just by eating! You can watch a football game, go see a movie in theatres, start your Christmas shopping, or just hang out without the constant thought of school in the back of your mind. Seriously, it's the reason for the season, and you should make the most of it.
Thanksgiving comes around once a year, and it's only right that you fully enjoy it, while keeping your health and happiness in mind. While we understand that it's nearly impossible not to give in to temptations and food binges this time of the year, you don't have to take it to the extreme. Like everything, holiday food is best when it's enjoyed in moderation, meaning that it's okay to splurge, but just do it within reason. We know that you've probably worked tirelessly throughout the year to maintain a healthy lifestyle, so don't let Thanksgiving be your detour when it should be just a pit-stop. With our 7 tips for a happier and healthier Thanksgiving, you will be able to enjoy the holiday without overindulging, and worst of all, regretting your indulgence.
---
Share this article: