Embark on a Spring Break Adventure by Visiting One of These 8 National Parks
By Meghen Jones
Back to the blog
---
It seems like just yesterday that you were prepping for fifteen long weeks of school work, campus activities, and all the in's and out's that go with student life. But, before you knew it, you reached midterms, and now, Spring Break—and just like that, the semester is blowing by in the blink of an eye. Can you believe it? Well, it does seem to happen every single semester, whether you like it or not.  Too much to do and too little time to do it always make the days seem shorter, after all.
But, didn't we just mention Spring Break? We sure did! Spanning from late February to mid-April, Spring Break is a vacation period for students at universities across the country. Beginning in the 1930s, Spring Break has become a pop culture phenomenon, being broadcast on MTV specials and highlighted in feature-length films, like Harmony Korine's 2012 Spring Breakers. Spring Break is more than senseless partying on the beach, though. It's a time to emotionally reset and reconnect with what you love doing most—which may be nature, for some.
With that being said, have you ever considered spending your Spring Break at a National Park? If you haven't, you might want to reexamine your destination options. As busy college students, nothing is better for our overwhelmed spirits than disconnecting from our daily routines—all the responsibilities, due dates, and assignments can be put aside for a moment, while you focus on your own mental and physical well-being. In the words of famous American essayist and philosopher, Ralph Waldo Emerson, you should, "adopt the pace of nature: her secret is patience."
A visit to a National Park is the perfect way to embody Emerson's words and temporarily "go off the grid." In that very spirit, uCribs has decided to break-down our top 8 National Parks in the U.S. that are perfect Spring Break, or really, anytime for that matter.
Yellowstone National Park | Wyoming, Montana, & Idaho
Recognized as the first National Park in the U.S.—not to mention, the world—Yellowstone National Park is a span of pure natural beauty that occupies North Wyoming, as well as parts of Montana and Idaho. As an avid nature lover, you may have Googled the park more than you care to admit, and now, you can make plans to see it in person! With an array of breathtaking features such as Old Faithful, the Grand Prismatic Spring, and Mammoth Hot Springs, college students will be amazed by this park's astonishing geothermal elements, which offer some much-needed peace of mind after a stressful week of midterms.
If you're hoping to check off a few outdoor activities—like hiking, biking, and boating—from your Spring Break bucket list, Yellowstone boasts an accommodating environment for all the above. While you'll need to stay alert to the buffalo, bears, and wolves roaming freely around you, one trip to Yellowstone is sure to open your eyes to your country's natural beauty. Trust us, this will be such a welcome change after spending weeks buried under your textbooks at the same desk of the library.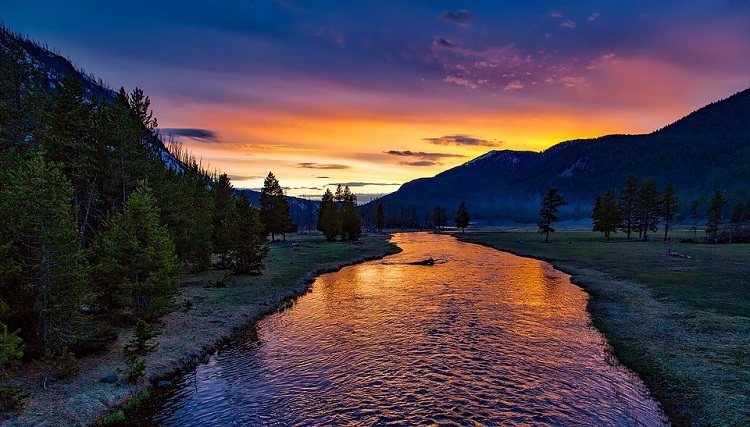 Yosemite National Park | California
Do you enjoy traditional park-oriented activities such as camping, fishing, and bird-watching? If any of this sounds like your cup of tea, then you will want to make your way to Yosemite National Park. Spanning across 750,000 acres of California's Sierra Nevada mountains, Yosemite National Park is home to the most iconic rock formations in the nation, such as Glacier Point and Half Dome. Not to mention, it houses calming waterfalls that flow throughout the park.
Additionally, Yosemite National Park is world-renowned for its rock climbing, which will flood you with a sense of accomplishment— and pure adrenaline— by the time you reach the top. After you do your victory dance, don't forget to snap an Instagram-worthy shot of this park's picturesque scenery, which is so beautiful that it seriously rivals the Seven Wonders of the World. After a well-planned getaway for Spring Break, we're certain that you'll be dying to return during the winter season for some downhill skiing!
Glacier National Park | Montana
Have you ever known a park to span across more than one million acres of land with three mountain ranges and over 100 lakes? Not many of us have, but if you're interested, look no further than the gorgeous Glacier National Park! Glacier National Park, which is a wilderness area located in Montana's Rocky Mountains, places you in the center of an exhilarating atmosphere full of glacier-carved peaks and valleys that reach the Canadian border.
With a long-awaited Spring Break ahead of you, a trip to this park is exactly what you need. Enjoy a day full of outdoor activities at Glacier National Park, where you can hike or cycle along one of its many trails. You can even camp overnight, boat across glistening waters, or partake in guided tours with park rangers. Best of all, Hidden Lake Overlook, which is located within the park, is known for an adorable population of mountain goats that will warm the heart of any animal lover.
Grand Canyon National Park | Arizona
As any nature enthusiast knows, you cannot create a bucket list of National Parks without adding Grand Canyon National Park. With recognition in everything from movies to travel magazines, the Grand Canyon is noted as one of the most awe-inspiring natural sites in the U.S.—amongst Americans and foreign visitors alike. This park, located in Northwestern Arizona, consists of an eighteen-mile wide and one-mile deep valley that was shaped over time by the Colorado River.  No wonder it's the second-most visited park in the United States!
College life may have deprived you of the extra time needed to embark on adventures, but a visit to the Grand Canyon will surely allow you to make up for lost time. Check out its wide variety of trails, including the Rim Trail for first-time adventurers and the Bright Angel for pros. If you're a sucker for a stunning view, there's no shortage here! Simply walk along the Grand Canyon Skywalk or raft across the shimmering Colorado River to get your fill of natural beauty. It's nothing short of awe-inspiring, to say the least.
Grand Teton National Park | Wyoming
Ever wondered what it would be like to be surrounded by a vast mountain range in the middle of nowhere? If so, make your Spring Break plans at Grand Teton National Park, a 310,000-acre National Park located in the northwestern corner of Wyoming. The park is acknowledged as one of the most popular outdoor destinations in the world. And with a reputation like that, it's no wonder why people travel near and far to see what the chatter is all about.
With Spring Break right around the corner, you finally have a little extra time to visit and explore this treasured National Park, which will allow you to take a walk on the adventurous side. Of course, you can participate in typical park activities— like kayaking and hiking— but you can also get your heart racing with more unique endeavors, like horseback riding and mountaineering. After a day well-spent, you'll soon discover that this park amounts to way more than its beautiful natural scenery—it's also a great place to try outdoor pursuits you haven't yet experienced!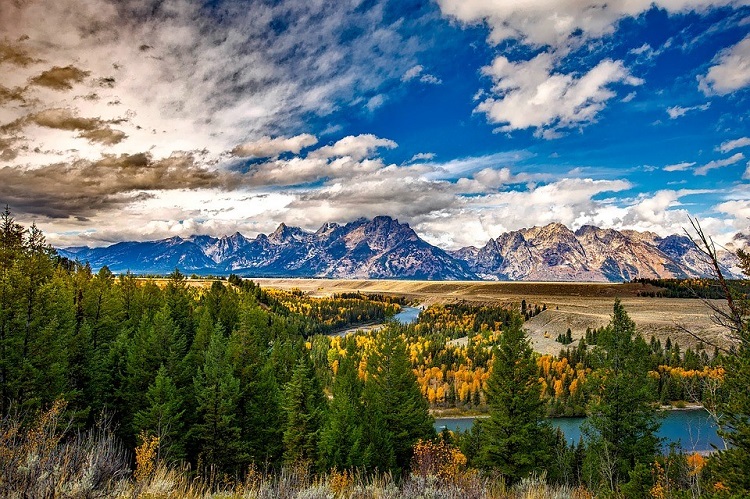 Zion National Park | Utah
At the risk of sounding dramatic, we don't want to say that the scope of your entire world will change once you step foot in Zion National Park—but honestly, it will. Located in Southwestern Utah, Zion National Park is beyond exceptional for many reasons—one being its scenery, of course. From the massive sandstone cliffs of cream, pink, and red to the crystal blue skies dotted with puffy, white clouds, this park offers one of the most uniquely beautiful color palettes found in nature.
But this park's appeal doesn't stop at its physical beauty. At Zion National Park, you can explore The Narrows, go canyoneering in the Kolob Canyon, or experience world-class rock climbing and hiking routes. No matter your heart's desire, this park is sure to fulfill it to some degree. It's the one place that feels like the perfect escape from the stress you have accumulated throughout the semester. Just promise us that you'll return to the real world once the week is up, okay?
Rocky Mountain National Park |  Colorado
When you think of Denver, you probably envision beautiful mountain ranges, crisp snowfall, and outdoor activities like skiing and snowboarding. And you wouldn't be wrong! Denver is a top-notch destination for outdoor winter sports enthusiasts, so what better place to start exploring your new favorite pastime than at Rocky Mountain National Park?
With over 355 miles of hiking trail available, it's a must-see for any college student longing to explore nature's undeniable beauty. Even if you're not necessarily ecstatic about hiking, the park does not limit you. Instead, it opens you up to a selection of activities, from fishing and horseback riding to scenic drives along the mesmerizing Trail Ridge Road. Want to get up close and personal with wildlife? Don't forget to pack your camera – you'll definitely want to document your adventures encountering the 70 mammal species and 300 bird species that populate Rocky Mountain National Park.
Olympic National Park | Washington
With so many admired national parks across the country, our list of recommendations just wouldn't be complete without mentioning Olympic National Park. With its lush green trees, clear blue waters, and smoothly carved rocks, Olympic National Park has been attracting visitors from around the world since its inception in 1938. From backpacking beginners to experienced hikers, the park caters to every skill set. Try the Mount Ellinor Trail if you're up for a challenge or stick to the Sol Duc Fall Nature Trail to keep it simple.
The park is also perfect for boating and fishing, exploring the shallow tide pools, or seeing furry Olympic marmots, which can only be found in the area. You can also spend a bit of time wandering around Olympic's dazzling rock formations. As a safety precaution, you'll want to avoid any rock formations not designated for climbing, especially if you're not experienced, as there are many fractured rocks that cover the area. But, with a bit of common sense and a thirst for adventure, you're sure to achieve the experience you're seeking at your new home away from home, Olympic National Park!
Whether or not you consider yourself a nature enthusiast, a trip to any one of these National Parks will grant you an incredible opportunity to escape daily stressors and focus on your mental health for once—all while gaining a new perspective on the world as you know it. Plus, there's nothing more stimulating than the opportunity to wander around impressive natural landscapes, soaking in all the flora and fauna you usually don't encounter in your daily life. Sure, a week at the beach is the safe Spring Break choice, but wouldn't it be more rewarding to return to campus feeling refreshed and rejuvenated for your upcoming finals week, as opposed to mentally and physically drained? Yeah, we thought so.
---
Share this article: