6 Punny Costumes That Will Earn You Some Serious Cred at This Year's Halloween Party
Back to the blog
---
As fun as Halloween festivities are, there's usually one area that gives even the most festive of college students brief pause: trying to figure out what the heck they'll be wearing to this year's big party. Of course, you could go the easy route and dust off the same costume you wore last year. Or, if you've got money to spend, you could simply wander around your local costume shop until something jumps out at you – figuratively speaking, we hope!
But, since you're in college, you're probably hoping to come up with a Halloween costume that not only shows off your personality, but also only costs a small chunk of change. Creative yet cheap, that's always been your motto, and you better believe that you're sticking to it this spooky season. Put an awesome spin on your DIY costume and make it punny! What is a punny Halloween costume, exactly? Well, not only is it proof to your English professor that you actually listened during class, but it also allows you to cater your costume to a certain pun, a word or phrase that pokes fun at its different possible meanings.
Everyone loves puns, so it only makes sense that the season's hottest – and most DIY-friendly – get-ups involve your unique take on common puns, like "make like a tree and leave." From seasonally-inclined puns to those you use year-round, uCribs has decided to round up 6 of our favorite punny costume ideas for Halloween 2019. So, queue up your favorite Halloween playlist, browse our list, and get ready to rock your campus Halloween party with a costume that's both thoughtful and hilarious—we also mentioned cheap, right?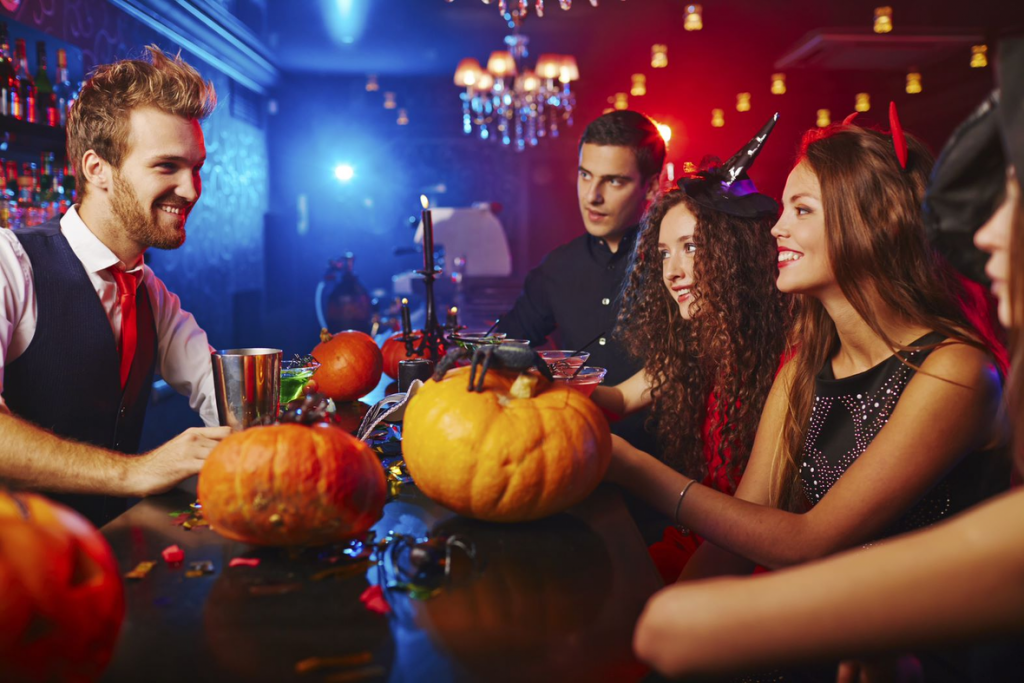 Pumpkin Pi
What you'll need:
A pumpkin costume (Purchase one from the store, make your own, or simply pick out a bright orange t-shirt and call it a day!)
A piece of black felt
Scissors
Hot glue
A black magic marker (A good back-up if you choose not to use glue and felt.)
You'll be the smartest pumpkin in the patch when you dress up as a Pumpkin Pi for Halloween! Math prodigies – and, really, everyone else – will love showing off their wit and intelligence with this look that pays homage to the mathematical constant. It's easy to create the Pumpkin Pi costume: just start with a regular pumpkin costume and attach an oversized pi symbol – created using either a felt cut-out or magic marker – to its front. Other than being totally hilarious, the best thing about the Pumpkin Pi costume is the freedom you have to make it as simple or elaborate as you'd like. Go all-out with orange and green accessories or stick to a basic black-and-orange look.  No matter how you choose to put your personal spin on this costume, the end result is sure to receive an irrational amount of attention— get it?!
Smart Cookie
What you'll need:
Graduation cap and gown
Printed images of cookies (You can also use real ones – just don't be surprised if your costume is half-eaten by the end of the night!)
Hot glue or tape
You know that you're ahead of the class in terms of looks, personality, and intelligence. Well, at least that's what your mom tells you. Yet, you've still got a way to go before receiving that highly-coveted college degree – no pressure or anything. Since it is Halloween, why not conjure up a bit of good juju for your future self with this Smart Cookie costume? Remind your peers – and yourself! – that you're destined for greatness with this pun-derful Halloween getup. Purchase a cheap cap and gown online or at a local thrift store, then cover the gown with printed images of cookies or even actual cookies. We'll give you extra bonus points, if you're committed enough to your costume to carry a fake graduation certificate with you and show it off to everyone you meet!
Social Butterfly
What you'll need:
Butterfly wings and antennae
Printed images of social media logos
Hot glue or tape
You're always first on the scene with your smartphone, whether you're tweeting, vlogging, or simply just "doing it for the 'gram." So, why not verify your Social Butterfly status with this all-too-appropriate DIY costume? It will certainly earn the blue checkmark of approval from friends and peers alike!  You can float your way to the hottest Halloween party in town in this easy-to-create look, which can be accomplished by picking up some butterfly wings and a headband with antennae at your costume store of choice, or simply finagling certain items together to create both pieces.  Once you have the butterfly aspect of your costume nailed down, attach printed logos of your favorite social media platforms to your outfit. Needless to say, the Social Butterfly costume is a straightforward, yet totally "buzz-worthy," costume that will look great on your Instagram grid and create some serious FOMO for the folks who missed out on the shindig.
Lego My Eggo
What you'll need:
Lego costume:
Lego-shaped mask (Buy one online or craft one out of cardboard and yellow paint – just don't forget holes for your eyes and nose!)
Red t-shirt
Lego logo printed on iron transfer paper
Iron and ironing board
Eggo costume:
Round piece of cardboard (Unless, you prefer to buy a waffle costume online.)
Shades of brown and yellow craft paint and paint brushes
String or ribbon,
Red paint
Paper, if you don't want to paint the logo directly on your costume
Whether you're a Stranger Things fan, obsessed with all things '90s, or a waffle enthusiast, the Lego My Eggo costume is a clear winner for college students spending Halloween with their significant other or best friend. It's simple, really: one of you dresses up like a Lego, and the other dons a waffle costume with the Eggo logo front and center. Not only will you look great separately, but you'll also cause quite a stir if you decide to combine your puniness.  Boom! You can become the ultimate '90s commercial catchphrase just like that. While this costume will take a bit more effort than the others on this list, trust us when we say that your work will be worth it once everyone is lining up to take a picture with Lego My Eggo!
Zom-bee
What you'll need:
Bee costume (Think a black and yellow striped top, wings, and antennae.)
Zombie-inspired makeup from costume shop
A Halloween classic, the bumblebee costume is favored by everyone from trick-or-treating toddlers to party-attending adults. In fact, we're pretty sure your younger sister has donned this look more than once.  However, not all bumblebees can say that they took their costume to the next level with a punny twist. Take our advice on the matter and transform the basic bee costume into the Zom-bee – and, yes, this costume is as epic as it sounds.  Start your look with the basic bee outfit, then begin to apply ghoulish makeup. Exaggerated dark circles around your eyes and a ghostly pallor – achieved with black and white costume makeup – will really drive the message home. With costume preparation this easy, there's no reason not to "dead-icate" yourself to achieving the full Zom-bee look!
Bear Minimum
What you'll need:
A pair of animal ears, preferably ones that look like they belong to a bear
Your regular clothing
Did you procrastinate Halloween prep until the very last second? Not much of a Halloween fan, but need something – anything – to wear to the big campus bash tonight? Put forth the Bear Minimum with this witty and extremely bare-bones costume. All you have to wear is a pair of bear ears and your regular clothing. Yep, it's really that easy! Sure, you won't be winning any Best Costume awards with the Bear Minimum look, and it's entirely possible that some partygoers will think you dressed up as yourself! But, at least it will save you from being "that person" who refused to dress up for Halloween at all. Hey, you tried – kind of – and that's the whole point of rocking the Bear Minimum.
---
Share this article: