6 Easy-to-Put-Together Recipes for the On-the-Go College Student
By Meghen Jones
Back to the blog
---
College is the one place that will make you feel busier than you ever have been. How can you not? You're always tied to writing research papers, studying for upcoming exams, and actively participating in your student organizations of choice. With a plate so full, you're left with a small amount of time to eat—let alone prepare a full course meal before moving on to the next task on your to-do list. That's why you find yourself running on an empty stomach more often than not.
Not eating, however, can be detrimental to your health and success as a student. Did you know that students who have good eating habits learn more efficiently, make higher grades, and can better process information and maintain alertness? Plus, you're probably tired of being that person whose stomach is always growling during class.
We know that you've put in the leg-work already, like the time that you spent countless hours searching through recipes of your favorite food bloggers, in an attempt to compose some sort of meal plan. It can be difficult to choose which recipes to add to your weekly meal plan when there are so many options available. Well, call us Chef uCribs because you know we are always cooking up something in the kitchen. Narrow down the options with our top 6 picks for meals on-the-go.
 Monte Cristo
Since 1910, the Monte Cristo has been a popular Parisian staple that has also found its way into American culture. A Monte Cristo is a grilled or deep-fried ham and cheese sandwich that is typically topped with béchamel, a French white sauce. Though it may seem way above your purview of kitchen skills, you can easily recreate this recipe with a few simple ingredients, like crescent dinner rolls, ham, Swiss cheese, and raspberry jam. Just thinking about the savouriness of the ham combined with sweetness of raspberry jelly is enough to make your mouth water. After sampling the first bite, it's safe to say that you'll probably have this meal on-the-go quite often.
Ingredients:
8 oz. Pillsbury refrigerated crescent dinner rolls
8 slices ham
8 slices Swiss cheese
1/3 cup cream cheese
Raspberry jam
Powdered sugar
Instructions:
Preheat oven to 375 degrees Fahrenheit.
Roll out and separate the refrigerated dough into 8 triangles onto a cookie sheet coated with non-stick cooking spray.
Place one slice of ham on each triangle, then spread two teaspoons of cream cheese on each piece of ham.
Place one slice of Swiss cheese over the cream cheese.
Roll up each triangle into a crescent shape, then bake for 15 minutes or until rolls are golden brown. After baking, sprinkle with powdered sugar.
Dip in raspberry jam and enjoy!
Buffalo Chicken Roll-Ups
Who doesn't love buffalo chicken? If we seriously asked that to a room full of college students, we're pretty certain we'd hear nothing but crickets. There's just something about that extra kick of heat from buffalo wings, combined with the cool, creaminess of ranch that sets your taste buds on fire—in a good way. That's why Buffalo Chicken Roll-Ups are a must on any college student's meal prep radar. With shredded chicken, gooey mozzarella, melted butter, and the right amount of seasoning, these roll-ups are super easy to make before heading out for class or returning home after a long day of lectures. Even if you normally aren't a huge fan of spicy food, this dangerously delicious recipe will have you cluckin' about its goodness to all your closest friends.
Ingredients:
1 cup shredded chicken cooked
1 tablespoon butter melted
2 tablespoon buffalo sauce
1/4 teaspoon garlic powder
1/2 teaspoon parsley
1/8 teaspoon black pepper
1/2 cup mozzarella cheese
3 flour tortillas (8-inch)
Ranch dressing
Instructions:
In a small bowl, stir together butter, buffalo sauce, garlic powder, parsley, and black pepper.
Place shredded chicken in a large bowl and pour buffalo sauce mixture over chicken. Stir to combine.
Heat 1 tablespoon of butter in a large skillet over medium.
Prepare the rolls by placing a line of mozzarella cheese toward the end of the tortillas.
Top the cheese with a line of the buffalo chicken.
Roll each tortilla tightly.
Place rolls into the hot skillet with the seam side down and cook until golden and toasted. Be sure to turn, so each side gets equally crisp.
Place rolls on a plate and slice at a diagonal.
Serve with ranch dressing for dipping.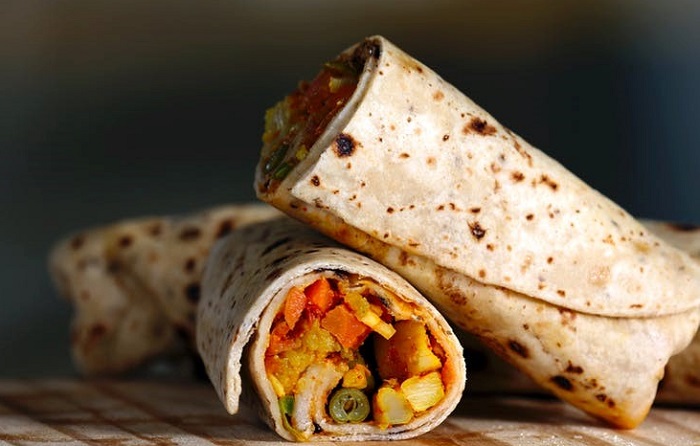 Triple PB Nutella Banana Sandwich
Peanut butter and jelly sandwiches are an all-time favorite of college students everywhere. It's a nostalgic food that takes you way back to those days of watching cartoons with a PB& J in-hand.  But, have you ever ventured outside the typical sandwich staple with a Triple PB Nutella Banana Sandwich? Made with Nutella, peanut butter, and a banana, a Triple PB Nutella Banana Sandwich is a next-level twist on the ultimate childhood treat. It's crispy, buttery outside brings together the gooey peanut butter and Nutella. This sandwich will have you seriously questioning whether it's a meal or a straight-up dessert. Can you say comfort food?
Ingredients:
3 slices of soft bread
Nutella spread
Peanut Butter
Banana
Butter, softened
Instructions:
Cut the edges off of the bread.
Spread peanut butter on one slice of bread.
Spread Nutella on the other slice of bread.
Spread butter on the last slice of bread.
Slice banana in half and then slice each half into thirds.
Place three slices of banana on top of the peanut butter bread and three slices of banana on the Nutella bread.
Heat a buttered skillet over medium heat.
Place the buttered slice of bread on the skillet, being sure to place the buttered side down. When the buttered slice of bread is golden on the bottom, remove from the heat using a spatula.
To assemble the sandwich, use a spatula to carefully stack the slice of Nutella bread on top of the slice of peanut butter bread, then place the buttered bread on top with the toasted side up.
Press down on the sandwich gently with a spatula before placing it on a plate.
Let sandwich cool slightly and then slice at a diagonally. Serve and enjoy!
Greek Salad Pitas
Healthy meals are crucial for successful college students, especially when you're trying to stick to your fitness goals. However, it can be hard to resist temptation in college when many of your peers are splurging on fast food. Believe it or not, there are many healthy meals that can accommodate your on-the-go routine, like Greek Salad Pitas. A batch of these turkey-filled pitas will transport you to Greece with their lemony feta spread that is made with oregano, lemon juice, and, of course, feta cheese. Whether its lunchtime or you need a snack, this is one on-the-go meal that you certainly won't regret.
Ingredients:
Feta Spread
3/4 cup crumbled feta cheese
3 tablespoon non-fat plain yogurt
1 tablespoon fresh lemon juice
2 teaspoon dried oregano
1 teaspoon finely grated lemon zest
1/4 teaspoon freshly ground black pepper
Sandwich
4 large whole-wheat pita breads
4 large pieces romaine lettuce
1 English cucumber
1 bunch mint leaves
3/4 pound thinly sliced roasted turkey breast
Instructions:
In a medium bowl, combine the feta cheese and yogurt with a fork, mashing any large chunks of cheese. Stir in the lemon juice, oregano, lemon zest, and pepper.
To make a sandwich, cut a pita in half to form 2 pockets. Line each pocket with half a lettuce leaf. Spread 2 heaping tablespoons of feta spread into each pocket. Then fill each pocket with about 6 cucumber slices, 4 or 5 whole mint leaves, and 2 or 3 slices of turkey.
Serve immediately or wrap in foil to-go.
Overnight Blueberry-Almond Oatmeal
You've heard mom remind you many times that breakfast is the most important meal of the day. Although its importance cannot be stressed enough, it's much easier to skip out on a meal if it means getting to that 8 a.m. class on time, or waking up just a little later. That's why suggest preparing Overnight Blueberry-Almond Oatmeal. Made with oats, brown sugar, milk, and vanilla extract, this oatmeal will keep your belly full in the morning, even though it might not seem like it as you read over the recipe. All you must do is combine the ingredients, let it sit overnight, and enjoy your meal in the morning. It's as easy at 1-2-3—quite literally!
Ingredients:
3/4 cup non-fat milk
1/2 cup old-fashioned rolled oats
1/3 cup blueberries
1 teaspoon packed light brown sugar
1/4 teaspoon finely grated lemon zest
1/8 teaspoon pure vanilla extract
3 drops pure almond extract
Kosher salt
1 tablespoon toasted sliced almonds
2 teaspoons honey or agave nectar
Instructions:
The night before class, combine the milk, oats, blueberries, brown sugar, lemon zest, vanilla, almond extract and a pinch of salt in a glass pint jar or other container with a lid.
Secure the lid and shake.
Refrigerate at least 6 hours, or overnight.
In the morning, top with the almonds and drizzle with honey.
Tropical Oatmeal Smoothie
Sometimes, it's more convenient to get the blender going and make a smoothie instead of an all-out meal with a ton of prep, just like this Tropical Oatmeal Smoothie. This smoothie is a tribute to island life—aka somewhere that you're really hoping to escape amidst an overwhelming to-do list of assignments. Packed with oats, coconut milk, vanilla extract, and fruit, you won't have to worry about receiving your daily dose of fiber, which will help you maintain a healthy weight, control blood sugar levels, and lower cholesterol. If you ask us, it doesn't get any better than this tropical escape in a cup that also benefits your well-being.
 Ingredients:
1/2 cup old-fashioned rolled oats
1 small banana, peeled and broken into 4 pieces
1 1/2 cups plain unsweetened coconut milk
1 tablespoon lemon juice
1/2 teaspoon pure vanilla extract
Kosher salt
3/4 cup frozen unsweetened mango cubes
3/4 cup frozen unsweetened pineapple cubes
Fresh pineapple wedges, for garnish
Instructions:
Add the oats to a blender, cover, and blend to a fine powder. Add 2 ice cubes, banana, coconut milk, lemon juice, vanilla, and 1/8 teaspoon salt, then cover and blend until smooth.
Add the mango and pineapple afterward, then cover and blend until smooth again.
Pour the smoothie into two large chilled glasses and garnish with a pineapple wedge.
---
Share this article: