The Grandest St. Patrick's Day Celebrations Around the World
By Meghen Jones
Back to the blog
---
It's time for the greenest holiday of the year to take over cities around the world in honor of St. Patrick himself. But, who is St. Patrick exactly? Well, he's a fifth-century Romano-British Christian missionary, who was taken to Ireland as a child slave by a band of pirates. Sounds pretty wild, huh?
Known as the "Apostle of Ireland," he was eventually recognized as the primary patron saint of Ireland. His life is commemorated on St. Patrick's Day, or the Feast of St. Patrick, which is observed on March 17th— the supposed date of his death. The holiday, however, has also become synonymous with the celebration of Irish culture. Cities transition into a green wonderland, people dress in festive Kiss Me I'm Irish t-shirts, and tables are filled with Irish fare, such as corned beef and cabbage, traditional Irish stew, and potatoes of all sorts.
With the holiday right around the corner, you're probably considering the many ways that you can take part in local festivities, but have you ever thought about the various St. Paddy's Day celebrations across the world? Sure, you've had your experiences with St. Patrick's Day parades and parties, but perhaps, on a smaller scale. If you haven't had the opportunity to explore every celebration on your bucket list yet, that's okay! You're still young, after all. In the meantime, uCribs has compiled a list of the 5 grandest St. Patrick's Day celebrations around the world.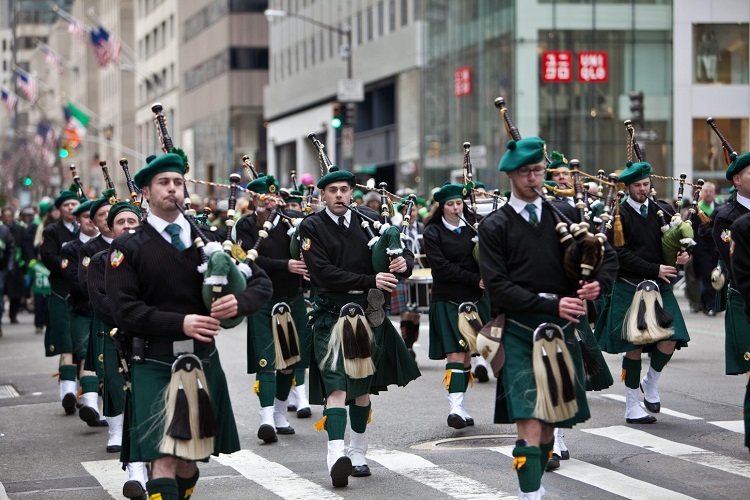 Dublin, Ireland
At the top of our list of St. Patrick's Day celebrations list is none other than the beautiful city of Dublin. Although it may seem a tad bit obvious to suggest, you cannot ask for a more authentic St. Paddy's Day celebration than in Ireland itself. Apart from the usual religious aspect of the holiday, the Irish throw a four-day festival to honor Ireland's patron saint. The festival boasts street performances, open mic-storytelling competitions, theatre, music, film, and more.
Alongside the festival, the greenest and grandest parade around takes place in Downtown Dublin. Attendees can enjoy tunes played by bands from all over Ireland and don their favorite green attire—whether it'd be hats, sunglasses, or full-blown costumes. Not to mention, iconic buildings around the city— such as Dublin's Christ Church— are lit up with gleaming green lights at night in an event known as "Greening the City."  Plus, if you love a challenging scavenger hunt, then you'll be in luck due to the annual St. Patrick's Festival Treasure Hunt. See? We told you what you pretty much expected—you can't go wrong with the epic St. Paddy's Day celebration in Ireland.
London, England
While you may know London's major landmarks such as Big Ben and Buckingham Palace, the city might appear different when it turns green in honor of St. Patrick's Day. As a part of the United Kingdom, London is home to a vast Irish community and takes pride in celebrating that very culture. Because of this, thousands of people head to London each year to participate in a weekend full of festival activities at Trafalgar Square, Leicester Square, and Covent Garden.
Those who partake in the St. Patrick's Day festivals spread across the venues will witness captivating performances by dancers of different backgrounds, in addition to the many decorative floats and outstanding marching bands present. The celebration just wouldn't be complete without traditional Irish storytelling, which is considered the flagship of Irish folklore. Their oral tradition is exemplified through famous storytellers, and the legacy continues today with the Seanchaí, who serve as "custodians" of ancient Irish lore. Although London might not be the first city you thought of when considering various St. Paddy's Day celebrations, we definitely believe that it's worth going at least once in your lifetime!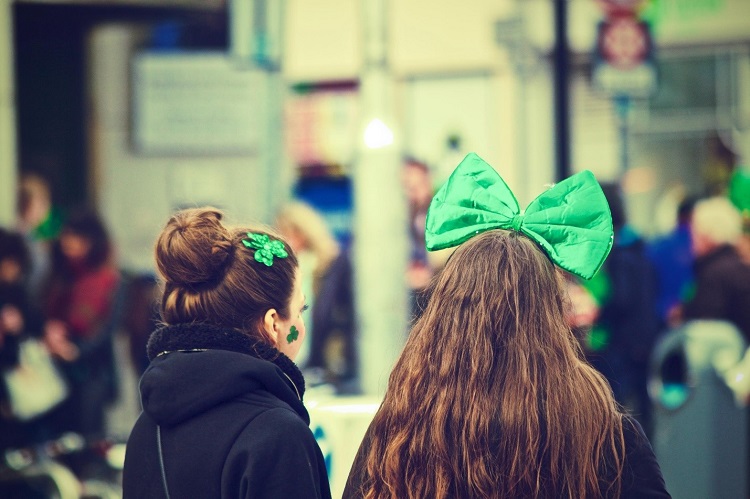 Copenhagen, Denmark
Have you ever taken a trip to Copenhagen? Although we all wish we could, it's true that not many of us have. But, if you're one of the few who've had the opportunity, then you won't be surprised that the city has made our list— especially considering its architecture, world-famous dining, and budget-friendly lodging. Add St. Paddy's Day to it, and Copenhagen is a city that cannot be contended with. While it's true that Copenhagen holds a standard, holiday-oriented parade, its celebrations extend beyond music and dancing.
On St. Patrick's Day, citizens of Copenhagen use the day to focus on volunteer work and philanthropic pursuits. The Danes host three-legged races, where nearly 700 people dress in green from head to toe and compete—all in the name of charity. To honor the spirit of the holiday, competitors make stops at Irish pubs along the way. Once the festivities are complete, all proceeds are split amongst one international, one Danish, and one Irish charity. It's an event that the true St. Patrick would be proud to support.
Buenos Aires, Argentina
You may be wondering why Buenos Aires has made the list since it's an island in South America—far from all of our European suggestions. However, many do not realize that Argentina is home to South America's largest Irish population and the world's fifth largest among the Irish population. Many are also unfamiliar with the fact that Argentina's most significant political figure, Ernesto "Che" Guevara is of Irish heritage, in addition to the roughly half a million Irish descendants in the country today.
Therefore, on March 17th, the streets become engulfed by the liveliest St. Paddy's Day fiesta known to man. From an array of live music, talented performers, and more than 50 options for food and drinks, there's just no way that you can miss out on the fun. Plus, the annual parade attracts more than 500,000 people each year. And for those who enjoy the perfect excuse to go the extra mile, there's even a costume contest. Now that you're probably thinking about your special costume, all we have to say is may the best leprechaun win.
Sydney, Australia
How can a continent known for kangaroos, koalas, and extremely hot weather turn it up a notch for St Patrick's Day? Well, believe it or not, Sydney does not disappoint. Thousands of visitors flock to the city to experience St. Patrick's Day due to the worldwide attention placed on Sydney's epic St. Paddy's Day celebration. You could even dare to say that they do it bigger than most places around the world. In fact, Sydney's St. Patrick's Day Parade is the second largest in the world with only New York's annual parade surpassing it.
Better yet, the famous Sydney Opera House is completely transformed with vibrant emerald green lights to mark the occasion. Tourists and locals alike will find it difficult not to notice restaurants decked out in shades of green as well, while those around them enjoy a hearty, authentic Irish meal—corned beef and cabbage, Shepard's Pie, and traditional beef stew, just to name a few. Now that you're salivating, we wouldn't be surprised if Sydney has already landed on your list without too much convincing from us!
Sure, you may not be able to travel far and wide to celebrate St. Patrick's Day on a student budget, but at least you can experience the world at a distance until the day comes. Whether you prefer enjoying a good party with friends or parading downtown, St. Patrick's Day offers the perfect opportunity to bond with your respective community—or one abroad— while celebrating the richness of Irish culture. Above all else, remember this: a good St. Patrick's Day celebration is like a four-leaf clover—hard to find, lucky to have.
---
Share this article: