Everything You Could Possibly Want to Know About Virtual Therapy
Back to the blog
---
Have you been experiencing anxiety lately? Feeling like you aren't yourself? These days, just about everyone is dealing with adverse mental health effects, thanks in no small part to the coronavirus pandemic. Given the illness' immense spread and daunting death rate – not to mention, the fact that even young, healthy adults can experience COVID's worst symptoms – you might understandably be feeling anxious and uncertain about the road ahead.  
Yet, it's important to remember that the current circumstances aren't permanent. Though it may feel like the end to the pandemic is nowhere in sight, the truth is that the coronavirus won't rule over our lives forever — even top medical experts are beginning to prepare for life after COVID-19. It's also crucial to realize that there are many resources out there to help you process your emotions and stressors during the pandemic and beyond.  
One such resource is virtual therapy, which has drastically taken off in popularity due to recommended social distancing standards. Want to learn more about this buzzworthy therapy technique? Read on to discover everything you could possibly want to know about virtual therapy.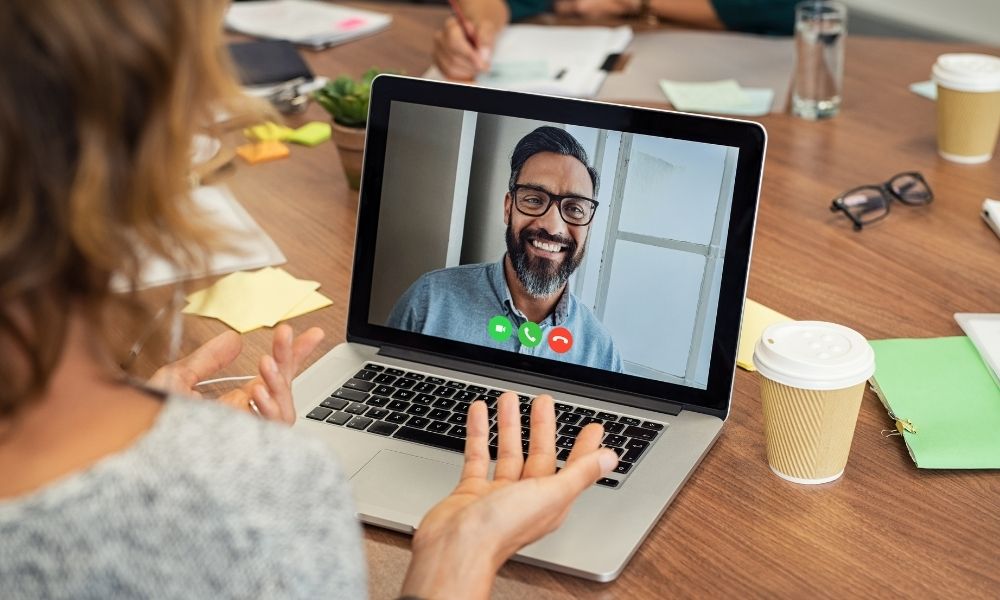 First things first – what is virtual therapy? 
According to the experts at the Anxiety and Depression Association of America, virtual therapy is "an online therapy, also known as telemental health, [where] a therapist or counselor provides psychological counseling and support over the Internet." If you ask your pals at uCribs, virtual therapy is a great way to connect with mental health experts, using email messaging, online chat, video conferencing, or old-school phone calls. Like traditional, in-person therapists, virtual therapists can talk you through your emotions and encourage you to take real-world steps toward reducing anxiety and embodying a healthier mindset overall.  
Who can enroll in virtual therapy? 
Though virtual therapy may have increased in popularity during the pandemic, it is helpful anytime, especially if you are someone who is normally unable to leave your home, has time-consuming obligations for work or school, or resides in a rural area, where in-person services may be slim. Anyone can enroll in virtual therapy, given that they have the available resources to meet with their therapist in an online space or over the phone. If you're struggling with a personal issue, feeling overwhelmed or super-stressed, or simply wishing to check in on your mental well-being, virtual therapy is a great avenue to explore your innermost thoughts and feelings.  
What are the costs associated with virtual therapy? 
The cost of therapy can vary widely, based upon your therapist's payment policies and your insurance coverage. But, even if you're planning to pay out of pocket for therapy, know that virtual appointments are often less costly than IRL sessions…and, sometimes, they're even free. For example, Blah Therapy offers free sessions with people willing to lend an ear while you vent, or paid sessions with licensed counselors. You could also consider asking your university's health services department about free online therapy, since many schools go out of their way to provide on-site counselors to students and staff. You might be able to obtain student access to a socially distant service or have them refer you to an independent counselor that is willing to chat online.  
How do I find a great virtual therapist?  
When it comes to locating an awesome virtual therapist, there's an app for that! No, really – these days, there's a therapy app for just about every type of patient. People, who identify as LGBTQIA+, can check out Pride Counseling, while people in relationships may find success with a service like ReGain. If English isn't your first language, BetterHelp offers bilingual services. Don't feel like you belong to any specific group per say? No worries! There are plenty of services ideal for all individuals, like TalkSpace, which specializes in COVID-19 support, among other topics, like depression, anxiety and stress, eating disorders, relationships, and more. 
What can I expect during my first virtual therapy session?  
As your online classes have surely illustrated by now, virtual interactions can be trickier to navigate than face-to-face communication. Your therapist will not be able to directly observe you through a phone conversation or text message, like they would in their office, for instance. To make your sessions easier, be prepared to speak as clearly and concisely about your experiences as possible. Ensure you have a private space perfect for speaking openly. And, if it helps you, make a list of all the topics you'd like to discuss in your weekly session. Setting yourself up for success makes it likely that you'll have a good experience with virtual therapy and use these vital services regularly.  
As if you didn't already have plenty on your mind during the beginning of the new semester, the coronavirus pandemic seems to have made a significant impact on our collective mental health. Don't blame yourself – we're currently living through a difficult period that will certainly go down in the history books. Luckily, virtual therapy can help for the time being! If you're interested in virtual therapy, refer to this blog as a primer to the wide world of online counseling – and, above all else, remember that your mental health is always worth prioritizing. 
---
Share this article: