4 Tips to Help You Build Your Very Own Professional Online Portfolio
Back to the blog
---
You might associate a portfolio with an established artist, looking for a way to show off their newest designs or a fashion student, who is eager to exhibit their unique sense of style with their works-in-progress. But, these days, anyone can benefit from a curated professional portfolio – yes, even those of you pursuing careers in computer science, business management, and other non-creative fields.
Why are portfolios necessary for non-creatives? Well, we're glad you asked. There's really no better medium than a portfolio to bring your experience and potential to life. While it's true that cover letters exist to help you showcase some of your personality during the application process, an online portfolio allows you to offer concrete proof of your on-hands experience. So, it's no wonder nearly 40 percent of hiring managers want to see a portfolio in addition to a resume!
Plus, since they are commonly overlooked in non-creative fields, a portfolio can really make you stand out from the competition when applying to a job, internship, graduate program, or other career opportunity, since it demonstrates your willingness to go above and beyond the bare minimum. Professional creative or not, you're probably excited to flex your skills in a new way, and an online portfolio can assist you in doing just that. To get started, read on for 4 tips that will help you make the most out of your online portfolio!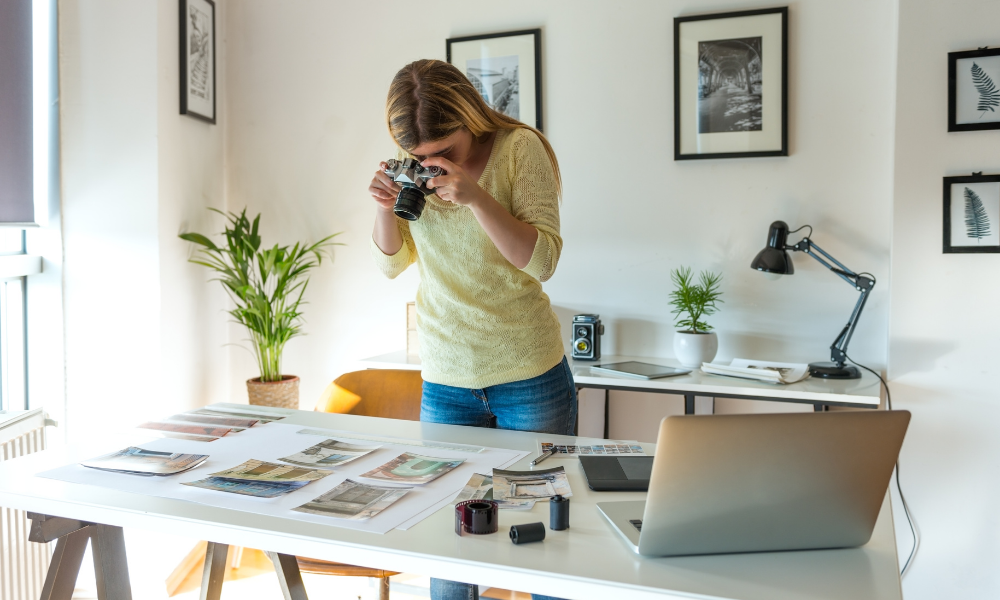 Include what your future employer or admissions counselor wants to see.
You're a talented student and budding young professional – so, naturally, there's a lot of great stuff you could incorporate in your portfolio. Still, you should refrain from including anything that isn't directly related to the goal you're working toward – as in, a promising job offer, a highly coveted volunteer position, or acceptance into an honors program that is related to your major. If you fill your online portfolio's pages with irrelevant content, you risk losing the attention of the very people you want to impress. So, when choosing the work you want to display, think about the kind of material your future employer or grad school admissions counselor wants to see and add only the most relevant work.
When it comes to design, keep it as simple as possible.
If you're using a website platform to create your portfolio, you might be blown away at how easy it is to create dozens of pages, integrate countless widgets, and fully deck out your site with fancy images and backgrounds. Yet, we highly advise that you keep it simple when designing your little corner of the Internet. Unless it's in your best interest to create a super imaginative portfolio – we see you, graphic design students! – you're better off keeping things straightforward with a professional template, readable font, and limited color palette. When it comes to your webpages, keep them at a minimum, and don't forget to dedicate space for your resume, contact information, and social media handles, if necessary.
Stand out from the rest of the crowd with glowing recommendations.
Recommendations are one of the most valuable resources a college student or newly minted graduate can have at their disposal. Favorable letters of recommendation from professors, guidance counselors, and anyone else, who is familiar with your character and accomplishments, can go a long way in helping secure future opportunities. Oddly enough, a lot of students overlook them when curating their online portfolio – but, their loss is your gain! Stand out from your peers and other competition by including five-star recommendations in your portfolio. The words from these letters will lend credibility to your accomplishments, while ensuring others that you're someone they should definitely get to know.   
And, don't forget to keep your portfolio updated over time!
You know what interviewers don't want to see? A wonderfully designed online portfolio with outdated work. Though it's understandable why you might neglect it over time, your portfolio must include relevant, up-to-date work and information, especially if you're actively seeking your next opportunity. So, be sure to update your contact information anytime you switch mobile phone numbers or email addresses. And, remember, the next time you hit a home run on a project or score a new letter of recommendation, upload it to your portfolio, and you'll always be ready for whatever new opportunities might come your way!  
Your online portfolio is more than just a digital record of your accomplishments! It's also a professional asset that presents viewers with an accurate picture of who you are and what you bring to the table. Follow our tips, and you'll create an online portfolio that paints a vivid image of your potential and will help you to snag a rewarding job, scholarship, or opportunity on the road to a successful and prosperous future.
---
Share this article: