5 Mother's Day Recipes That Will Absolutely Delight The Woman Herself
By Meghen Jones
Back to the blog
---
As we get older, we find ourselves appreciating our mothers more each day. When you're feeling sick, needing assistance with paperwork, or contemplating how to solve general life problems, who is the first person you call? Mom, of course. Undeniably, mom is superwoman and always comes through when you need her most—even when it's for the smallest request.
But, amidst your busy college student life, what have you done lately to show mom that you truly care? Well, it's a good thing that Mother's Day is right around the corner. Instead of spending hours surfing the web for a great gift, prove to mom that you also possess some of her mad cooking skills and brighten her day with a gourmet dish or two. Plus, there's no better way to put a smile on her face than a little bit of effort on your part. She really likes that, for some reason.
Anyway, if you're baffled as to where to begin, uCribs has prepped some tips, so come the holiday itself, you can serve up a platter of love with 5 of our favorite Mother's Day-inspired recipes.
Spinach and Prosciutto Frittata
When you think about all the great things that your mom has done for you, your favorite is probably waking up to the aroma of a delicious breakfast. Now that you're older, show mom that same love by preparing a hearty Spinach and Prosciutto Frittata. This frittata— made of eggs, goat cheese, spinach, and prosciutto— can be enjoyed on the patio with mom one morning, while soaking up the last of the beautiful spring weather. Obviously, Mother's Day is one day that mom definitely deserves to be absolutely pampered. So, why not start it off with a special meal, like this frittata?
Ingredients:
6 large eggs
1/2 cup milk
3/4 cup goat cheese, crumbled
5 ounces of baby spinach, wilted and chopped
1/2 cup roasted red pepper, diced
2 ounces of prosciutto, sliced into ribbons
Salt
Black Pepper
Directions:
Preheat oven to 350 degrees Fahrenheit, then spray a 12-cup muffin pan with nonstick cooking spray.
In a large bowl, beat together eggs, milk, 1/4 teaspoon salt, and 1/8 teaspoon black pepper. Stir in the cheese, spinach, and roasted red pepper.
Divide batter among muffin-pan cups (about 1/4 cup each), then top with prosciutto and bake for 20 to 25 minutes or until set in the center.
Cool on a rack for 5 minutes, then remove from the frittata cups. Serve warm.
 Crab, Mango, and Cucumber Finger Sandwiches
Do you remember hosting small tea parties in your bedroom as a kid? These were some of your fondest memories spent with mom, after all. She would even make the tiniest tea sandwiches to enjoy with your dolls, imaginary friends, and real-life friends. To honor this treasured memory, why not spoil mom for once by preparing Crab, Mango, and Cucumber Finger Sandwiches?  These sandwiches are refreshing, light, and creamy, easily bringing back those sweet memories of unforgettable bonding with your mom.
Ingredients:
8 ounce lump crab meat
1/2 cup very finely chopped ripe mango
3 tablespoons finely chopped fresh cilantro
2 tablespoons extra virgin olive oil
1 tablespoon lime juice
1/2 teaspoon salt
1/4 teaspoon pepper
Thin slices of a mini cucumber
White bread
Directions:
Stir together crabmeat, mango, cilantro, olive oil, lime juice, salt, and pepper until combined.
Place the slices of the mini cucumber on the white bread to form a thin layer.
Top with crab salad, then more bread. Cut off the crust and cut into squares and enjoy!
Pineapple Delight
Filled with a burst pineapple, this Pineapple Delight recipe will give mom a taste of paradise. Not to mention, it will satisfy her sweet tooth. It consists of simple ingredients, such as powdered sugar, whipped cream, and crushed, juicy pineapples. Just thinking about the crunchiness from the graham cracker crust combined with the smoothness of the parfait-like, fruit mixture will leave mom not wanting to share any of this very share-worthy dessert—and, who could blame her? Hey, maybe since it's her special day, you should set down the fork and back away slowly. If you ask us, you'll probably be glad that you did.
Ingredients:
1 cup graham cracker crumbs
1/2 cup butter, softened
2 1/2 cups powdered sugar
2 eggs
1 cup whipping cream
1 20-ounce can crushed pineapple, drained
Directions:
Preheat oven to 300 degrees Fahrenheit.
In a bowl, stir together graham cracker crumbs and melted butter. Press mixture into an 8×8 inch baking pan. Bake for 15 minutes.
In another bowl, cream together butter and powdered sugar. Add eggs and mix until combined. Spread the mixture on top of graham cracker crumb mixture in the baking pan. Bake for 30 minutes.
While it's baking, whip whipping cream, then fold in crushed pineapple. Spread on top of the cooled baking pan.
Serve in parfait dishes.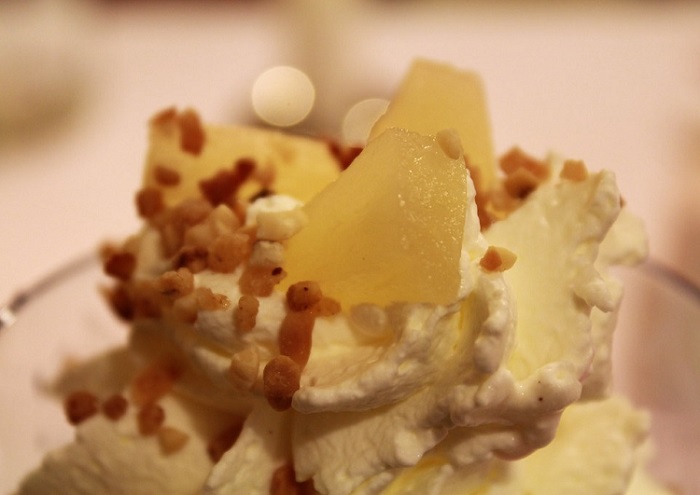 Balsamic Grilled Steak Salad with Peaches
Still haven't seen that one recipe that really stands out to you on our list? We get it. It's Mother's Day, and you are just thinking of the best way to spoil mom. That's the whole point of this blog, no? Well, this recipe for Balsamic Grilled Steak Salad will really put your culinary skills to the test. This simple, but quick recipe calls for skirt steak, brown sugar, lemon, and baby arugula, amongst its expansive list of tasty ingredients. Once the dinner table is set, mom won't be able to resist the sweet smell of peaches combined with the savory smell of steak. Most of all, she will be thankful that you brought the fine dining experience to her.
Ingredients:
1 pound skirt steak, trimmed of fat
1/4 cup balsamic vinegar
1 clove garlic, minced
1 tablespoon brown sugar
1 tablespoon vegetable oil
Kosher salt
Freshly ground black pepper
1/4 cup extra-virgin olive oil
Juice of 1 large lemon
6 cups baby arugula
2 peaches, thinly sliced
1/3 cup crumbled feta
Directions:
Add steak to a baking dish and toss in balsamic vinegar, garlic, and brown sugar. Let marinate for 20 minutes at room temperature.
Heat a grill pan to high heat. Rub the steak with vegetable oil and season generously with salt and pepper.
Grill until desired doneness, 3 minutes per side for medium-rare. Let rest for 5 minutes, then slice.
Meanwhile, make the dressing. In a small bowl, whisk together olive oil and lemon juice, then season with salt and pepper.
In a large serving bowl, add arugula, peaches, feta, and steak. Drizzle with dressing and gently toss. Then, serve and enjoy!
Sweet Sunrise
With so many delicious recipes on the horizon for the big event, your well-prepared meal just wouldn't be complete without a refreshing drink to accompany your scrumptious dishes. Of course, you'll want to offer up something as special as a mom, which you should check out this recipe for a Sweet Sunrise. The drink is made of orange juice and grenadine, then garnished with orange slices. The beauty of this beverage will capture mom's eye, as the orange juice perfectly blends with the redness of the grenadine. And, that's exactly how this drink got its clever name that will appease mom's palate and make the perfect, final addition to your meal together.
Ingredients:
4 ounces of orange juice
1/2 ounce grenadine
Garnish: orange slices
Directions:
Fill a highball glass with ice and orange juice.
Slowly pour grenadine over the juice. It will sink to the bottom and slowly rise to the top as you drink.
Garnish the drink with an orange slice. Serve and enjoy!
---
Share this article: