It's National Jazz Month! Here Are 7 Legendary Musicians You Should Know
By Meghen Jones
Back to the blog
---
Did you know that jazz music has a long and complex history in the United States? Since the late 19th century, jazz has been one of the most respected music genres, even being considered as "America's classical music." In fact, historians have described it as a combination of American and European classical music combined with African and slave folk songs. As a highly-respected music genre, jazz has played an important role in the way that the music industry has been shaped and has significantly impacted the music legends we look up to and the new music genres available today. There's much debate as to where jazz originated, but many believe it was a product of the culture in New Orleans, Louisiana during the late 19th century and early 20th century.
Throughout the 20th century, legends, like Louis Armstrong, Ella Fitzgerald, Miles Davis, and Billie Holiday, emerged only to influence many musicians and non-musicians alike. Before the unexpected impact of COVID-19, people across the globe could be found participating in the biggest festivals that paid homage to the genre and its stars, like the Ella Fitzgerald Music Festival, New Orleans Jazz & Heritage Festival, Tobago Jazz Experience, and Rochester International Jazz Festival. This April, also known as National Jazz Month, college students can continue the celebration of jazz music and its most influential musicians! To get you started, uCribs has compiled a list of 7 legendary musicians, who have gone down in jazz history!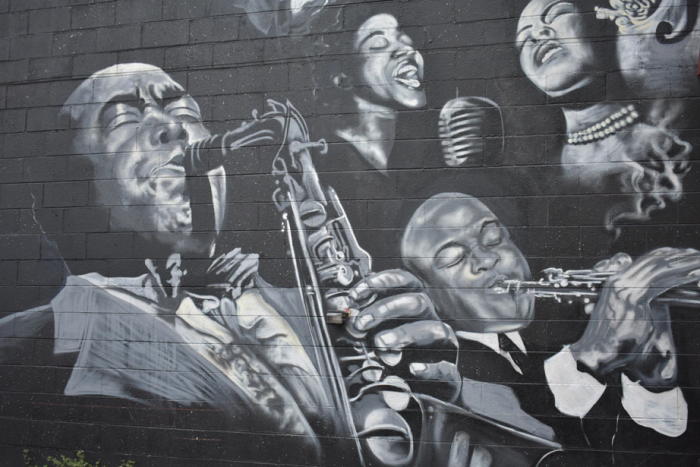 Louis Armstrong
A native of New Orleans, Louisiana, Louis Armstrong is one of the most influential jazz trumpet players and singers in jazz—just say his name and pretty much anyone will know who you're talking about right off the bat. Known as Satchmo, his infectious personality, gravelly voice, and iconic trumpet make him extremely memorable—what can we say? He also popularized scat singing, a method of improvised jazz singing where the voice imitates an instrument. This paved the way for many vocalists, like Ella Fitzgerald, Frank Sinatra, and Bing Crosby. Armstrong's trumpet playing, on the other hand, influenced a whole other set of artists, including Miles Davis and Dizzy Gillespie. In 1972, Armstrong was posthumously awarded the Grammy Lifetime Achievement Award. With a music career that spanned from the 1920s to the 1960s, Louis Armstrong's influence on pop culture is beyond comparison—and can still be seen in many aspects of our society today.
John Coltrane
John Coltrane, a composer and saxophone virtuoso, was a prominent figure in the jazz scene. At the height of the hard bop genre, Coltrane made his with his harsh, strident tone, unforgettable intensity, and improvisational style that set him apart from other musicians during his time. He had the ability to improvise and play a smooth, melodic sound on demand. Throughout his lifetime, he recorded a whopping fifty albums and developed the "Coltrane Changes," a harmonic progression variation that uses substitute chords over common jazz chord progressions. His achievements earned him a well-deserved spot in the Downbeat Jazz Hall of Fame, as well as a Grammy Lifetime Achievement Award.
Duke Ellington
There's jazz… then there's Duke Ellington's version of jazz! Duke Ellington is easily one of the most important composers in the history of American music. Ellington is best-known for writing more than 3,000 songs in his lifetime, including "It Don't Mean A Thing (If It Ain't Got That Swing)," "Mood Indigo," "Satin Doll," and "In A Mellow Tone." Over his career, Ellington accumulated thirteen Grammy awards, a Pulitzer Prize, a Presidential Medal of Freedom, a NAACP Spingarn Medal, and Commemorative U.S. quarter—yes, the man was so special to American culture that they printed him on our money. Between his standout compositions, admirable personality, and talented band, becoming a jazz icon was inevitable for an artist like Ellington.
Miles Davis
When it comes to jazz music, there are many reasons why Miles Davis makes the list. From bebop and cool jazz to funk and techno music, he was at the forefront of the emergence of multiple styles. Because he played around with different genres often, he was known for consistently reinventing his musical style and band lineups, which propelled jazz musicians Herbie Hancock, J.J. Johnson, Cannonball Adderley, Bill Evans, and Chick Corea to reach new heights. With songs like "So What," "Stella by Starlight," and "Bye Bye Blackbird," he was able to create unforgettable music throughout his fifty studio albums. In 2006, he was inducted into the Rock and Roll Hall of Fame and has been known ever since as one of the most innovative and influential jazz musicians of all time.
Ella Fitzgerald
The First Lady of Song, Queen of Jazz, Lady Ella… there's no other way to introduce the iconic Ella Fitzgerald, the most popular female jazz singer in the United States for more than half a century, than by her many names. Ella was known for her pure tone, flawless diction, and horn-like improvisational ability while scat singing. From sultry ballads to sweet jazz melodies, she was able to vocally imitate every instrument in the orchestra. She also worked with the best of musicians in the business, including Count Basie and Nat King Cole. Throughout her lifetime, she received 13 Grammy awards, an induction into the Down Beat magazine Hall of Fame, and a Kennedy Center Honor, while selling forty million albums and performing at top venues around the world. In 1987, President Ronald Reagan awarded Ella the National Medal of Arts. In addition to music, she dedicated much of her time to advocating for child welfare. We must say, Lady Ella is definitely the Queen of Jazz in her own right!
Billie Holiday
Nicknamed Lady Day by Lester Young, a friend and music partner, Billie Holiday is undeniably one of the most impressive female jazz singers of the 20th century. She is best known for her unique vocal style inspired by jazz instrumentalists, which has influenced both jazz and pop music. Billie's music was centered around the manipulation of phrasing and tempos, while her performances took a more intimate approach. Today, Holiday's recording of "Strange Fruit" remains one of the most important songs in history due to its powerful message about racism in the United States. Throughout her lifetime, she received several Esquire Magazine awards, and her posthumous awards include being inducted into the Grammy Hall of Fame, Ertegun Jazz Hall of Fame, Rock and Roll Hall of Fame, and the ASCAP Jazz Wall of Fame, as well as the National Rhythm & Blues Hall of Fame in 2017. It's no question that Holiday was a vocal powerhouse during her time.
Charlie Parker
Charlie Parker, also known as Yardbird and Bird, was a pioneering jazz alto-saxophone player and bebop musician and composer, whose fast, virtuosic playing, clean tone, and improvisational abilities influenced a multitude of America musicians. His ability to write songs with complex chord progressions and advanced harmonies revolutionized the standards for jazz composition itself. Eventually, Parker would become an icon for the hipster subculture, transforming the way that jazz musicians were viewed as intellectual artists. Many of his well-known compositions include "Ah-Leu-Cha," "Anthropology," "Confirmation," "Scrapple from the Apple," and "Yardbird Suite."  Musicians, like Cannonball Adderly, Sonny Stitt, and Jackie McLean, were said to have been heavily influenced by Charlie's unique style, so it's safe to say that Charlie Parker made our list for a reason!
No matter your age, you can't deny that jazz musicians have influenced the music that we all enjoy today. Whether it may be a pop song or something more soulful, modern artists, like Adele and Lady Gaga, have credited their musical style to the influence of multiple jazz musicians. Celebrate National Jazz Month by familiarizing yourself with its relevance to American culture and today's music scene. The best way to do so? Kick back and fill your ears with the sounds of history –trust us, you're in for a serious jazzified treat!
---
Share this article: