It's Officially Festival Season! Read Up on 7 Ways to Stay Safe Without Sacrificing Fun
Back to the blog
---
Coachella, Bonnaroo, and Woodstock: three of the biggest names in music festivals, all legendary for different reasons. But, unfortunately, each of these fests are almost as famous for insane tales of a woe and misfortune, as they are for their headlining performances and cultural relevance. And, no, we're not talking about the kind of misfortune you experience when you miss out on 2-for-1 Taco Tuesday because you have a study session with your name on it.
As anyone who's watched the Fyre Festival documentaries will tell you, there are serious risks associated with going into a music festival ill-prepared to handle all of the madness – like huge crowds looking to party, often irresponsibly, and harsh weather conditions—extreme heat, anyone? Just look at what happened with Woodstock, whose planners had no idea that the 1969 fest and its '90s reincarnations would draw as many people as they did, resulting in crummy crowd control, fatal accidents, and more.
And while modern fests like Coachella are safer than their predecessors, they still tend to prey upon young adults' sense of FOMO, adding up to a whole lot of pressure to party non-stop and create social media-worthy content in the process. But, admit it: you'd rather be in the desert cursing the hot sun than stuck on your couch watching everyone else rub elbows with the hottest Instagram influencers, right? Right.
Don't get us wrong – we're all for spring and summer fun, set against the backdrop of your favorite music festival, but, as with most things, it's important to understand the safety risks associated with festivals, leaving your crew to have a great time, worry and FOMO-free. Don't want to risk turning your dreamy, ethereal fest experience into something out of Rob Zombie movie? Never fear, uCribs is here with 7 indispensable safety tips for all of you about to get your fest on.
Create a plan and stick to it.
Yay! The coolest music fest known to man just released its schedule, so of course, you have to be there after a line-up like that. You can already see it now: an entire weekend of great tunes, plenty of sun, and good times spent with the best of friends. You'll catch all the headlining acts on your agenda, taste some of your bucket list fest food, and post your best selfies to the 'Gram. Somewhere along the way, you'll grab some merch, slather on some sunscreen, and take a break to hydrate. You'll figure it out as you go – no need to get all tripped up in the small details of the event just yet, right?
While you don't need to plot out an entire itinerary with scheduled time slots, music festivals tend to stick to a staunch timeline, while boasting an atmosphere where anything goes. For that reason, it can be hard to decisively plan the day's events once you're out there. A far better idea than just "winging it" is to create a simple plan for the festival – one that details which performances you'll catch, what items you'll bring along, and how you'll stay cool and comfortable. That way, you can refer to the plan when your lab partner that bummed along suggests a less favorable activity, like some stand-up comic set you've never heard of. If you're curious as to the tools you can use to set yourself up for success, check out our next point below.
Download fest-specific apps, if available.
After scoring tickets to the festival of your dreams, your excitement may manifest itself as outfit planning or refreshing your memory with material from your favorite act. But, while preparing for the big day, or weekend, don't overlook one tool sure to come in handy: the festival's respective smartphone app. These days, every big-name fest offers an app designed to make the experience as fun and convenient as possible – not to mention, way safe – with a range of features covering everything from the performance line-up to where to line up for the restroom.
Of course, every festival app will include a performance schedule with the stages you can expect to see your favorite musical artists on, but most will also include a directory of important stations – like water fountains and medical care tents. Some even boast real-time lost and found listings and services that allow you to link your wristband with your debit or credit card. This can be super handy for attendees who want to minimize their risk of theft by leaving cash and cards at home. Plus, every app will include a map of the fest grounds, which will come in handy if you find yourself needing emergency assistance – or an ice cream cone, stat.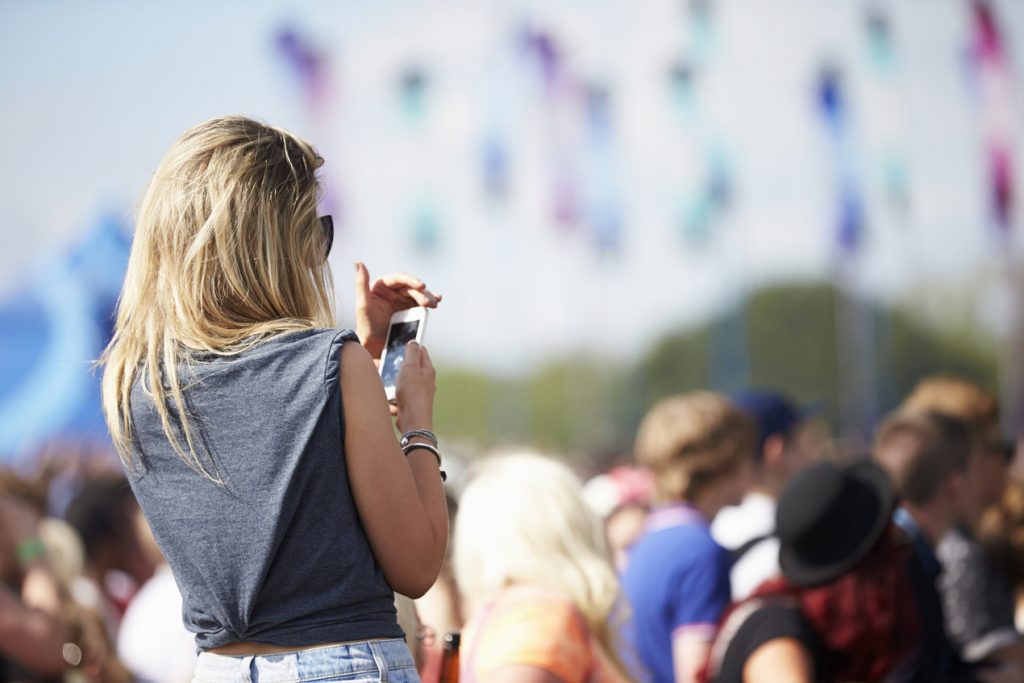 Don't bring anything of value to the fest.
Aside from awesome music, next-level art installations, and delicious grub, festivals are known for their uniquely dressed attendees. Futuristic sunglasses, brightly colored rave gear, and copious amounts of body glitter are all par for the course when you're a young fester. And if you've been looking forward to this event for months, odds are, you've already got your festival look on lock, all the way down to your brand-new, limited edition backpack perfect for stashing sunscreen, water bottles, and any fest finds you pick up along the way – like that commemorative t-shirt you've been eyeing ever since you walked in the main gate.
But here's the honest truth: festivals can be notorious for theft. With so many people crammed into one area, it's all too easy for strangers to seize your belongings. Pickpockets – who are more numerous than you might realize! – know all the tricks required to slip items out of back pockets, purses, and backpacks. Not to mention, festival activities themselves can be rough on your clothing and accessories. Last we checked, no one has ever made it through the pit without lost sunglasses or a stretched-out tank top. So, before you break out that splurge-worthy backpack, expensive set of earrings, or new GoPro camera, think twice. If you'd be crushed to have it stolen or well, crushed in general, play it safe and leave it at home.
Use the buddy system.
You wouldn't let your friends head to the biggest campus party of the year by themselves, would you? So, why would you choose to hit the festival circuit without your crew in tow? With their communal, "one love" vibes, music festivals can feel incredibly safe and inclusive. But in reality, they can be just as dangerous as any packed frat party. With their overwhelming crowds, it's all too easy for friends – or you, yourself – to get lost while staking out a spot for the next performance, picking up a snack, or even walking back from the nearest portable toilet.
That's why the buddy system is crucial during festival season. As a rule, don't let anyone traverse the festival grounds alone— no matter how quickly they say they'll be back— and always travel in groups when moving to catch another performance. It's also good practice to establish a meeting point in the event that your friends get separated from one another and cannot use mobile phones – service outages do happen when there are too many people in one place! Select a prominent tree, concession stand, or other festival landmark and make sure everyone knows to head there if someone gets lost. And, of course, if you seriously can't locate your friend or friends, go straight to an informational tent to request assistance.
Stay hydrated.
Festival season is hot. No, not only in the "hip and cutting edge" sense of the word, but hot in temperature. Even if your college town is barely above freezing now, once your travel plans take you to an arid desert or the swampy bayou, this will change significantly. That's why it will be crucial to stay hydrated while you're out there living it up. Why? Well, for starters, you probably won't enjoy yourself when you're parched. Secondly, partying in the heat for hours on end is the perfect recipe for heatstroke and other ailments rooted in dehydration.
We get it – it can be less than tempting to scout out H2O when you're almost front-row with thousands of other attendees waiting to steal your coveted spot. And unfortunately, not every festival supplies free water to its patrons. But neither situation changes the fact that an all-day fest absolutely requires adequate hydration. So, plan ahead. Many festivals allow you to bring CamelBaks and bota bags into the venue, both of which are excellent receptacles to keep filled and on your person all day. You can also fork over a few extra dollars for water bottles at concession stands. While the latter might add up quickly, don't kid yourself – staying hydrated and healthy is much more important than saving a few bucks, even when you're on a tight student budget.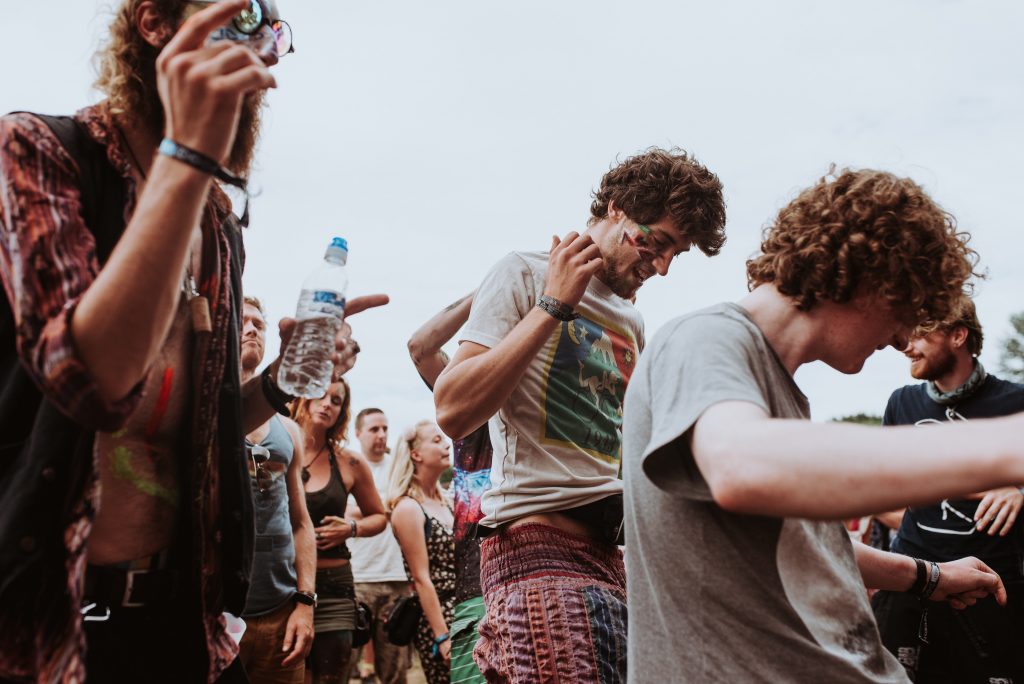 Keep an eye on your drinks.
Imagine this: you're super pumped to try a silent rave for the first time and have decided that there's no better place to do it than this festival. When it's your turn to put on those headphones and dance along to the beat, you absentmindedly put your drink on the DJ booth before entering your own musical wonderland. Once you're done, you turn in your headset, pick up your ID, and – oh no – you've just realized that your drink has been unattended to at least ten to fifteen minutes. You look around and rationalize that no one in the immediate area looks like someone who would spike a drink, so you shrug it off. Surely, it's okay to let it slide this once, right? You're at a music fest, after all.
Wrong. As much as we hate to sound like your mother, it's simply too risky to ingest anything that may have been left susceptible to unknown drugs. At this point in your college career, you know the drill: never accept drinks from strangers and never leave your beverage unattended. This also applies to the summer's hottest music festivals— no matter how nice your new "friends" may seem. Considering that 44 percent of men and 56 percent of women have unknowingly consumed spiked food or drinks, and that 52 percent of violations first occur during college years, it's just not worth it to leave your drink vulnerable to dissolvable drugs. And, in keeping with this rule…
Trust your gut.
Festivals don't only attract fun-loving college kids like yourself. They can also attract seedy characters looking to take advantage of younger, unassuming attendees who won't think twice about a stranger offering to buy a round of drinks or share a campground. Sadly, festivals can be the perfect breeding ground for rampant bad behavior, including physical violence, heavy drug use, and sexual violations. That's why you must trust your gut when encountering people you don't know or engaging in activities that may put you and your friends at risk. Sure, spending some time in a friendly stranger's air-conditioned camper may sound delightful, but if your instincts are telling you otherwise, don't ignore them.
The same mentality goes for you and your friends' health while at the festival. All too often, fest attendees ignore their body's warning signs in lieu of having a good time. If your roommate keeps complaining of dizziness but insists that "she's fine, really," don't take her word for it. And if you feel "off" for any reason, don't wait to seek out medical attention. Every legitimate festival will have emergency care on-site, and many will have several stations to accommodate multiple attendees at once. There, you'll find first aid kits, fans, and plenty of bottled water. And if you or your friends require further medical attention, you can rest assured that the on-site team will get you to the nearest hospital ASAP.
Warm-weather festivals are basically the epitome of college fun. After months of hard work and cold weather, little beats hanging out with friends, while jamming along to your favorite musical artists. So, don't ruin the good vibes by neglecting these basic – but essential – safety tips. With good judgement and a solid plan in place, you can soak up the sun worry-free, making festival memories that will last a lifetime.
---
Share this article: