Celebrate National Pasta Day with These 5 Incredible Dishes
Back to the blog
---
"Tortellini" in love with Italian cooking? If so, then you probably already know what day it is: National Pasta Day! While there are plenty of quirky days to celebrate in every calendar year, October 17th is particularly near and dear to our hearts – for obvious reasons.
No doubt about it, pasta is one of our favorite food items, not only for its delightful taste, but also for its status as a budget-friendly staple that lends itself well to a variety of dishes. Whether you choose to go all-out with gourmet toppings, keep it simple with herbs and olive oil, or simply toss your noodles with a pat of butter, pasta makes for a savory meal, "penne" way you want it. Heck, you can even swap traditional pasta for spaghetti squash or zucchini noodles!
Needless to say, there's no wrong way to fill up your plate with pasta – or a healthier, vegetable-based alternative. That's why, on National Pasta Day, uCribs encourages you to explore all the "pasta-bilities" of this versatile food with these 5 budget-friendly recipes guaranteed to make your stomach do a happy dance. Now, let's get to cooking!
Decadent Pasta Carbonara
Though the beginnings of the dish we now call Pasta Carbonara are debated, one thing is certain: Italians with limited resources have relied upon the rich, egg-based recipe for a fulfilling meal since the 1940s, if not longer. And, that's exactly what makes it such a winner for college students! Consisting of pasta, egg, bacon, and cheese, Pasta Carbonara is very light on your wallet, while also serving up thick, creamy, carb-y goodness. Plus, since you're likely working with a limited supply of cookware, you'll love the fact that this recipe is mostly done using just one pan. That means that you'll also have less to clean up after you enjoy this deliciously decadent meal!
Ingredients:
8 ounces dried spaghetti
2 large eggs
½ cup grated Parmesan cheese
4 slices of bacon, diced
4 teaspoons minced garlic
Salt and pepper, to taste
Chopped fresh parsley, to taste
Directions:
First, boil a large pot of water and cook the pasta according to package instructions. Once done, reserve ½ cup of the starchy water and drain the rest well.
In a separate bowl, whisk together the two eggs and grated Parmesan. Set aside.
Now, it's time to fry up the bacon. Heat a large skillet over medium-high heat and add the bacon. Cook until the meat is brown and crispy. Do not remove from pan once done.
Stir the minced garlic in with the cooked bacon. Keep cooking the garlic until it's slightly browned and giving off a strong, mouthwatering aroma. Then, reduce heat to low.
With the bacon and garlic still in the pan, work quickly to add the cooked pasta and egg mixture. (Take too long, and your eggs will cook in place, instead of evenly coating the pasta!) Toss everything to combine.
Add reserved pasta water, one tablespoon at a time, until the pasta reaches your desired consistency. Add salt, pepper, and chopped parsley to taste.
Serve immediately with a bit of extra Parmesan on top, if desired.
Broccoli and Chicken Fettucine Alfredo
Your parents always said to eat your vegetables, and that couldn't be easier with this next pasta recipe. While it may not be the most calorie-conscious way to consume your recommended daily serving of fiber and B vitamins, this Broccoli and Chicken Fettucine Alfredo is undeniably flavorful, thanks to its rich Parmesan cream sauce and perfectly cooked chicken breast. With a recipe this good in your arsenal, you'll give every food blogger on the Internet a run for their money. Not to mention, you'll also save tons of cash by whipping this up anytime you crave a restaurant-quality meal.
Ingredients:
16 ounces fettucine pasta
2 heads of broccoli, chopped into florets
4 boneless skinless chicken breasts, cut into cubes
4 tablespoons butter
3 teaspoons minced garlic
2 cups heavy cream
1 cup grated Parmesan cheese, plus more for topping
2 tablespoons olive oil
Salt and pepper, to taste
Directions:
Cook the fettucine in a large pot of boiling water. Once done, reserve one cup of the cooking water, drain the pasta of the rest, and set aside.
While you're waiting for the pasta to cook, heat a large skillet over medium high heat and add 1 tablespoon of olive oil. Toss in the broccoli, season with a bit of salt and pepper, and cook uncovered for approximately 4 minutes.
Add ¼ cup water to the half-cooked broccoli and cook uncovered until the water has evaporated and the broccoli is tender but crisp. Set the broccoli aside.
In the same skillet you cooked the broccoli in, heat the other tablespoon of olive oil and cook the cubed chicken in an even layer. Season with salt and pepper and keep on the heat for 5 to 7 minutes, turning several times. The chicken will be done when it's golden brown and firm. Set the cooked chicken aside, too.
Once more, return to your skillet to melt the butter. In the melted butter, cook the garlic for about 30 seconds, or until it's giving off a fragrant aroma. Then add the heavy cream, stirring well to scrape up any bits of garlic from the bottom of the skillet.
Add the grated Parmesan and cook until the cheese is melted, and the mixture is starting to bubble. Turn the heat to low.
Combine the cooked fettucine, chicken, and broccoli with the creamy cheese sauce. If the mixture is too thick, add the reserved pasta water until you've reached your desired consistency.
Serve warm and top with additional Parmesan cheese, if you'd like.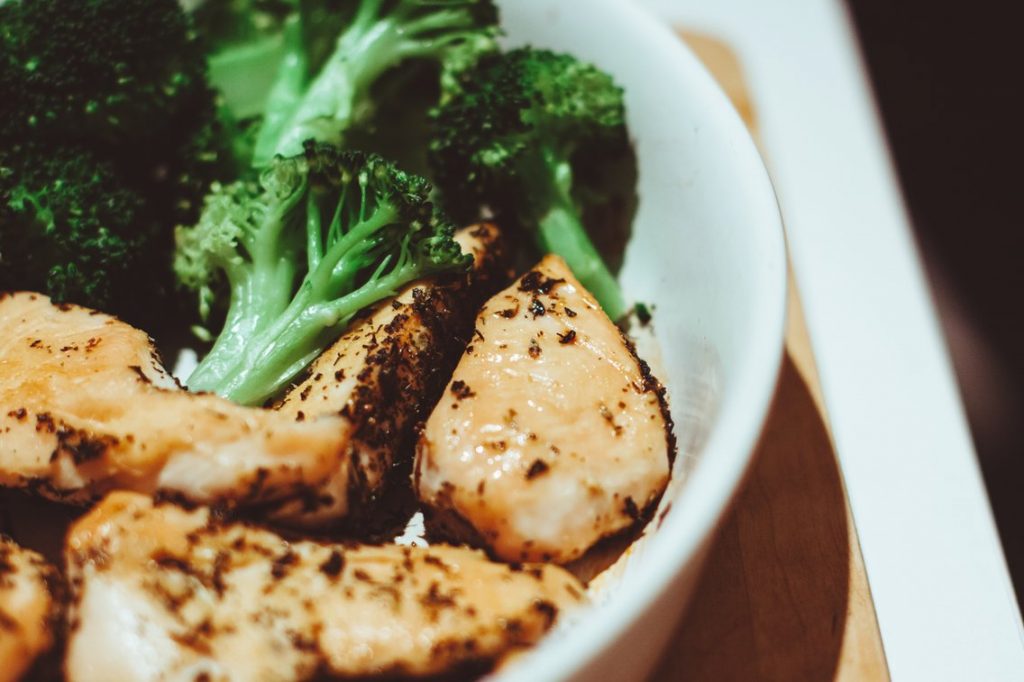 Vegan Pasta with Spinach and Garlic
Just about everyone can benefit from a comforting pasta dish, even those on restrictive diets! That's why this vegan-friendly pasta option is such a champ – well, that, and the fact that it only takes 20 minutes to prepare, making it an excellent choice for those nights when you need an  easy (and cheap) homecooked meal that won't cut into study time. Another thing we love about this recipe? It only uses one specialty item: dairy-free Parmesan cheese. That means that you can spend less money on a healthy, fulfilling meal that tastes just as good as anything from your favorite Italian spot!
Ingredients:
2 tablespoons olive oil
3 shallots, chopped (substitute with white onions when you're in a pinch!)
2 teaspoons minced garlic
¼ teaspoon red pepper flakes
8 ounces spinach leaves (or a couple of large handfuls)
8 ounces linguine pasta
¼ cup vegan Parmesan cheese
Salt and pepper, to taste
Directions:
First, cook the pasta to an al dente texture in a large pot of salted, boiling water. "Al dente" refers to pasta that is cooked, but still firm. You'll finish cooking the pasta later, so be extra careful not to overcook it now!
Before draining the pasta, reserve approximately two cups of pasta water.
Heat the olive oil in a large skillet over medium heat. Add the shallots (or onions, if using a substitute) and cook until soft and almost see-through. Stir in the garlic, red pepper flakes, and a pinch of salt and pepper.
Add in the spinach and stir until wilted.
Then, add the al dente pasta to the skillet, along with two ladles full of starchy pasta water.
Bring the pasta mixture to a simmer, stirring often. Continue cooking until most of the pasta water has evaporated. If needed, add more pasta water in small amounts until the pasta is cooked to your desired level of tenderness.
Stir in the Parmesan cheese and season to taste.
Classic Macaroni and Cheese
Little compares to a big, steamy helping of everyone's favorite comfort food: macaroni and cheese. In fact, we'd venture to say that mac and cheese can cure most of college life's ills. Spent a taxing day studying for mid-terms? Accidentally slept too late and totally missed class? Feeling nostalgic for mom's home cooking? Mix up a big pot of this Classic Macaroni and Cheese recipe, and you'll soon forget all about your worries. Also, worth noting is the fact that this eternal favorite is great for sharing with friends or bringing to your film club's next potluck.
Ingredients:
8 ounces elbow macaroni pasta
¼ cup butter
2 ounces cream cheese, cut in cubes
¼ cup all-purpose flour
2 cups milk
2 cups shredded cheese (try cheddar or colby jack)
½ teaspoon salt
Black pepper, to taste
Directions:
Thoroughly cook the macaroni pasta in a large pot of salted, boiling water.
While the pasta is cooking, melt butter in a large sauce pan over medium heat. Stir in cream cheese until well combined.
Then, stir in the flour, salt, and pepper until the mixture is smooth – about 5 minutes. This creates a delectable base for your cheese sauce.
Slowly pour milk into the sauce base, stirring as you go. Keep stirring until everything is smooth and slightly boiling. This will take anywhere from 3 to 5 minutes.
Add the shredded cheese to the mixture and stir until the cheese is well-combined with the other ingredients.
After you've drained the macaroni pasta and returned it to its pot, pour the cheese sauce mixture over the pasta and stir gently. Serve hot with extra cheese on top, if you'd like – no judgement on this end of the table!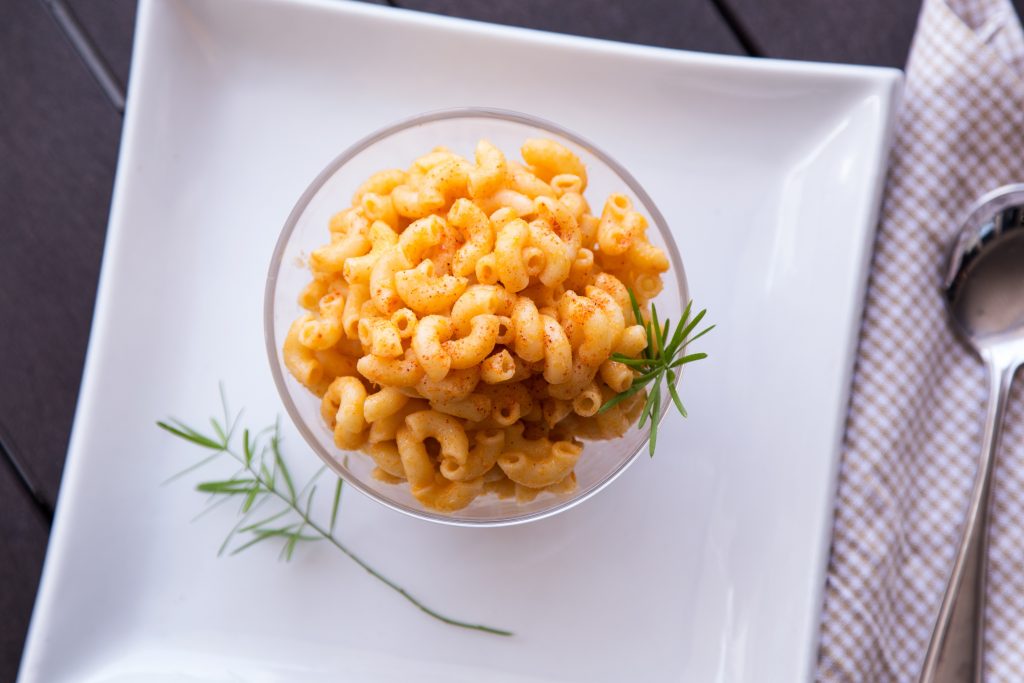 Cheesy Baked Ravioli
Ready for the easiest pasta recipe ever – or, at least on this list? Beginner chefs will particularly love this Cheesy Baked Ravioli, which requires only four easily assembled ingredients – including pre-made, cheese-filled ravioli – and a rectangular casserole dish. The rest of the magic happens right there, in your oven! Warning: this rich and hearty ravioli bake is so good, you may permanently swear off cans of Chef Boyardee. (Growing up is hard, we know.)
Ingredients:
1 jar tomato-based pasta sauce (25.5 ounces)
1 package frozen cheese-filled ravioli
2 cups shredded mozzarella cheese
2 tablespoons grated Parmesan cheese, plus more for topping
Vegetable oil or cooking spray, for preparation
Aluminum foil, for preparation
Directions:
Preheat oven to 350 degrees Fahrenheit. Prepare a 13×9" casserole dish for baking by applying cooking spray or rubbing in vegetable oil.
Spread ¾ cup of the pasta sauce in the bottom of the baking dish. Arrange half of the frozen ravioli in a single layer on top of the sauce. Then, top with half of the remaining pasta sauce and one cup of mozzarella cheese.
Keep layering your ingredients, starting with another layer of ravioli, then the rest of the pasta sauce, and finally, the remainder of mozzarella cheese. This way, the cheese melts perfectly on top!
Before putting the casserole in the oven, sprinkle with Parmesan cheese and cover with aluminum foil.
Bake the covered dish for 40 minutes. Once 40 minutes has passed, remove the foil and bake uncovered for 15 to 20 minutes longer, or until the bake is bubbly and hot. Let cool before serving.
---
Share this article: