Love to Travel? You Will Have the Adventure of a Lifetime with These 5 Careers
By Meghen Jones
Back to the blog
---
From the days when you were a curious child until the moment you embarked on your first plane ride, there was always something that caught your attention about travel. Your desire to learn about nature, discover new cultures, and try new things has led to an endless bucket list of places you want to visit. And, to be honest, we wouldn't be surprised if you're always planning a yearly summer trip with friends—even when they're complaining about being too broke to accompany you.
But, we all know how difficult traveling the world can be when you're a college student paying for everything related to your university experience, including—but not limited to—tuition, campus organization dues, and a swanky, off-campus student apartment. Either way, your passion for traveling never burned out completely, and your late-night Google searches of the gorgeous Yasawa Islands in Fiji is a pastime that's never dissipated to this day.
Why? Well, wanderlust definitely has something to do with it, and your belief that traveling doesn't have to be an annual or bi-annual event that you eagerly await. If you're passionate about travel, you should consider carving out a career path that allows plenty of time for just that: new adventures! Since uCribs always has your best interest at heart, we've decided to give you our two cents on venturesome careers that will satisfy your love for travel and lead you to plenty of undiscovered destinations.
Travel Writer
Degree Required: Bachelor of Art in Journalism
Are you part of your university's news team? As a student journalist, you're probably familiar with the list of topics available when it comes to keeping your audience's interest—sports, pop culture, politics, and more. Even though these topics are intriguing to everyone in some regard, you don't feel particularly passionate about these subjects, as someone who always sees the adventurous side of things. If this sounds like you, then you should consider becoming a Travel Writer!
Obviously, one of the most exciting jobs for travel enthusiasts is travel writing. As a Travel Writer, you will cover unheard-of destinations and all of the unique attractions found within them, while also documenting your visits to popular international cities, like Sydney, Paris, and London. If you're lucky enough to work for a large company, each year you'll focus on introducing the best travel destinations and experiences to readers.
Start a travel blog to build your writing experience and online reputation throughout college. To make this happen, you must be comfortable with sharing your personal traveling experiences—locally, nationally, and internationally. Not only will this help you build vital blogging skills, but it will also give potential employers an idea of your writing style and interests. Whether you choose to start a blog or pursue other creative mediums, the more relevant travel writing experience you have, the better chances you have at landing that dream job.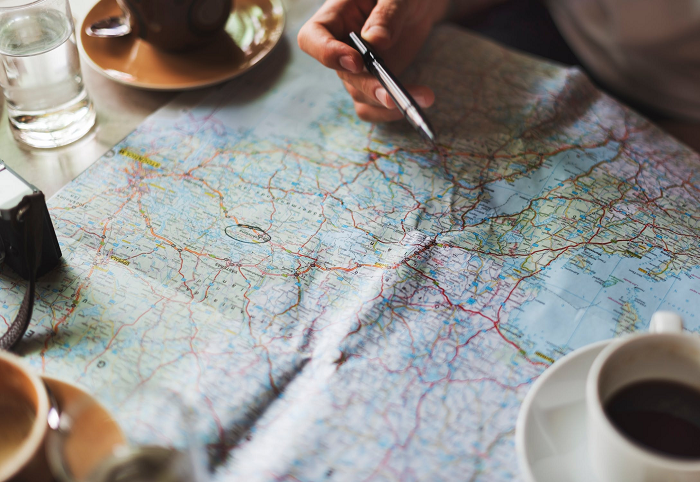 Sports Agent
Degree Required: Bachelor of Science in Sports Management
Do you love watching your favorite athletes hit the field? Are you and your friends addicted to fantasy leagues? Or, maybe you're unreachable by text whenever a sports draft occurs because you just have to keep up with player-team logistics? Whatever the scenario might be, it wouldn't be inaccurate to assume that you're a serious sports fan.
But, have you ever thought about what makes all the guts and glory possible? Well, it's a Sports Agent, or a legal representative for professional sports figures. Sports agents are the glue that holds your favorite team together. They sign new players, negotiate reasonable salaries, and form meaningful relationships within the respective sport's network. Sports agents, however, must travel a lot to get the job done.
As a Sports Agent, you may have clients spanning from the East Coast to the West Coast. While Skype business meetings can be great in accomplishing certain tasks, it won't always meet your objectives, especially when it comes to handling legal matters, negotiating contracts, and managing money. Due to this, you'll spend a lot of time traveling to meet athletes, league representatives, and potential clients. Best of all, you'll experience a little adventure as you fly from city to city to conduct business.
International Aid Worker
Degree Required: Bachelor of Arts in International Studies
Remember the last time you gave back to an organization dedicated to improving the lives of those in need? There was something so touching about that experience, and it's since propelled you to consider a career in civil service, where you can represent America's interest in other countries. But, why not take it a step further? Your adventurous spirit might be perfectly suited for volunteering abroad and coming face-to-face with those you're helping.
There's a position carved out for those who enjoy serving others and traveling the world, and it's called an International Aid Worker. International Aid Workers devote their time to help struggling or recovering countries, who have faced economic crises, natural disasters, war, famine, and despotism. They are also known for serving as an overseas representative of American goodwill.
However, successfully becoming an International Aid Worker will require more than just your kind heart. You will need an educational background in agriculture, engineering, education, or health, and some relevant volunteer or workforce experience wouldn't hurt, either. Once you get those pre-requisites under your belt, the International Volunteer HQ provides thousands of international volunteers with abroad programs in more than 40 destinations. And wouldn't it be worthwhile to experience an opportunity like this that suits your passions and future career? Yep, that's what we thought.
Travel Photographer
Degree Required: Bachelor of Arts in Photojournalism
When you think of traveling, the first thing that comes to mind is seeking out adventure. Relatively speaking, for every adventure you've experienced, your camera has always been on-hand to capture every second of your escapade. Somewhere amid capturing these moments, you developed a photography passion– and now, you can barely leave your apartment without grabbing your Canon first. You never know what you'll see when you're out and about, after all!
But, do you know what's better than accumulating pictures to store in a memory box? Utilizing your eye for imagery to carve out a prosperous career in travel photography. Becoming a Travel Photographer will require that you document an area's landscape, people, cultures, customs, and history. What other job would encourage you to journey around the world, snapping exotic destinations, tourist attractions, and events?
However, you must understand that having an eye for the perfect shot isn't enough to take you straight to the pages of Travel + Leisure. The job will require plenty of long work days, personal marketing, never-ending creativity, and the right equipment – which can be costly when you're just starting out. The reward is often worth the effort, though, once your images begin appearing in books, magazines, and websites. So, if you're ready for a career that doesn't adhere to the typical 9-to-5 structure and satisfies your wanderlust, a Travel Photographer might be the perfect job for you!
Tourism Officer
Degree Required: Bachelor of Arts in Travel & Tourism
With so much travel talk, we wouldn't be able to conclude our list without discussing a role that epitomizes travel-related careers: Tourism Officer. Tourism Officers are the bread and butter of the travel industry, often viewed as one of the most exciting careers within the industry itself. Once you full examine the scope of their work, you'll discover that Tourism Officers have their hands in everything from planning activities and lodging to navigating airlines and car rentals.
Tourism Officers work for a range of employers, such as public and private destination management organizations, public agencies and partnerships, and local authorities. As a Tourism Officer, most of your workload will include marketing, visitor management, and tourism product, service, and facility development. Plus, you'll receive nice perks, like invitations to the newest exhibitions and entertainment venues, as well as the chance to travel overseas and organize events!
Excellent verbal and written communication abilities, information technology know-how, adaptability, and resourcefulness are key skills you'll need to possess for this role. It's also worthwhile to sign up for courses related to tourism research, business management, and marketing. We also suggest building experience through an internship or part-time job at a local museum, tourism center, or any hospitality-related business. Put in the work, and you'll find your job search much easier in the long-run!
If you consider traveling your number one hobby, there are many careers that offer plenty of weekday adventures, while allowing you to establish a successful, stable career. From writing about far-off destinations as a Travel Writer to coordinating events abroad as a Tourism Officer, there are a number of career paths available that involve some element of travel. Who knows? You may learn more about the world around you than you could ever have imagined—and that's pretty darn cool, isn't it?
---
Share this article: