The Tricks to Transforming Your Off-Campus Apartment Into a Bona Fide Home
Back to the blog
---
Snagging your first adult apartment is the epitome of #goals. Seriously, how liberating is it to be able to live independently while enrolled in college? It's a pretty amazing feeling, if you ask us. But, one thing that may not be so amazing is your new crib's dismal interior. Not that there's anything wrong with your new space, since you've made a list of deal-breaking apartment red flags and checked it twice! It's just that your affordable, one-bedroom student apartment could use some serious help in the coziness department.
From harsh overhead lighting to cold, tile floors and blindingly white walls, it's entirely possible that your first apartment looks more like a medical facility than a home – and hey, that's nothing to be ashamed of, especially when you're a young adult just starting to get on your feet. It is completely possible to transform your cute, but admittedly dull apartment into a plush pad you can't wait to show off to all of your college friends. In fact, doing so is much easier than you might think!
If you're ready to upgrade your off-campus crib, just in time for the winter season, check out uCribs' top 6 tips for transforming your college apartment into a bona fide home.
Add plenty of photographs.
Missing your family and high school friends? Why not keep those you love most near and dear to your heart by adorning your new apartment with plenty of keepsake photos? Whether you decide to spring for a DIY photo collage or go the more high-tech route with a digital photo frame that can rest on your bedside table or desk, displaying photos of those you love most is a guaranteed way to make your off-campus apartment more homey.  After all, proudly displaying photos of yourself with your family and friends is a sure way to show visitors what – and who – you really care about. Plus, your parents are sure to get a serious case of the warm fuzzies when they visit you and realize that their photos inhabit your new space. That's what you call a win-win!
Consider purchasing rugs.
When you think of a cozy home, one of the things that might come to mind is thick, plush carpeting. Aside from helping retain heat, carpet flooring is synonymous with comfort. Unfortunately, some apartments don't offer carpet flooring, so if that's the case for your space, you'll want to emulate the look and feel of a comfy family home by installing the next best thing: rugs! Whether you go all-out with an oversized floor rug, or simply pick up a few runners, trust us when we say that adding a bit of comfort underneath your feet will go far in making your off-campus apartment feel like home.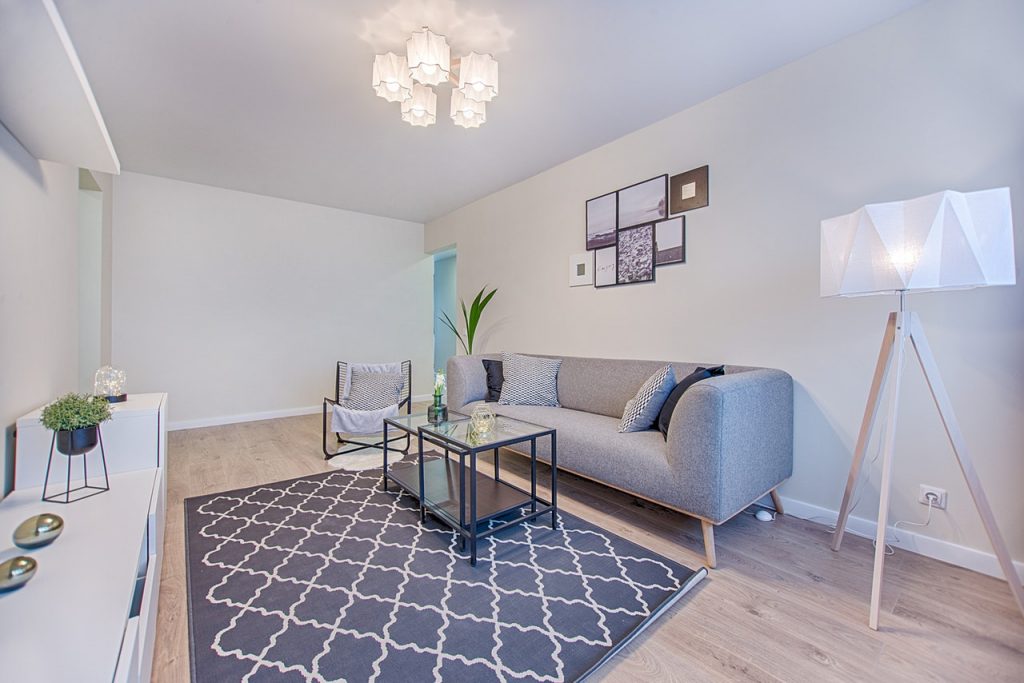 Prioritize the comfort of your bed.
As a college student, it's absolutely essential that you prioritize sleep, so don't shortchange yourself in that department by neglecting your bed. No one likes to sleep on a thin, lumpy, or old mattress or sheets that give sandpaper a run for their money, so if you have the extra spending cash to do so, treat yourself to a quality bed set for the dreamiest of zzz's. Even if you don't have a lot to spend, picking up an inexpensive mattress topper or upgrading your pillow to a more ergonomic model can pay off in the long run. Throw pillows are another great option for adding comfort and style to your bed, and they can double as floor cushions when you have guests over.
Play with lighting alternatives.
It's not uncommon for apartments to offer overhead lighting that's either too bright or too dim. Fortunately, you can up the comfort factor and save yourself from eye strain by taking matters into your own hands. Lighting fixtures, like string lights, floor lamps, and desk lamps, are some of our favorite options. String lights provide a lovely glow perfect for your nightly self-care routine, while table lamps are most beneficial for studying and reading. And, floor lamps? They possess enough power to illuminate entire rooms! Once you pick the options you're most interested in, you'll be shocked at how much of a difference lighting makes to your apartment's overall vibe.
Bring the outdoors indoors with potted plants.
Peruse your Instagram feed right now, and you'll likely come across multiple mentions of plants. Yes, plants are the hottest décor trend to hit social media feeds in years – and hey, we're not mad about it. That's because plants not only spruce up your space – get it?! – but also improve air quality. Not to mention, taking care of a plant is a great way to learn about the responsibility of caring for another living thing. Next, it could be a puppy, and maybe 10-15 years down the road, a baby. Maybe, we're getting too far ahead of ourselves. Either way, plants will make any corner of your new pad instantly Instagrammable, and isn't that one of your major concerns right now? If you need one more reason to purchase a plant, keep in mind that several variations only require minimal upkeep, so you can become a plant parent without worry of slipping up on more pressing obligations – like, you know, going to college and all.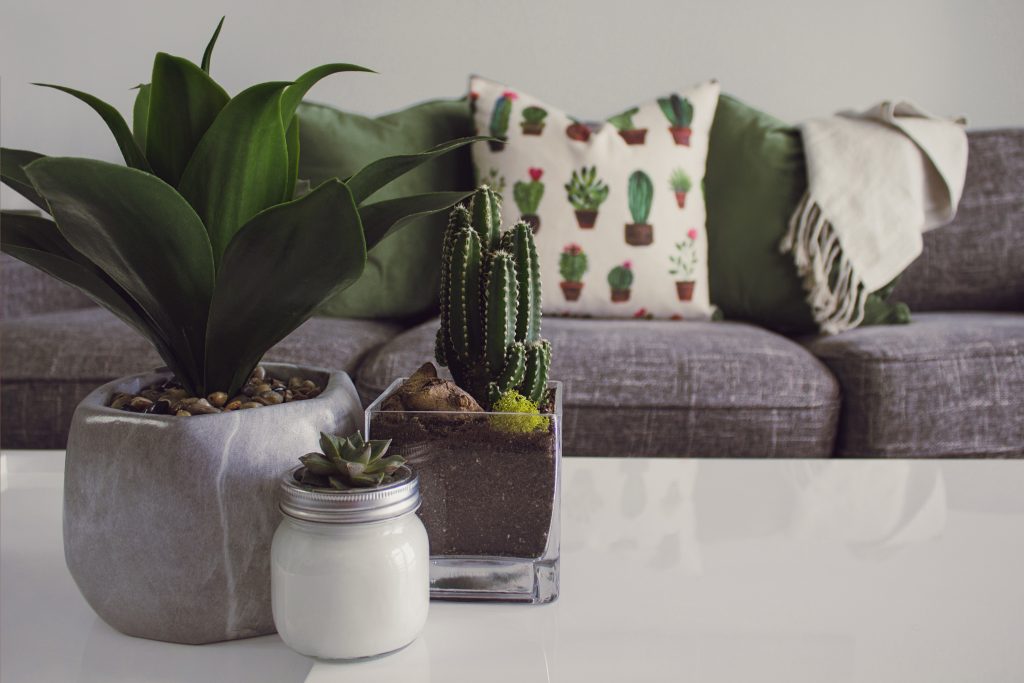 Don't keep those walls bare!
Nothing screams "college living" like an apartment full of bare, white walls – but it doesn't have to be this way. Instead of spending days on end staring at empty walls, add some personality to your crib by displaying wall décor. Love picking up prints at your local art market? Went HAM at the back-to-school poster sale? Hang up those cool finds!   Really, there's no wrong way to add some color and interest to your walls. For a bit of extra polish, you can even decide to frame your favorite pieces. And, if you want to make your pad look bigger and brighter, try hanging a mirror or two, which will reflect light for the illusion of a more luxurious space.
Let's face it: your first college apartment probably won't be something straight out of the latest Architectural Digest. Honestly, it's more likely that you'll be living in a bare-bones, studio or one-bedroom crib with cold floors and little to no closet space. Instead of resigning yourself to a year or more of a lackluster interior home space, try these easy fixes for turning your ho-hum student apartment into a real home. With your pad newly decorated, you might even find yourself staying in more often!
---
Share this article: