These DIY Projects Will Keep You Busy and Have Your Apartment Looking On Point
Back to the blog
---
As we head toward the final days of July, you might be wondering where the time has gone. After all, between the ever-stressful coronavirus news cycle and a political uprising being likened to those of the 1960s, it's likely that this summer hasn't exactly lived up to expectation and has led to more anxiety than relaxation. You could even say that the past few months have been one big blur. (Don't worry, we can totally relate.) 
Though you might feel slighted by Summer 2020, it's still possible for you to hold on to the beloved summertime feeling or recreate it altogether — just in time for August and September. Since you're staying in a lot more than usual lately, why not turn to a few fun DIY projects to set the mood in the space where you're spending all of your time? uCribs has a few awesome, easy-to-follow tutorials we'd love to share with you – and, best of all, they're perfect for decorating your pad on a strict budget!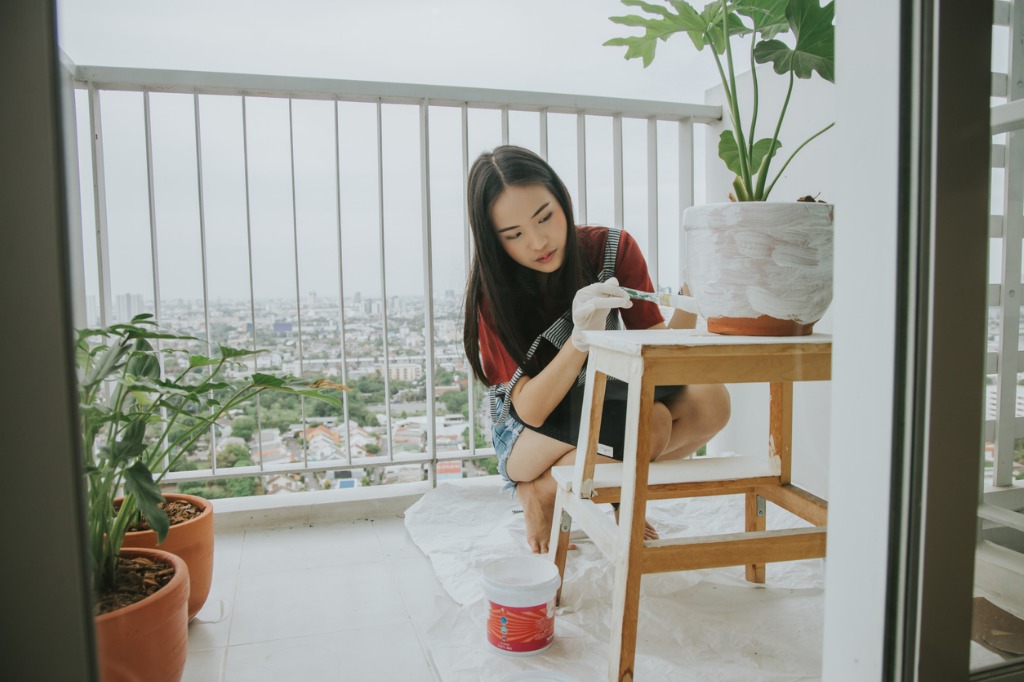 Succulent Pineapple Planter 
When you think of summertime, what's the first thing that comes to mind? If you're like us, it's something tropical, like the white sand at your favorite beach, the sparkling waters of your apartment community's swimming pool, or even something as random as a bright, juicy pineapple! There's nothing quite like enjoying fresh, cold chunks of pineapple, while soaking up the summer sun…or lounging in the indoor air conditioner with Disney+ streaming on your TV. Now, your apartment can enjoy a tropical pick-me-up with this Succulent Pineapple Planter tutorial. This DIY project transforms any run-of-the-mill terracotta planter pot into a pineapple-inspired masterpiece, perfect for holding your favorite flowers, herbs, or succulents. Check it out! 
Supplies: 
Small 

terracotta 

pot

 

White

 

air-dry

 

c

lay

 

Water  

 

P

aper 

towels

 

Yellow paint

 

P

aintbrush

 

White 

p

aint 

m

arker

 

Potting soil

 

Succulent

 plant

 

F

ine 

sandpaper

, if desired 

 
Directions: 
First, you'll want to apply the air-dry clay to the outside of your terracotta planter pot. Dust off your pot, then apply white air-dry clay to the outside. Layer the clay so that it covers the outside of the pot entirely. Dip your fingers in water occasionally to achieve a more even finish. 

 

Let the clay 

air-dry

 overnight. To see if it's fully dried, press on the sides of the pot. If it is squishy, 

allow

 more time to dry. 

 

Once the pot is fully dried, you're ready to paint. But first, know that this is an optimal time to use fine sandpaper 

to give the planter one final smooth-over. 

 

Happy with the texture of your planter? 

Paint your pot yellow

, 

allowing to 

fully dry

 before moving on to the next step.

 

Now, plan where the lines are going to be. The lines are what will make your pineapple planter look more realistic! Use a white paint marker to mark eight evenly spaced dots on the pot's top. 

 

Start drawing the lines with the white paint pen. It might help to paint 

all of the lines going in one direction, letting them dry. Finish the process with lines going in the other direction.

 

Once the project is complete and fully dry, fill the pot with potting soil and add the 

succulent 

plant of your choice! 

 
Floral Garland with Lights  
Aside from fresh fruit, flowers seem to be synonymous with the warm weather months. So, why not bring a bit of their beauty indoors with a Floral Garland that can wrap around the walls of your living area or bedroom? Using faux flowers, green floral wire, and battery-operated twinkle lights, this Floral Garland will sparkle with a soft, magical glow that you can easily enjoy from any room or outdoor space. The best part? This project is also perfect décor for future parties and holiday events – but for now, it will create the ultimate cozy haven to enjoy on those beloved summertime evenings. So, how can you go wrong with this DIY activity? Oh, that's right – you can't!  
Supplies: 
Directions: 
Gather your selection of 

faux flowers. 

Cu

t 

each 

flower at the base of the stem

. 

Do

 

not 

cut the flower stem too short because it helps to have a long stem to wrap with wire.

 

Arrange your flowers along the twinkle lights. Hold them in place 

with one hand, using the other hand to wrap

 green

 floral wire 

around each

 stem so

 they

 stay in place.

 

Continue to line the 

twinkle lights with

 flowers. 

Make sure to layer the

 flowers

 properly

 over the floral wire, so it's invisible to the eye when you hang your garland up.

 

 

Hang your new flower garland wherever you'd like to enjoy a pretty glow worthy of your favorite summer memories! 

 
Abstract Watercolor Pillows 
As a cash-strapped college student, it's likely that your off-campus apartment is lacking a bit in the style department…but, hey, that's why you have your pals at uCribs to help you make the most of your space! That's also why we think you should try out this whimsical DIY project for Abstract Watercolor Pillows. Don't worry –  even though this tutorial may sound advanced, It's actually surprisingly simple to give your old throw pillows an Urban Outfitters-like makeover using pillow covers, craft paint, water, and a fabric medium. From there, all you have to do is give each pillow cover a few passes with your paintbrush and watch as your pillow comes alive with dreamy hues! 
Supplies: 
White cotton pillow covers, sized to fit your pillows 

 

Craft paint, in colors of your choosing

 

Small bowl of water

 

Fabric medium

 

Paintbrush

 
Directions: 
Start by laying out your pillowcase or pillow cover on a flat, smooth surface. If you're worried about protecting the surface from paint, lay down newspapers or trash bags before you begin.

 

Now, prepare your paint. To achieve a soft watercolor look, you'll need to mix the craft paint with a bit of fabric medium and plenty of water. Don't be afraid of a little trial and error

.

 

Use a paintbrush and paint swaths of color onto your pillowcase or cover. Wherever two colors meet, overlap them a bit. This makes the colors blend together and look soft and layered

.

 

Once the front design is dry, flip your case or cover over and c

ontinue the process on the back

side

 of the pillow

. Allow 

everything to dry 

thoroughly. 

 

When the cover is fully dry, insert your pillow and admire your work of art!

 
---
Share this article: