7 Easy Ways to Stay in Touch with Your High School Besties
Back to the blog
---
We've said it before, and we'll say it again: college is awesome. Between the next-level parties, the engaging extracurriculars, and gradually achieving your educational aspirations, we have to admit that the old saying about college being "the best four years of your life" is pretty accurate.
But, what isn't so awesome about attending college is the unfortunate reality that you had to leave some friends behind. Unless you were lucky enough to have packed your bags alongside your best friends, who also enrolled in your university of choice, it's likely that you went away to college on your own. Sure, you were able to make new friends once you adjusted to campus life, but there's something to be said for high school friendships and those who were there for you during a pivotal moment in your life. If you're being completely honest with yourself, you miss the heck out of your old besties. (Insert sad face Emoji here.)
However, just because you're no longer attending the same high school – or even living in the same town – doesn't mean that you have to bid adieu to some of your longest lasting friendships. In fact, it's pretty easy to maintain those treasured friendships well into your college career, as long as you put in the required effort. (Hey, relationships are a two-way street!) For a bit of inspiration, check out uCribs' 7 tried-and-true ways to stay in touch with your high school friends below. You'll thank us later!
Use video chats over traditional phone calls.
Ever notice how video chats feel so real, it's almost like you're sitting in the same room with the person on the other end? Well, that's exactly why video chatting with your best friend is exactly what the doctor ordered when it comes to keeping your friendship strong. While phone calls are easy to make, they pale in comparison to holding a conversation with someone face-to-face. By using video chat, you can gauge the responses, reactions, and feedback of your friends, like when you proudly announce your win over the rival lacrosse team,  or recount that embarrassing moment from last weekend's Greek mixer. Best of all, video chatting software is free and widely accessible via smartphone apps, so you can technically video chat your bestie anywhere, anytime.
Keep them engaged on social media platforms.
With just about everyone on the planet active on at least one social media platform, it's highly likely that your high school best friend maintains a healthy social media presence. Thanks to these channels, it's never been easier to engage with your bestie by tagging, Tweeting, and sharing your favorite content. While you shouldn't keep your friendship confined to the Internet, social media has made it easier than ever to connect with your best friend, whether they're chasing their dreams one state over or halfway across the world. So, you can rest assured that some thoughtful social media interaction is all you need to stay on their mind and in their heart.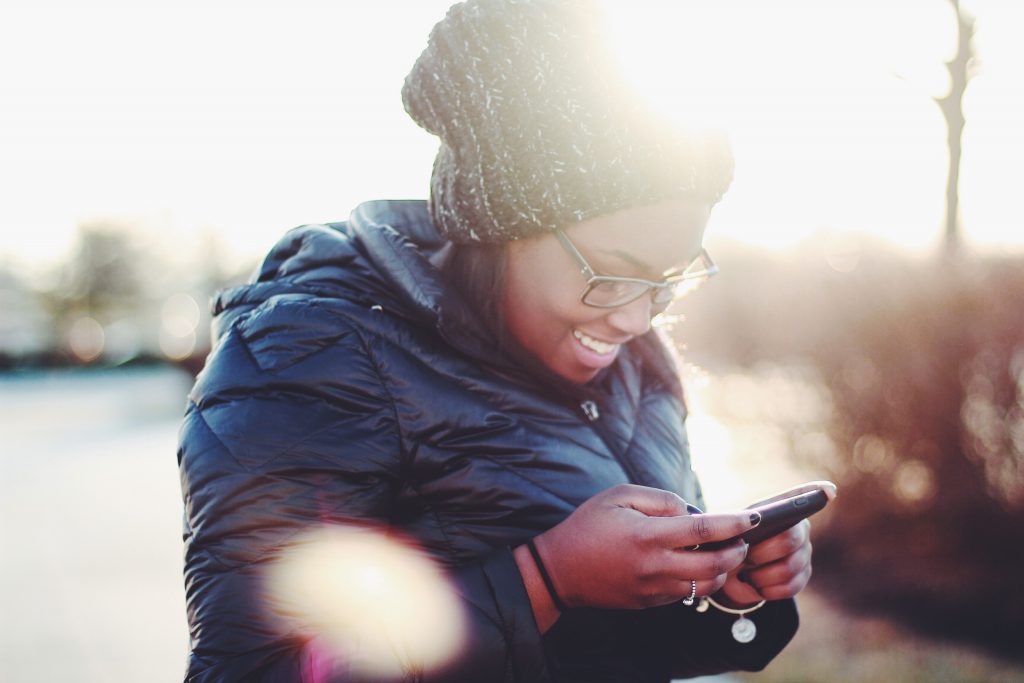 Embrace good, old-fashioned snail mail.
Sure, texts, emails, and direct messages are ultra-convenient ways to get in touch with your bestie when you want them to know you're thinking of them – like, right this second. Have you ever considered a more old-fashioned method of communication, however, like sending a letter through the mail? It may sound passé but hear us out: sending snail mail is a great way to unexpectedly bring a smile to your H.S. bestie's face. You can even send them a care package full of their favorite snacks, small gifts, and photos of the two of you. Trust us – nothing is more aww-worthy than opening an unanticipated package full of heart-warming photos and delicious munchies. And, hey, even a short postcard purchased from your university's bookstore and dropped in the mail makes for a perfect friendship keepsake, which can be kept and re-read when your bestie needs some words of reassurance.
Use the holidays to your advantage.
Your friends may be scattered across the country at various universities, but odds are, they still return to your hometown every winter, just like you. That's exactly why you should use the holiday breaks to your advantage.  Consider starting an annual Friendsgiving tradition, or hatch a plan to do something ultra-seasonal when you're in town for the winter holidays (strolling through your hometown's annual lights display, perhaps?). You can even go so far as to knock out your Black Friday shopping together! No matter how you choose to catch up over the holidays, take our advice and make the most out of this annual down time, when you have no other obligations standing in your way.
Download some fun, friendship-oriented apps.
Looking for even more ways to keep in touch with those high school besties? There are apps for that! While social media is great for tagging friends to funny posts and keeping up-to-date with casual acquaintances, sometimes you want to interact with your BFF away from your social network and communicate in ways that need no explanation to others. That's where apps come in handy. Try HeyTell, a walkie talkie-like app that allows you to leave your friend voice notes whenever you want. Or, if you're an Android user, download LokLok, a doodling app that functions similarly to a virtual sticky note and lets you draw and send messages from your smartphone's lock screen to theirs. If both of you enjoy some friendly competition, there's always Words with Friends, the Scrabble-like game that challenges your brain without forgetting about fun—plus, you can message back and forth as you play, which may be more fun than the game itself.
Introduce them to your new college friends.
For most of your life, you ran in the same social circles. But, now that you're in college, it's safe to say that you've branched out a bit, spending a majority of your time with your new college friends – even though you still have strong relationships with your friends from back home. That's why it's only reasonable that you introduce your high school friends to your college pals when the opportunity arises – like when your bestie comes to campus for a major football game or university-sponsored music festival. Think about it: you are friends with all of these cool individuals, which means that it's likely that your old and new pals will find some common ground, whether it's a shared college major or an undying love for Chipotle. And, if things go well, you might even start seeing your high school friends more often, once they know that they have a network of friends at your college campus.
Start a long-distance book or film club, just for the two of you.
Remember when you used to do everything with your high school bestie? You'd shop together, play sports together, grab breakfast, lunch, and dinner together… you get the picture. Why not capture some of that magic once again by starting up a besties-only book or film club? You are best friends, after all, so that indie film you've been dying to see is probably at the top of their list, too. And while you may get your fill of books in the classroom, you'll have to admit that little beats reading a New York Times bestseller cover-to-cover and discussing every detail with your best friend. So, keep the activities going strong by involving your bestie in your chosen pursuit of entertainment.
Once you head to college, you might think that your old, high school friendships have to be put behind you, but this couldn't be further from the truth! Here at uCribs, we say that true friendships are worth fighting for – even when you're attending college miles apart. Fortunately, it's not difficult to keep your bestie in the loop, as long as you get a little creative with ways to keep in touch. Whether you follow our advice word-for-word or use it to inspire your own ideas for communication, start with these 7 tips, and you'll be well on your way to continuing a healthy, happy relationship with your high school bestie. Who knows, your friendship may even get better with age!
---
Share this article: