5 St. Paddy's Day Treats That You'll Be Over the Rainbow For
By Meghen Jones
Back to the blog
---
New Year's… check! Valentine's Day… check! St. Patrick's Day is next on the list. Each year on March 17th, cities across the globe go green, and people come together to celebrate St. Paddy's Day, a global celebration of Irish culture. Dating back more than one thousand years, the holiday began as a way to acknowledge the anniversary of Saint Patrick's death, who was the patron saint of Ireland and its national apostle during the fifth century. Still a pretty major deal across the globe, the holiday is known for its extravagant parades, parties, and all things green.
Not only can you find a dose of seasonal excitement, while parading through the streets, but you can also have your fill of traditional Irish dishes, like Irish Soda Bread and Corned Beef and Cabbage, during your celebrations. In fact, it's not unusual for college students to congregate together for tailgates before the main parade event. While enjoying all this savory goodness, you cannot forget about the dessert menu. Although, we do understand that not everyone's baking skills are advanced—and if that's the case, you probably have no idea what to contribute.
Luckily, St. Patrick's Day is synonymous with the four-leaf clover, so you're in luck! We at uCribs would like to offer 5 suggestions for St. Paddy's Day treats that will have you and your friends feeling over the rainbow.
Key Lime Cream Cheese Frosted Donuts
Key lime pie is one of the most popular types of pies for a reason. Providing the perfect balance of sweetness and tartness, it's light, refreshing, and easy to enjoy time and again. That's why this recipe for Key Lime Cream Cheese Frosted Donuts can be likened to finding a pot of gold. This recipe calls for all-purpose flour, lime zest, and powdered sugar to get you started. The best part? The zesty, lime juice-infused frosting will get your taste buds dancing. Trust us— these donuts will charm the pants off your friends this St. Paddy's Day!
Ingredients
For the donuts:
3/4 cup (plus 2 tablespoons) all-purpose flour
3/4 teaspoon baking powder
1/4 teaspoon kosher salt
1/2 teaspoon lime zest
2 tablespoon (plus 2 teaspoons) grapeseed oil
1/4 cup (plus 2 tablespoons) sugar
1/4 cup (plus 2 tablespoons) milk
1/2 teaspoon vanilla extract
1 egg
For the frosting:
2 ounces cream cheese, room temperature
2 tablespoons powdered sugar
1 tablespoon heavy cream
1 tablespoon lime juice
1/2 teaspoon vanilla
Lime zest or sprinkles for garnish, if desired
Directions
Preheat oven to 350 degrees Fahrenheit, then spray or grease a six-cavity doughnut pan.
Combine flour, baking powder, salt, and lime zest in a small bowl. Whisk to blend and set aside.
In a medium bowl, whisk together the oil, sugar, milk, vanilla, and egg until well-combined.
Add dry ingredients to the wet ingredients and stir until well-blended. Spoon the batter into the donut pan and bake for seventeen to eighteen minutes or until the donuts bounce back when lightly touched.
Remove the donuts from pan and let cool on a wire rack.
While the donuts are cooling, combine the cream cheese, powdered sugar, heavy cream, lime juice, and vanilla extract in a wide, shallow bowl using a whisk.
When the donuts are mostly cool, dip the top of the donut in the frosting, and return them to the wire rack to let the frosting set. Repeat until the donuts are frosted, then sprinkle with lime zest.
 White Chocolate Lucky Charms Cookies
Do you love cookies? Do you also love Lucky Charms? If so, these White Chocolate Lucky Charms Cookies are bound to become your favorite St. Patrick's Day—and possibly, every day— treat! Made with white chocolate chips and the popular Lucky Charms cereal, White Chocolate Lucky Charms Cookies are more than just "absolutely delicious;" they'll become your new obsession. Not only will you need white chocolate and a box of Lucky Charms for this recipe, but you'll also need budget-friendly ingredients, including vanilla extract, light brown and granulated sugar, and unsalted butter. One bite and these chewy cookies will melt in your mouth. Not even your favorite food blogger can top this one!
Ingredients
1 cup light brown sugar
1/2 cup granulated sugar
2 teaspoons vanilla extract
2 sticks unsalted butter, softened
2 large eggs
2 cups Lucky Charms cereal, no marshmallows
1 cup Lucky Charms marshmallows
2 cups all-purpose flour
1 teaspoon baking soda
1/2 teaspoon corn starch
1/4 teaspoon salt
2/3 cup white chocolate chips
Directions
Preheat oven to 350 degrees Fahrenheit and line the baking sheets with parchment paper.
In a food processor, process 2 1/2 cups cereal without marshmallows into a fine powder. Set aside.
In the bowl of a stand mixer, beat butter and sugar on high until smooth and fluffy, about 2 to 3 minutes. Add eggs and beat until combined.
Add cereal powder, flour, baking soda, and salt and mix on low-medium speed. Stir in the marshmallows, white chocolate chips, and additional 1/2 cup of cereal.
Roll the dough into 1 tablespoon-sized balls. Place the balls on a baking sheet 2 inches apart. Bake the cookies at 350 degrees Fahrenheit for seven to eight minutes, until mostly dry on top and slightly puffed – the cookies will sink down and become chewy as they cool.
Mint Chocolate Lasagna
When you think of lasagna, you typically think of a savory meal with plenty of pasta, ricotta, mozzarella cheese, marinara sauce, and basil. But, for any delicious, restaurant-worthy dish, there's usually a sweet spin on it, just like this Mint Chocolate Lasagna. With St. Patrick's Day right around the corner, you can kick up your party's dessert table with this tasty treat that appeals to any mint chocolate lover! Using chocolate vanilla creme cookies, cool whip, chocolate pudding, and more, Mint Chocolate Lasagna is just about any chocoholic's dream. So, if you're looking to sweeten up St. Paddy's Day 2020, Mint Chocolate Lasagna is definitely the way to go!
Ingredients
1 package of chocolate vanilla crème cookies (*We like Glutino)
1/2 stick of butter
8-ounce package cream cheese
1/4 cup granulated sugar
2 tablespoons heavy cream
8-ounce container of Cool Whip
3.9-ounce package Instant Chocolate Pudding
2 cups cold milk
1 teaspoon mint extract
Green food coloring
Directions
Prepare chocolate pudding according to the package directions, using the cold milk. Set the putting aside in the fridge until ready to use.
Put the cookies in a food processor and pulse into fine crumbs. In a medium bowl, combine melted butter and cookie crumbs and mix well.
Grease the bottom of an 8×8 baking dish. Press the cookie crumbs into the bottom of the baking dish and chill for five minutes in the fridge.
In a medium bowl, mix the cream cheese, sugar, and heavy cream until light and fluffy. Stir in 1 cup of cool whip, 1/2 teaspoon of mint extract, and 2 drops of green food coloring.
Spread the cream cheese over the crust, then add the pudding over the cream cheese layer.
Mix the remaining cool whip, 1/2 teaspoon of mint extract, and 2 drops food coloring together. Distribute the mixture over the pudding layer.
Top with mini chocolate chips.
Refrigerate for 30 minutes before serving.
Irish Apple Cake
From double fudge chocolate to a more traditional almond, no holiday is ever complete without a slice of cake. Speaking of cake, what better way to celebrate St. Paddy's Day than with a traditional Irish Apple Cake? Known as a Kerry Apple Cake in most parts of Ireland, Irish Apple Cake is a moist cake with a crunchy top that is typically served with a creamy custard—your mouth is watering already, huh? This is one recipe that calls for quite a list of ingredients, but the result you're left with is 100-percent worth the investment. We know you're absolutely going to love this moist dessert, jam-packed with crisp apples and plenty of spices, like ground cinnamon, allspice, and nutmeg. Because of the sweet custard sauce, you can even indulge in the leftovers—if there are any—for breakfast the next day.
Ingredients
Apple Cake
3 cups (plus 3 tablespoons) all-purpose flour, divided
1 tablespoon baking powder
3/4 teaspoon Kosher salt
1/2 teaspoon ginger
1 teaspoon ground cinnamon
1/4 teaspoon ground allspice
1/4 teaspoon freshly ground nutmeg
1 cup granulated sugar
1 stick cold butter, cut into small cubes
3 large eggs
3/4 cup heavy cream
2 teaspoon pure vanilla extract
3 large granny smith apples, thinly sliced into 1/4-inch pieces
3 tablespoons demerara sugar
Custard Sauce
1/3 cup granulated sugar
4 large egg yolks
1 1/4 cup heavy cream
1 vanilla bean, halved
Directions
Apple Cake
Preheat oven to 350 degrees Fahrenheit. Butter a nine-inch Springform Pan and line the sides and bottom with parchment paper.
In a medium bowl, whisk together three cups of flour, along with the baking powder, salt, spices, and sugar. Add the cubed butter and incorporate it with your hands until the mixture resembles sand. Next, whisk in the eggs, heavy cream, and vanilla.
Toss sliced apples with the remaining flour until evenly coated, then fold into batter.
Transfer the cake batter to the prepared pan and sprinkle evenly with demerara sugar. Bake until apples are tender, and a toothpick inserted into the center comes out clean— about 1 hour and 20 minutes. Let cool completely in the pan before removing.
Custard Sauce:
In a heatproof bowl, whisk sugar and yolks until lightened in color, about six minutes.
In a medium, heavy-bottomed saucepan over medium-low heat, add vanilla bean seeds and pod and heavy cream. Cook mixture, watching carefully, until just boiling.
Remove the mixture from the heat and whisk a few tablespoons of hot cream into the sugar-yolk mixture. Gradually add in remaining cream, whisking constantly.
Return the custard to the pot and continue to cook over medium-low heat, stirring until just thickened. Just remember not to boil it!
Immediately remove the custard from the heat and pour through a fine-mesh strainer into a bowl. Allow the custard to cool.
Once cool, serve the custard over slices of apple cake.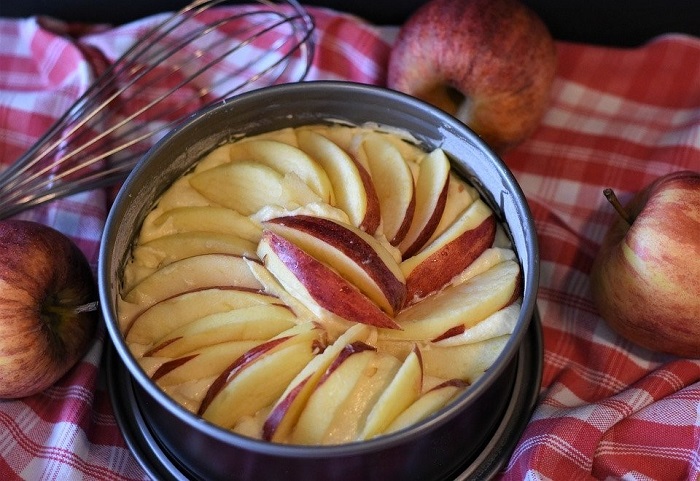 Pot O' Gold Brownies
If you thought our list of holiday-inspired desserts was complete, then you thought wrong! Rounding off our St. Paddy's Day dessert list, these Pot O' Gold Brownies will definitely put you in the spirit on the luckiest day of the year. Combing your favorite brownie mix, rainbow candy belts, Cool Whip, and gold sanding sugar, these brownies will actually pay off more than your standard pot of gold at the end of a rainbow –in both deliciousness and compliments from your closest pals. They're also the perfect grab-and-go treat, if you happen to be walking to your city's local parade from your dorm or off-campus apartment. Now, sit back, relax, and enjoy a bite or two of these chewy, fudgy brownies –how could you be luckier at this moment?
Ingredients
Cooking spray
1 box of brownie mix, plus ingredients on the box
2 rainbow candy belts, like Airheads
2 cups Cool Whip
Gold sanding sugar
Directions
Preheat oven to 350 degrees Fahrenheit and grease a twelve-cup muffin tin with cooking spray. Prepare brownie mix according to package instructions.
Add the batter to a muffin tin and bake twenty-five to thirty minutes. Once brownies are out of the oven, press a shot glass into the middle of each brownie, making a shallow cup. Let cool completely.
Cut rainbow candy belts into 2-inch long strips.
Dollop a scoop of Cool Whip into each brownie cup then sprinkle with gold sanding sugar. Place a rainbow candy belt on top, forming the candy belt into a rainbow.
---
Share this article: